SUBSTITUTE NEWS:
The winter substitute conference will be held at Don Clifton Professional Learning Center on January 4, 2019 in the afternoon. Watch your LPS email for more information about the upcoming conference and how to register. 
August 3, 2018 Fall Conference attendees: Jane Aalborg, Grant Aden, Nicholas Andersen, Carol Ann Anderson, Joanna Andrews, Allie Bachman, Beth Baker, Judy Bartels, Roy Bartels, Amy Bartlett, Dona Beard, Karen Beek, Gwen Bell, Lorie Berdnt, Gloria Best, Annie Bidler, Mary Jean Blumenstock, Barbara Bossaers, Carol Bossaller, Julie Bowman, Randy Brolhorst, Susan Callaway-Sottek, Danica Canaday, Pamela Cooper, Alex Czeranko, Eric Davidson, Terri Day, Laura Dekalb, Pam Doty, Angelina Doyzha, Geoffrey Duncombe, Sally Dunham, Danielle Ellenbecker, Arlie Fandrich, Luis Fajardo Linares, Nancy Falter, Bobbi French, Pam Gannon, Jennifer Garza, Erin Glenn, Cheryl Gonnerman, Amy Gubser, Vera Guittar, Raina Gulbrandson, Kate Halbrook, Lisa Hansen, Deb Hauder, Bob Hedrick, John Heineman, Brandon Helding, Susan Hertzler, Sally Hillis, Delwin Hodgin, Sigrid Horner, Deanna Huppert, Deanne Hyde Boilesen, Debra Keefe, Nancy Kennedy, Corey Koziol, John Linke, Bev Loseke, Sherrie Manning, Doug Martin, Marty McCurdy, Ruth McDonald, Steven Menke, Debra Miller, Kevin Miller, Janet Millnitz, Shirley Montgomery, Barbara Murphy, Taylor Noble, MaryLee Olson, Patricia Ozga, Sheri Paden, Bob Parsley, Erika Pearl, Sara Petersen, Evan Petit, Irina Poplavskiy, Michael Regnier, Linda Reigle, Martha Resseguie, Jesse Reynolds, Dana Rodriguez, Cheryl Rongish, Judith Roscoe, Judy Rung, Marie Sandman, Zachary Schafer, Judith Schneider, Pamela Schumacher, Susan Seacrest, Pat Shepard, Heidi Simmons, Brenda Smidt, Marci Smith, Julie Spiers, Marilyn Stadler, Rae Stanley, Seri Stastny, Connie Stauffer, Theresa Stehlik, Barbara Sullivan, Sandra Sullivan, Lila Thompson, Christopher Traynor, Jami Upton, Rachel Veenendaal, Sandy Vercellino, Sandra Vrooman, Beth Wagoner, Lori Waters, Mary Wenzl, Bev Westerberg, Tammy Wheat, Christine Whetstone, Diann Wolfe, Nancy Woodward, Gina Zabloudil
LPS hosts kick-off conference for substitute teachers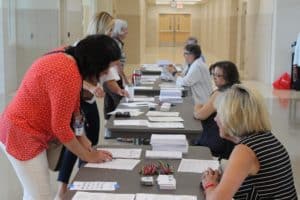 Lincoln Public Schools will draw on a pool of nearly 800 certified substitute teachers during the upcoming school year. On August 3rd, nearly 200 of those teachers attended the LPS Substitute Kick-Off Conference at Moore Middle School.
During the half-day event, attendees learned about a variety of crucial topics: school safety; immigrant and refugee students; Chromebooks in the classroom; and student-engagement strategies.
Vann Price, LPS supervisor of secondary personnel services and substitute teachers, greeted them at the beginning of the conference and recalled her beginning days in education - as a substitute teacher. She also learned how vital substitutes are to student learning during her time as principal at North Star High School.
"I want to thank you for the work that you do. It's very, very important," Price said. "You ensure that students continue to have the great learning opportunities and active engagement that they have on any other day."
Thank you Substitutes for another strong kick-off to the 2018-2019 season!  Your participation at the conference is important to us, and we value your interest and desire to participate in the LPS learning community.  Human Resources would like to personally thank all that attended the conference, including our substitute paraprofessionals.
Committed to you,
Nikki, Vann, Bess and Kren
Learn the latest and greatest of how to support student learning in your substitute placement today:  LPS Student Supports
Substituting in Specials presentation
Substitute Teachers in Connected Classrooms
The job of a substitute teacher presents a variety of challenges and it is equally challenging to make sure the substitute has the resources necessary to conduct class. Now all students 2-12 have Chromebooks and every week we get closer to having ALL classrooms filled out with Connected Classroom equipment. Getting and keeping subs up to speed on how to efficiently use the technology is important. Computing Services is working with Human Resources to increase the information to subs about this part of their role and has developed this web resource. Subs are also welcome to attend any workshop offered by Computing Services in the catalog. [Note: workshops held in the labs at LPSDO enable a computer for substitute use.]
SmartFind
The Substitute Teacher Handbook

Substitutes are to read and be familiar with the Substitute Teacher Handbook - Guide to Successful Substitute Teaching. Be sure to review the Safety and Security section which includes information about standard response protocols, infection control, and food allergies and the Working with Students section with information on Reporting Child Abuse and Harassment policies. There is valuable information for substitute teachers throughout the entire handbook.
Substitutes are also responsible for knowing the information in the Hourly Employee Handbook.  Substitute teachers are highly encouraged to review both handbooks annually.  Links to both the Substitute Teacher Handbook and the Hourly Employee Handbook are found below.
Handbooks
Synergy
Substitute Essential Information for Success