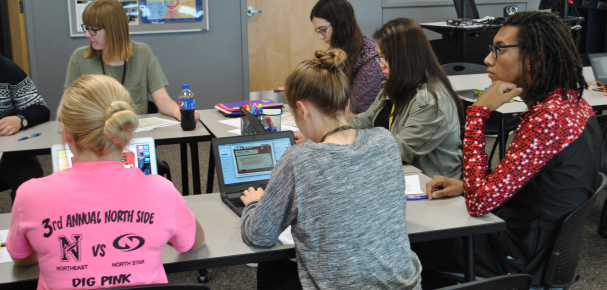 Explore strength identification, relationship building, presentation skills, career field opportunities, technology tools, and passion for teaching. Research admissions requirements and transfer options for desired four-year institutions.
Student Experience & Projects
Students will enrich their classroom experiences by participating in activities such as K-12 math/ reading buddies, backpack program, book drive, community service events, parent-teacher conference hosts, mentoring, service learning projects, job shadows, summer camps, internships, career fairs, portfolio development, classroom observations, psychology experiments, StrengthsFinder assessment, technology projects for classrooms, personality inventories, Community Learning Center.
Launch Leadership Training, Lincoln
Plum Creek Literacy Festival, Seward
UNO Teaching Showcase, Omaha
Lincoln Public School District Office
Nebraska Educational Technology Conference, Omaha
Eric Weber, LPS Assoc. Supt. for HR
Polly Hess, LPS Educational Psychologist
Jenny Benson, NSEA President
Nancy Burkhart, NE EdRising Advisor
NE EdRising Student Leadership Team
Vicki Burkey, Milkworks Manager and LaMaze Teacher

Recommended Classes to Take at Your Home High School
Highly Recommended: Lifespan Development
Encouraged: Preschool/School Age OR Human Behavior OR Psychology
Year 1 Classes

Year 2 Classes

ACFS 0860 (2.0)
Student Success

EDUC 1110 (3.0)
Intro to Professional Education

EDUC 1810 (3.0)
Intro to Psych (LPS Human Behavior Credit)

EDUC 1700 (1.0)
Professional Practicum Experiences I

EDUC 2590 (3.0)
Instructional Technology (LPS Technology Credit)

PSYC 1250 (3.0)
Interpersonal Relations

EDUC 0940 (1.0)
Praxis Math Test Prep

EDUC 0960 (1.0)
Praxis Reading Test Prep

EDUC 0980 (1.0)
Praxis Writing Test Prep

EDUC 2970 (2.0)
Professional Practicum Experience II

SOCI 2150 (3.0)
Issues of Unity and Diversity

EDUC 2300 (3.0)
Intro to Special Education

PSYC 2960 (3.0)
Lifespan Human Development

Additional high school courses taken at TCA to meet graduation requirements
(Students earn 30 LPS credits per year toward the 245 LPS credits required for graduation).
YEAR 1 First Semester: 11th LPS Gov't & Politics (5 LPS credits); 11th LPS Economics (5 LPS credits).
YEAR 2: Senior English Seminar English (10 LPS credits) Course completed over two semesters earning 5 credits each semester.

Related AA/AAS Degrees Offered at SCC
AA/AAS Degrees: K-12 Education, Early Childhood Education, Academic Transfer
Certificates/Diplomas: Early Childhood Education