 Information Technology Pathway
Networking & Cyber-Security
Programming
11th and 12th Graders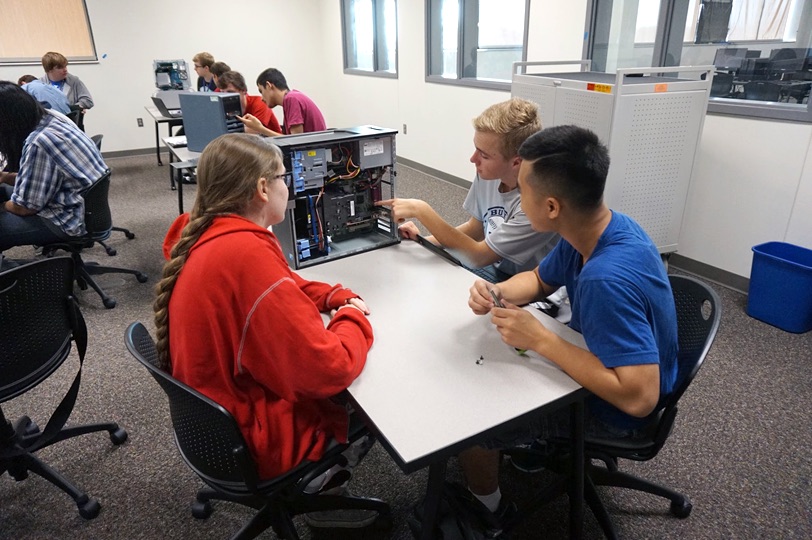 Explore principles, tools, and techniques used in the fields of information technology. Networking students will learn skills in hardware troubleshooting, computer communications and network protocols, security, and network operation systems. Programming students will focus on coding, Web development, mobile apps, and application development in multiple operating systems.
Student Experience & Projects
Community service events, service learning projects, job shadows, summer camps, internships, career fair, CyberPatriot competitions, SkillsUSA competitions, robotics competitions, project work for LPS Computing Services, computer setups for seniors, nonprofits setup and database development, computer/electronics recycling, technology workshops, seminars, and exhibits.
Applications/Web Programmer
Computer Support
Network Manager
Cyber Security
Spreetail
Nelnet
UNO
Gallup
Kidwell
Molex Inc.
Husker Vision Memorial Stadium
Li-Cor
Assurity
Cornhusker Bank
Chris Wlaschin, Tony Reinke, Ellie Phillips, National Research Corporation
Heather Lantz, Director of Sales (Infogressive, INC.)
LTC Bjorman, Cyber Plans Officer (Nebraska National Guard)

Recommended Classes to Take at Your Home High School
Highly Recommended: Information Technology I
Encouraged: Information Technology II
Networking & Cyber-Security
Year 1 Classes

Year 2 Classes

INFO 1151 (3.0)
IT Fundamentals

INFO 1171 (3.0)
PC Operating Systems

INFO 1281 (2.0)
Networking Concepts

INFO 1448 (4.0)
Windows and Hardware Management

ELEC 2760 (3.0)
Introduction to Networks

INFO 1492 (4.0)
Linux Administration

ELEC 2761 (3.0)
Routing and Switching Essentials

INFO 1491 (3.0)
Network Security Fundamentals

INFO 1494 (3.0)
Windows Server Administration
Year 1 Classes

Year 2 Classes

INFO 1151 (3.0)
IT Fundamentals

INFO 1171 (3.0)
PC Operating Systems

INFO 1214 (2.0)
Programming Concepts

INFO 1411 (3.0)
Database Concepts

INFO 1434 (4.0)
C#.Net

INFO 1414 (4.0)
Java

INFO 1431 (3.0)
Web Page Fundamentals

INFO 1428 (4.0)
JCL and COBOL

INFO 2584 (3.0)
Mobile Device Programming

Additional high school courses taken at TCA to meet graduation requirements
(Students earn 30 LPS credits per year toward the 245 LPS credits required for graduation).
YEAR 1 First Semester: 11th LPS Gov't & Politics (5 LPS credits); 11th LPS Psychology (5 LPS credits).
YEAR 2: Senior English Seminar English (10 LPS credits) Course completed over two semesters earning 5 credits each semester.

Related Associate of Applied Science Degree Offered at SCC
AAS Degrees: Computer Information Technology, Graphic Design/Media Arts.
Certificate: Computer Information Technology