 Agriculture/Bioscience Pathway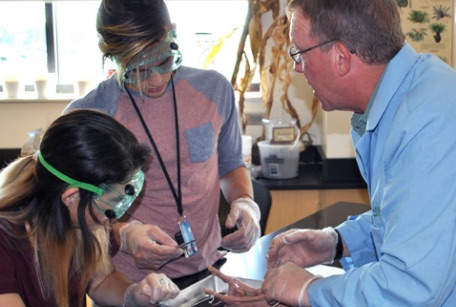 Successful completion of this pathway will provide students with the tools to address feeding the growing world population, designing pharmaceuticals, and working in agriculture, medicine, environmental, or veterinary fields. Students will have the opportunity to earn a national Biotech credential. Coursework also provides a strong foundation for those looking to continue to SCC or a 4-year college.
Tuition: $58.50 per credit hour. Scholarship opportunities available. No cost for students on free & reduced lunch.
Books/Fees: Provided at no cost.
Transportation: Provided at no cost from all home high schools.
Session Options: 8:15 – 10:15 a.m., 12:45 – 2:45 p.m.
Club Options: FFA, SkillsUSA
Hear from Pathway Students
AGR1003: Intro to Ag & Natural Resource Systems
BIOS1010: General Biology (or)
*BIOS1400: Biology I
AGRI1131: Crop & Food Science
AGRI1152: Crop & Food Science Lab
*BIOT1400: Intro to Biotechnology I
HORT1130: Intro to Horticulture
AGRI1010: Fundamentals of Animal Biology
*CHEM1090: General Chemistry I
AGRI1177:

 Companion Animals 

HORT1154:

 Greenhouse Management (or) 
*BIOT2400:

Intro to Biotechnology II
*Biotechnology National Certification Track
LPS Graduation Requirement Classes
Students will also take an LPS graduation requirement class each semester, one day per week, from the following course options (assigned by TCA): Government & Politics, Economics, Psychology or English.
Dual Credits: Earn up to 29 Southeast Community College credits.