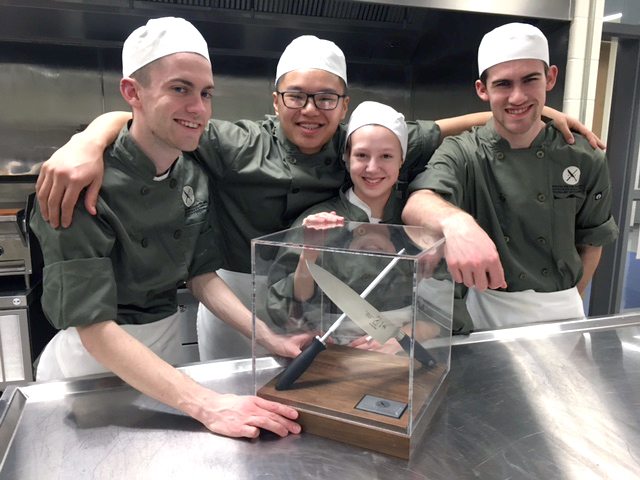 Students will gain experience in planning, selecting, purchasing, preparing and serving quality food products, as well as safety and sanitation procedures. Focus on hands-on experience in all facets of culinary preparation and presentation is emphasized throughout the curriculum.
Tuition: $58.50 per credit hour. Scholarship opportunities available. No cost for students on free & reduced lunch and have applied for scholarship.
Books/Fees: Provided at no cost.
Transportation: Provided at no cost from all home high schools.
Session Options: 8:15-10:15 a.m. (1st year), 12:45-2:45 p.m. (2nd year)
Club Options: SkillsUSA
Hear from a Pathway Student
Culinary graduates may work in a variety of food service and hospitality industries including:
Hotels
Restaurants
Convention Centers
Hospitals
Corporate Dining Facilities
Sysco
HyVee
The Nebraska Club
Bryan Hospital
Sage Bistro
Chef Justin Stout, Eat, Fit, Go
Chef Brandon Harpster, SCC
Chef Montana Childress, Nebraska Club Executive Chef
Ryley Schuerman, TCA graduate
Moses Sorilla, TCA graduate
Chef Mario Ochoa, HyVee
All semesters may include culinary competitions/events
Year 1 Classes
Junior (or Senior if pathway is not full)
Year 2 Classes
Returning TCA Senior

FSDT 1600 (2.0)
Intro to Culinary

FSDT 1602 (1.5)
Food Safety & Sanitation

FSDT 1604 (4.0)
Culinary Fund. I

FSDT 1601 (2.0)
Intro to Culinary

FSDT 1610 (4.0)
Culinary Fund.

FSDT 1118 (3.0)
Food Purchasing

FSDT 1050 (4.0)
Baking Pastry Fundamentals

FSDT 1040 (3.0)
Advanced Cuilinary Fund.

Related Associate of Applied Science Degree Offered at SCC
AA/AAS Degrees: Culinary/Hospitality
Diploma: Culinary/Hospitality
Certificates: Dietary Manager