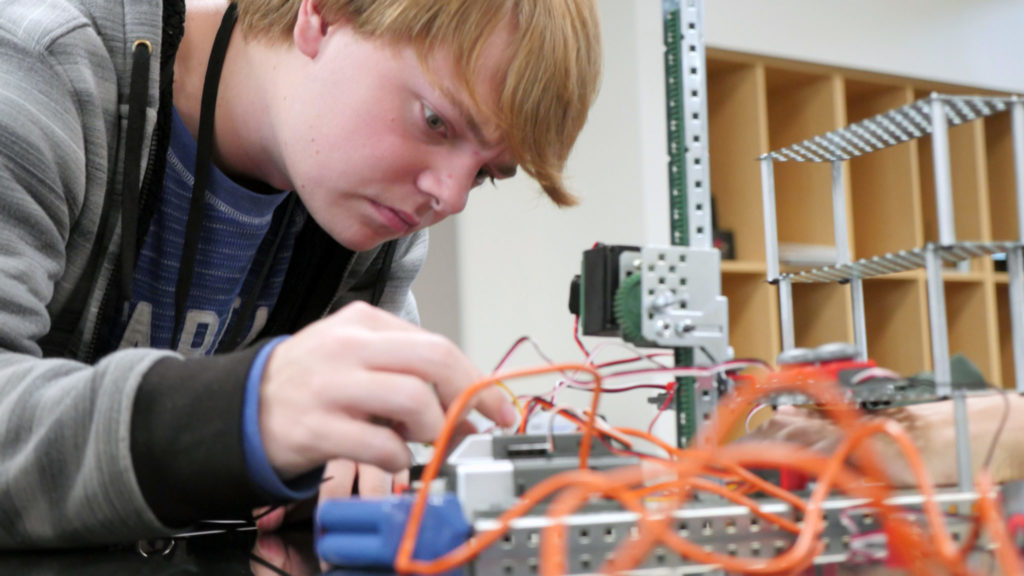 The Engineering Pathway offers students the chance to experience the various levels of Engineering and architecture. Explore the fundamental concepts related to design drafting, engineering processes, and manufacturing concepts. Students will also be eligible to earn an engineering certificate through SCC. Coursework provides a strong foundation for those looking to continue at SCC or a 4-year college.
Tuition: $58.50 per credit hour. Scholarship opportunities available. No cost for students on free & reduced lunch.
Books/Fees: Provided at no cost.
Transportation: Provided at no cost from all home high schools
Session Options: 8:15-10:15 a.m. (1st year only), 12:45-2:45 p.m. (2nd year only)
Club Options: SkillsUSA
Any of multiple professional engineering disciplines.
Teledyne Isco
Olsson Associates
UNL's Senior Design Showcase
UNL College of Engineering
Kawasaki
Lincoln Industries
Lincoln Chrome
TMCO
Chris Zimmerman (Duncan Aviation)
Travis Figard (Olsson Associates)
Jeff Hlavic (LES)
Chris Millet (Lincoln Industries)
Dave Koncak (Zoetis)
Chrissy Waido (Zoetis)
Jim Townsend (Kawasaki)
Year 1 Classes
Junior (or Senior if pathway is not full)
Year 2 Classes
Returning TCA Senior

LPS Course
PLTW Princ. of Eng.

DDRT 1120 (2.0)
Basic Computer Aided Drafting

Project Lead the Way (PLTW) Principals of Engineers (POE)

ENGR 1010 (4.0)
Engineering Design

DDRT 1220 (2.0)
Inventor

Includes some POE Projects

PHYS 1150 (4.0)
Descriptive Physics w/Lab

DDRT 1400 (3.0)
Virtual Building Design Revit

ENGR 1020 (3.0)
MatLab

DDRT 1330 (3.0)
Solidworks

Related Associate of Applied Science Degree Offered at SCC
AAS Degrees: Design & Drafting Technology, Electronic Systems Technology, Manufacturing Engineering Technology
Certificates/Diploma: Design & Drafting Technology, Precision Machining and Automation Technology