 Early Childhood Education Pathway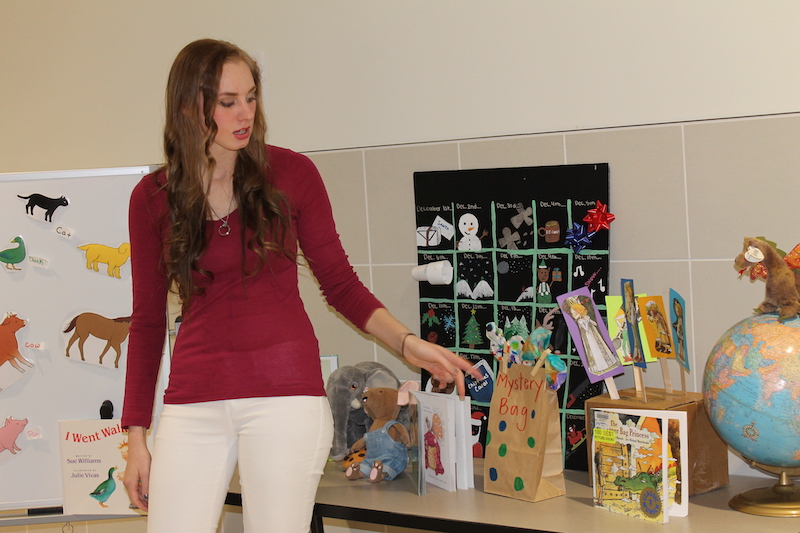 Learn skills to establish and maintain a safe, healthy learning environment for young children while providing positive guidance. Focus on best practices in early childhood development and education. Students will have the opportunity to work with infants, toddlers, and preschoolers in a practicum setting to apply theories and techniques.
Student Experience & Projects
Students will build upon classroom curriculum with participation in events such as book drives, Kids Against Hunger, hospital quilts, chemo caps, children's museum costumes, Educare partnership, community service events, children's health screenings, service learning projects, job shadows, summer camps, internships, career fairs, Mom's Day Out program, Bright Lights aide, kindergarten screening, workbased learning at preschool centers, etc.
Hear from Pathway Students
Preschool Teacher
Infant/Toddler Caregiver
Professional Nanny
Elementary School Paraprofessional
Trinity Infant and Child Care Center
Ivy League Child Care Center
Indigo Bridge Books
Educare of Lincoln
NETV
Assemblage Art Gallery
Lincoln Children's Museum
Dimensions Nature Explore Classroom
NETA conference
UNO
Morrill Hall
Julie Warford, Nebraska TEACH scholarship
Cara Lucas-Richt, Director of LPS Early Childhood
Stephanie Morrow, Gallup

Recommended Classes to Take at Your Home High School
Recommended pre-TCA courses to take at your home high school
Highly Recommended: Infant/Toddler –OR– Intro to Early Childhood (Criminal background check and DHHS child and adult abuse registry check required)
Encouraged: Lifespan Development –OR– Infant/Toddler –OR– Preschool/School Age
Year 1 Classes
Junior (or Senior if pathway is not full)
Year 2 Classes
Returning TCA Senior

ECED 1150 (3.0)
Intro to Early Childhood

ECED 1160 (3.0)
Early Language & Literacy

Weekly field trips and additional work time

ECED 1050 (3.0)
Expressive Arts

ECED 1060 (3.0)
Observation, Assessment & Guidance

Weekly field trips and additional work time

ECED 1120 (2.0)
Preschool Child Development

ECED 1220 (1.0)
Pre-Practicum

ECED 1224 (3.0)
Preschool Math, Science & Social Studies Curriculum

ECED 1630 (1.0)
Preschool Practicum

ECED 1130 (3.0)
Social Emotional Development

ECED 1230 (2.0)
School Age Child Development & Programming

ECED 1640 (1.0)
School Age Practicum

Complete portfolio and senior graduation seminar

Additional high school courses taken at TCA to meet graduation requirements
(Students earn 30 LPS credits per year toward the 245 LPS credits required for graduation).
Year 1 Classes

Year 2 Classes

11th LPS
Government and Politics
(5 LPS credits)

11th LPS
Psychology
(5 LPS credits)

Senior English Seminar
English
(10 LPS credits)

Course completed over two semesters earning 5 credits each semester

Related Associate of Applied Science Degree Offered at SCC
AAS Degrees: Early Childhood Education or Academic Transfer
Certificates/Diploma: Early Childhood Education