Spelling City provides interactive activities for practicing teacher-generated spelling, vocabulary, and HFW lists. Students do not need to log in when the teacher is using the free version. The teacher will share the link to their Spelling City teacher page with students.
With the paid version, teachers can track student progress on activities, assignments, time on task and test scores. With the paid version, students should log in with their LPS Google credentials.
Note that Spelling City does use advertisements but they are not targeted to the student user.
Spelling City a great tool that students could use at home to practice their spelling, vocabulary, and HFW lists.
If Spelling City is used during school hours it should not be used during whole group instruction.
It should only be used as practice for short periods of time (5-10 minutes) two times per week.
Teachers should think about student accountability with Spelling City. With the free version, you do not get a report on student activity on the website. If students are using Spelling City in the classroom, think about having students do an additional activity to apply the skills that they practiced on Spelling City.
Spelling City lists for Lincoln Public Schools
The links below will take you to Spelling City lists which were created for Lincoln Public Schools. Once you get to the grade level's Spelling City page you can import the lists to your Spelling City account.
The video below goes over how to import the lists and manage your lists so that only the words for that week appear for students.
How do my students access my Spelling City lists?
Students will access your lists on Spelling City by using the URL for your Spelling City page. This can be found on the top of your Spelling City page once you are logged into your account.
If you are using the free version of Spelling City, students do not log in with a username and password.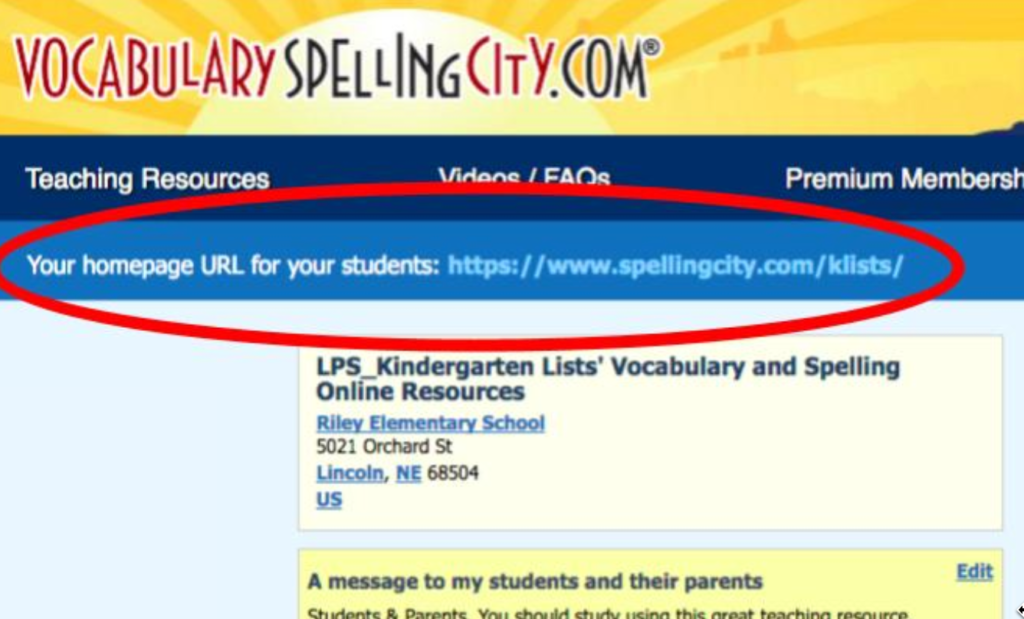 The Spelling City app only works for those who have the paid premium membership to Spelling City. If you are using the free version of Spelling City, your students will need to access your Spelling City webpage using a web browser on the iPad. Below is a video that goes over how to do this.
In an effort to streamline support and material access for LPS teachers, this page was created in collaboration by Curriculum, Computing Services, and Library Media staff members as a way to offer technical support for curricularly supported instructional technology tools.