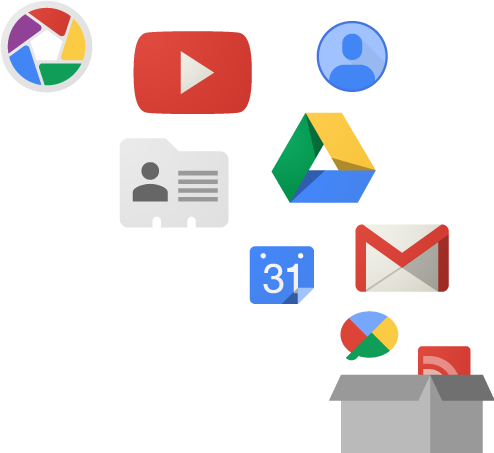 Google offers tools for mass download of your Google data, including Google Drive.
Instructions for Students & Staff
Simple Steps for Exporting Your Google Drive Data
(as shown in the video below)
Open your LPS Google Drive (class.lps.org)
Click the app launcher in the top right of the screen and select "My Account"
On your account overview page, under Personal info &* privacy, select "Control Your Content"
On the Control your content page select "CREATE ARCHIVE"
By default the tool wants to download your Google data from all of the tools in your account. If you only want to download Google Drive files, click "Select None" then specifically select "Drive" from the options presented. Click "Next."
Leave File Type as ".zip" and set Delivery Method as "Send download link via email." Click "Create Archive."
Wait patiently for Google to send you an email (students will need to go to LPS Gmail).
When the email arrives, click "Manage Archives" to be taken to a screen where you can download the archive file(s) created.
Click "Show Downloads" and download the desired archive files.
Move the archived file(s) to a USB drive, personal Google account or other media to preserve past when your LPS account will be disabled.
Video Tutorial
Helpful Notes
When you download from Google Docs, the original documents in Google Drive are unaffected. You are downloading a COPY of that file(s) to your computer. The originals remain in place.
The files you download are zipped files. Now that you have them on your computer, a double click on the zipped file will expand it into a folder that contains the expected Google Drive Files. Zipped files are convenient for archive.

If you are a student, save them to a thumb drive or other cloud storage location of your own devising.
If you are LPS staff, save them in DocuShare or another FERPA compliant file storage location.
A Docushare tip for LPS Staff: There are two strategies for uploading these Google Drive files to Docushare, and each has distinct merits:

OPTION A) You can upload the zipped files to DocuShare as is – in the zipped format you downloaded from Google. Uploading a ZIP file accomplishes quick and efficient archive of the files. In the future you can get the individual files back by downloading the ZIP file out of DocuShare onto your desktop and double-clicking on it. It will always open to reveal the individual files contained within.
OPTION B) You could expand the zipped files you downloaded from Google and upload each individual file via the web browser. (Mac users could also use Transmit to upload the files.) This strategy has the advantage of allowing you to see & select the individual files directly within Docushare, but is more complicated.