2022 Summer School Meal Information
LPS and the Food Bank work collaboratively to offer meals during summer school. This summer, all meals must be eaten on site and cannot be sent home with students or families. For meal times and serving information contact the school directly. Meals are for students and children aged 0-18 years only.
Additional tools to help find an SFSP site near you:
Call 2-1-1
Text FOOD to 304-304
This institution is an equal opportunity provider.
LPS sites shown below. Please visit the Food Bank of Lincoln for all locations, dates and times.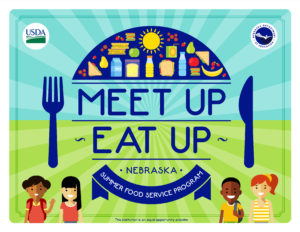 | School | Meals | Dates | Breakfast Time | Lunch Time |
| --- | --- | --- | --- | --- |
| Arnold | Breakfast and Lunch | June 6 - July 29 | 9:00–9:30 a.m. | 12:00–1:00 p.m. |
| Belmont | Breakfast and Lunch | May 31 - August 12 | 8:00–9:00 a.m. | 11:00–1:15 p.m. |
| Calvert | Breakfast and Lunch | May 31 - August 12 | 8:30–9:00 a.m. | 11:30–1:00 p.m. |
| Campbell | Breakfast and Lunch | June 6 - July 29 | 9:00–9:30 a.m. | 12:30–1:00 p.m. |
| Clinton | Breakfast and Lunch | June 6 - June 30 | 9:00–9:30 a.m. | 12:30–1:00 p.m. |
| Culler | Breakfast and Lunch | June 6 - July 1 | 8:00–8:30 a.m. | 11:30–12:00 p.m. |
| Don Sherrill Education Center | Breakfast and Lunch | June 13 - June 24 | 9:15–10:00 a.m. | 12:15–1:30 p.m. |
| Eastridge | Breakfast and Lunch | June 6 - July 1 | 8:00–8:30 a.m. | 11:30–12:00 p.m. |
| Fredstrom | Breakfast and Lunch | June 6 - July 1 | 8:00–8:30 a.m. | 11:30–12:00 p.m. |
| Goodrich | Breakfast and Lunch | June 6 - July 1 | 8:00–8:30 a.m. | 11:30–12:00 p.m. |
| Hartley | Breakfast and Lunch | June 6 - July 1 | 9:00–9:30 a.m. | 12:30–1:00 p.m. |
| Holmes | Breakfast and Lunch | June 6 - July 1 | 8:00–8:30 a.m. | 11:30–12:00 p.m. |
| Huntington | Breakfast and Lunch | June 6 - July 1 | 8:00–8:30 a.m. | 11:30–12:00 p.m. |
| Kahoa | Breakfast and Lunch | June 6 - July 1 | 8:00–8:20 a.m. | 11:20–11:40 p.m. |
| Kooser | Breakfast and Lunch | June 6 - July 1 | 8:00–8:30 a.m. | 11:30–12:00 p.m. |
| Lakeview | Breakfast and Lunch | June 6 - July 1 | 8:00–8:30 a.m. | 11:30–12:00 p.m. |
| Lefler | Breakfast and Lunch | June 6 - July 1 | 8:00–8:30 a.m. | 11:30–12:00 p.m. |
| Lincoln High | Breakfast and Lunch | June 1 - July 22 | 8:00–8:30 a.m. | 11:30–12:30 p.m. |
| McPhee | Breakfast and Lunch | May 31 - August 5 | 8:00–8:30 a.m. | 11:30–1:00 p.m. |
| Meadow Lane | Breakfast and Lunch | June 6 - July 1 | 8:30–9:00 a.m. | 12:00–12:30 p.m. |
| Mickle | Breakfast and Lunch | June 6 - July 1 | 8:00–8:30 a.m. | 11:30–12:00 p.m. |
| North Star | Breakfast only | June 1 - July 8 | 7:50–8:00 a.m. | NA |
| Northeast | Breakfast and Lunch | June 6 - July 1 | 8:00–8:30 a.m. | 11:30–12:00 p.m. |
| Norwood Park | Breakfast and Lunch | May 31 - August 5 | 8:30–9:30 a.m. | 11:30–12:30 p.m. |
| Nuernberger Education Center | Breakfast and Lunch | June 13 - June 24 | 8:00–8:30 a.m. | 11:30–12:00 p.m. |
| Pershing | Breakfast and Lunch | June 6 - July 29 | 8:00–9:00 a.m. | 11:30–12:30 p.m. |
| Prescott | Breakfast and Lunch | June 6 - July 1 | 8:15–9:15 a.m. | 11:45–12:45 p.m. |
| Randolph | Breakfast and Lunch | May 31 - August 5 | 8:30–9:00 a.m. | 12:00–12:30 p.m. |
| Riley | Breakfast and Lunch | June 6 - July 1 | 9:00–9:30 a.m. | 12:30–1:00 p.m. |
| Roper | Breakfast and Lunch | June 6 - July 1 | 8:00–8:30 a.m. | 11:30–12:00 p.m. |
| Saratoga | Breakfast and Lunch | June 6 - July 1 | 8:00–8:30 a.m. | 11:30–12:00 p.m. |
| Schoo | Breakfast and Lunch | June 6 - July 1 | 8:00–8:30 a.m. | 11:30–12:00 p.m. |
| Southeast | Breakfast only | June 1 - July 8 | 7:50–8:00 a.m. | NA |
| The Career Academy | Breakfast and Lunch | June 1 through July 8 | 7:45–8:15 a.m. | 11:45–12:15 p.m. |
| West Lincoln | Breakfast and Lunch | June 6 through July 1 | 9:00–9:30 a.m. | 12:30–1:00 p.m. |