The Crunch Heard 'Round the State
To celebrate National Farm to School Month in October, and Harvest of the Month in Nebraska, LPS facilitated an Apple Crunch Day, which involved crunching into locally and regionally grown produce during lunch at all LPS elementary schools.
Crunches were tallied by each school, and across the state. And guess what? Nebraska won!
The Nebraska Department of Education sponsored the event statewide, competing against Colorado, Kansas, Montana, Missouri, North Dakota, South Dakota, Utah and Wyoming.
We love that we helped our state win, and our students had fun crunching into fresh apples all month long. We even had a special guest join us.
Congressman Jeff Fortenberry joined students at Clinton Elementary for the Crunch Off. Watch the 10/11 news story here: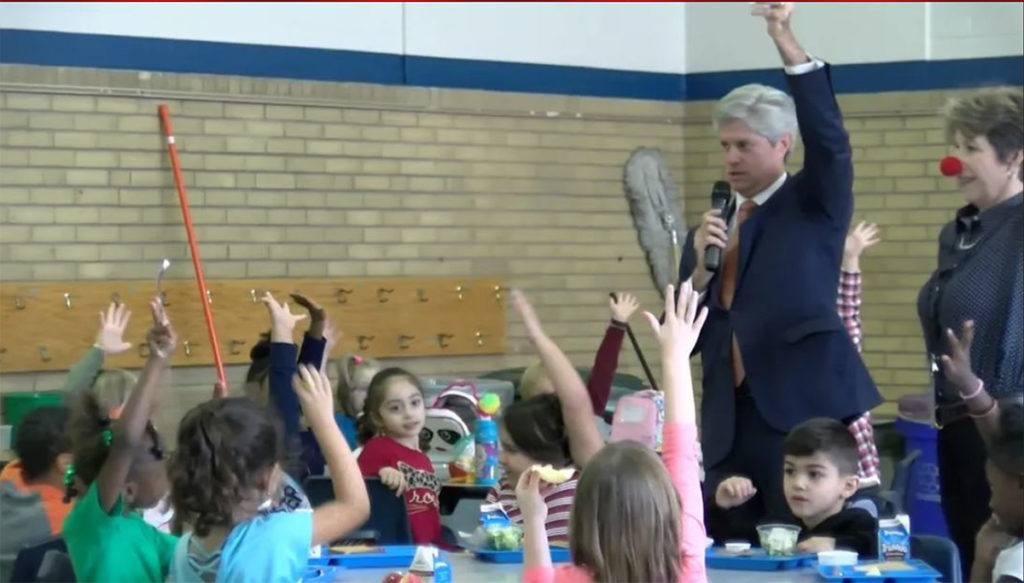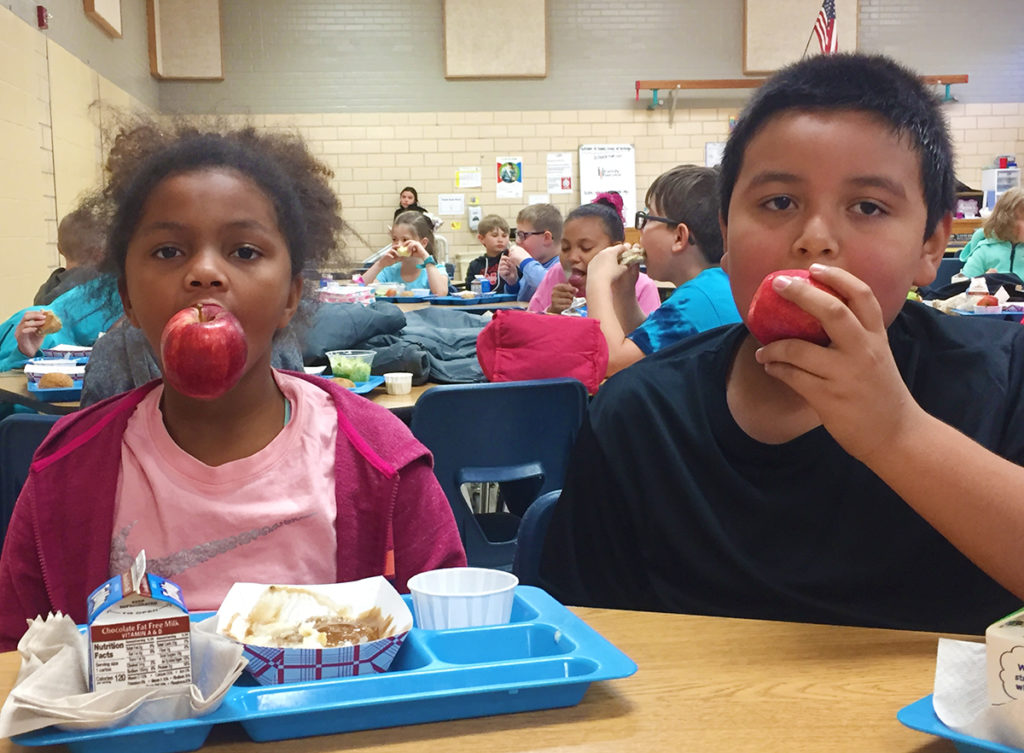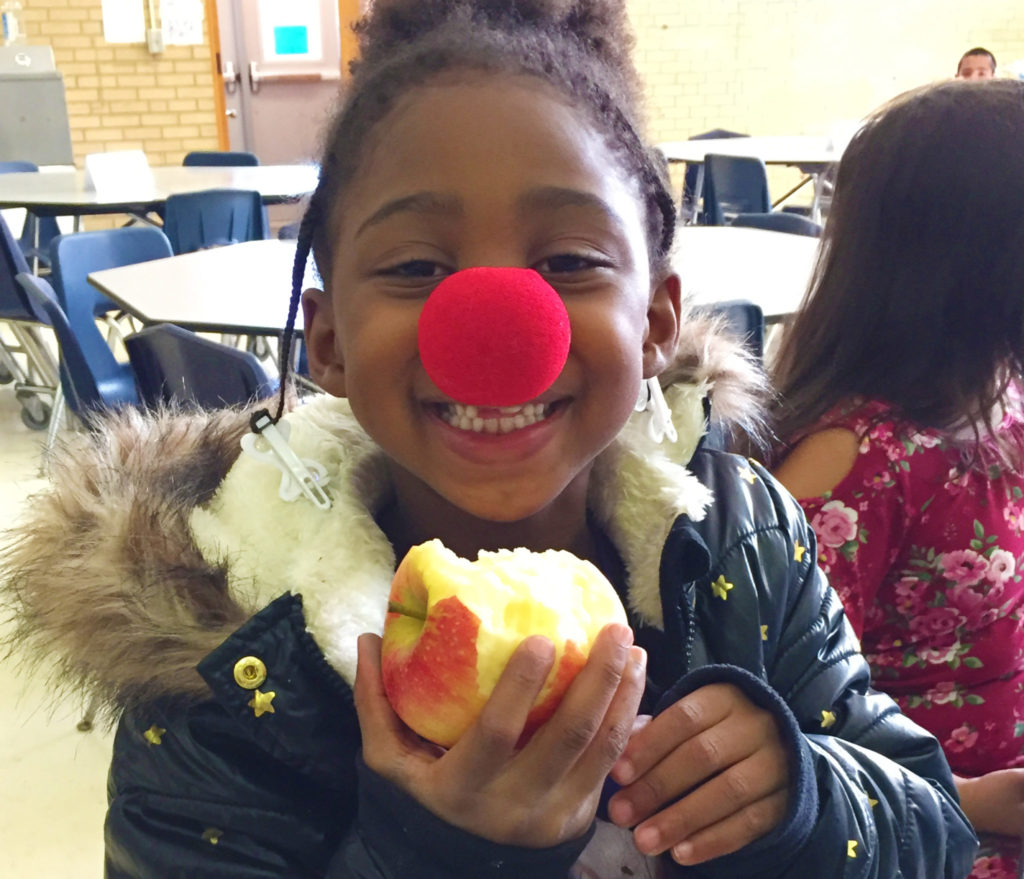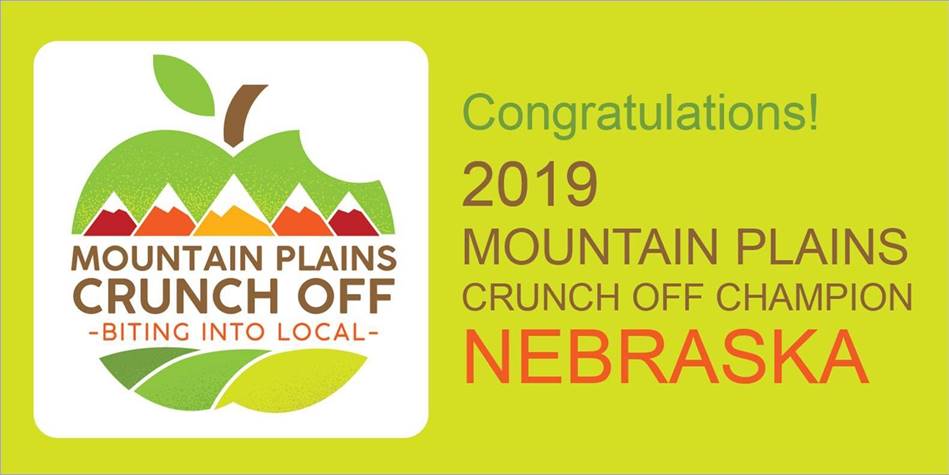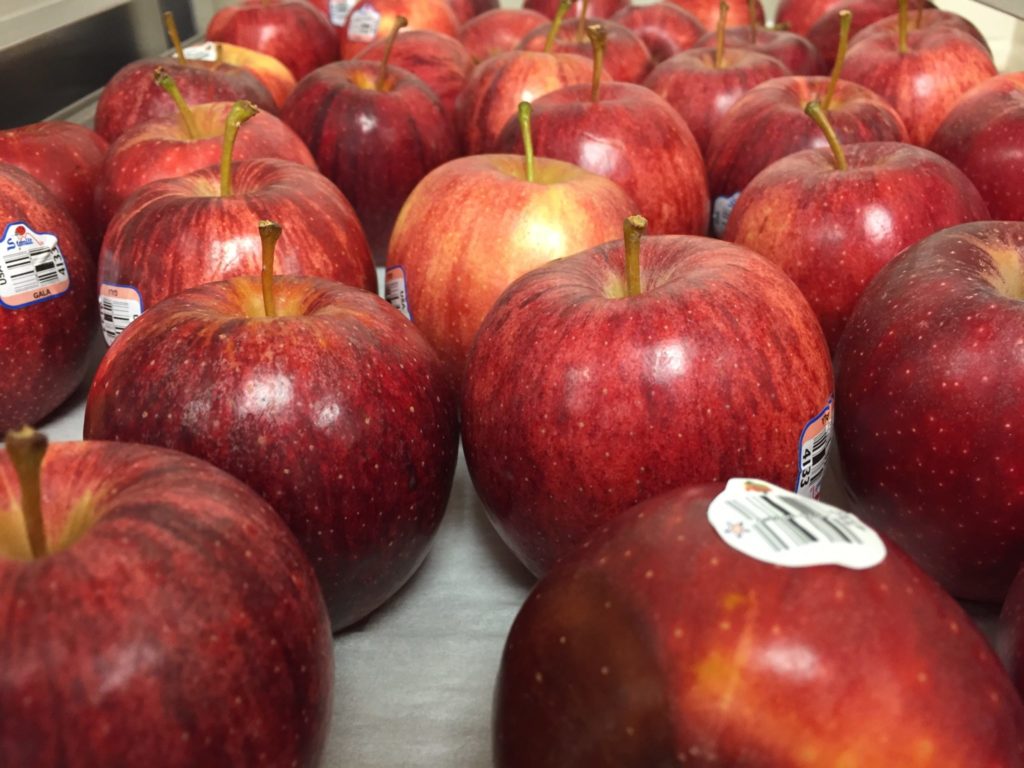 Mega Mustang Award is Mega Magnificent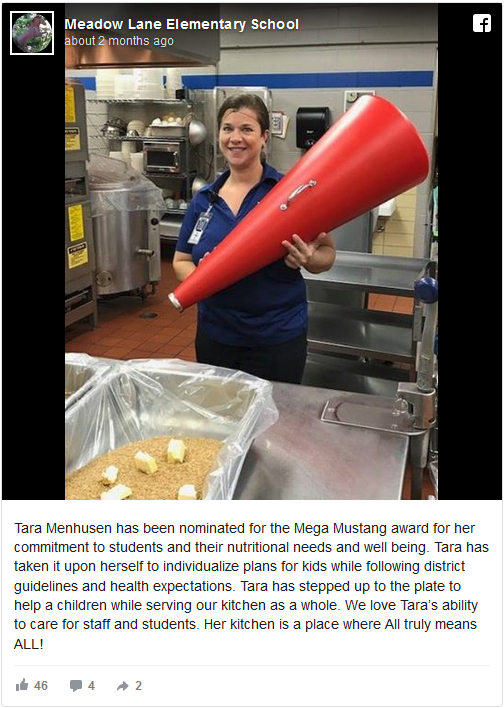 East High School's Susan Zander Highlighted in Oracle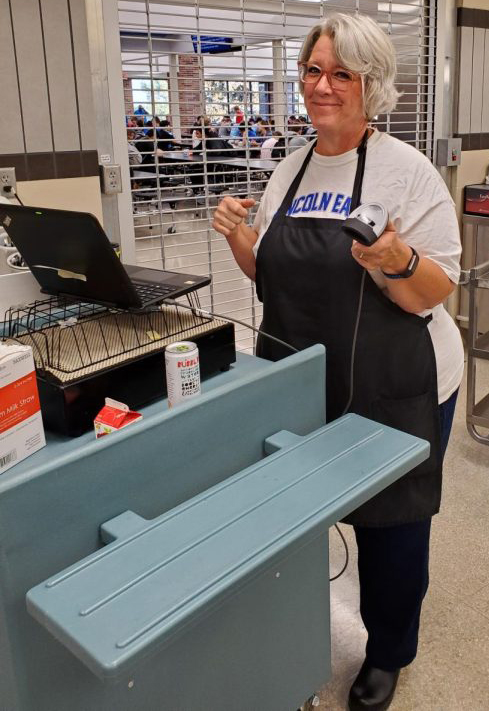 Cafeteria Manager, Susan Zander was highlighted as the "Eyes of East Heroes" in the East High School's Oracle Newspaper this Fall.
Susan has been manager at East for three years, working for Nutrition Services for ten years.
Read here for the full article:
Eyes on East Heroes – Susan Zander
Nutrition Services Staff attend 2019 Nebraska State Conference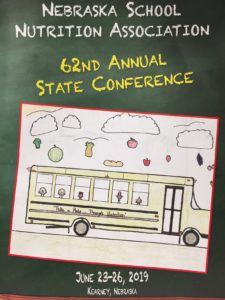 Last month, eleven members of LPS Nutrition Services attended the 62nd Annual Nebraska School Nutrition Association meeting in Kearney. This year's theme was "Take a Ride Through Nutrition".
The agenda featured speakers from a wide variety of agencies, schools, state and regional offices including the following: USDA Food and Nutrition Services, the Nebraska Department of Education, DHHS, the Nebraska Dairy Council, the Nebraska Beef Council, the Nebraska Dry Bean Commission and UNL Extension Educators.
Professional development is a USDA requirement and a department priority. The conference offers a chance for school nutrition staff across the state to network and keep up to date on program procedures. The educational sessions covered everything from food safety, to breakfast ideas, farm to school, special diets, program marketing and chef cooking demonstrations. Equally important is the opportunity for school nutrition staff across the state to network and share innovative ideas that are working within their districts to feed healthy, appealing meals to students.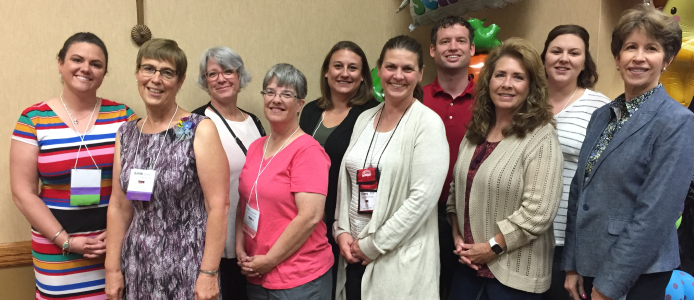 Left to Right: Emily Kennedy (Lefler), Edith Zumwalt (Director Nutrition Services), Susan Zander (East), Gayle Zimmerman (Rousseau), Alicia Pohlmann (Supervisor Assistant), Tammy Smith (Southwest), Andrew Ashelford (Supervisor), Judy Fleischman (Supervisor Assistant), Kara Vlasin-Marty (Supervisor), and Lynn Goering (Dietitian). Not Pictured: Victoria Dodd (Northeast)
LPS Staff Active in Nebraska District Chapter of School Nutrition Professionals
Nutrition Services would like to recognize the following employees for their active leadership roles within the Nebraska District 1 Chapter of the School Nutrition Association: Susan Zander, East Manager –Incoming Chairman; Tammy Smith, Southwest Manager -Secretary; Emily Kennedy, Lefler Manager -Outgoing Chairman.
The District 1 is the local chapter of school nutrition professionals in southeast Nebraska. The 14 counties include: Cass, Filmore, Gage, Jefferson, Johnson, Lancaster, Otoe, Nemaha, Pawnee Richardson, Saline, Seward, Thayer and York.
District chapter objectives include promotion of healthy, appetizing meals for all students, uniting school personnel in efforts to ensure each child's nutritional need is met, promoting high standards of program operation, as well as continuous learning and sharing.
Running Buddies from the Start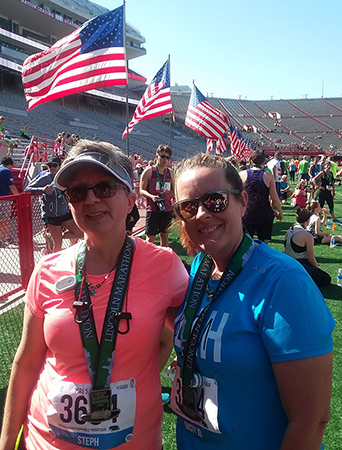 Rewind approximately 4-5 years ago, Dusty Decker, North Star kitchen manger decided to take up running. She enrolled in "Beginners Luck", a class for new runners offered through the Lincoln Running Company.
Dusty noticed a fellow classmate who ran about the same pace so she introduced herself and asked if the other runner might like to be running partners. Stephanie Ernesti agreed.
It wasn't until later, that the two realized that they both worked for LPS, and they both worked for the same department – Nutrition Services – but at different schools. Stephanie at Cavett and Dusty at North Star.
Dusty and Stephanie, who has since been promoted to kitchen manager at Cavett, continue to run together on a regular basis. That chance meeting has yielded a shared passion and appreciation for running, a shift from novice runners to mentors for the "Beginners Luck" classes, 7 completed half marathons, and a very special friendship.


Dusty & Stephanie by the Cannon used to start the race.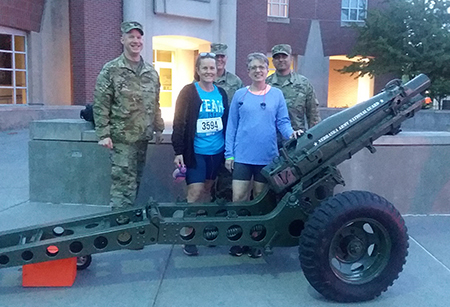 Bringing the power of the pedal, Rock the Bike is a bicycle that makes smoothies as you ride. The bike comes fitted with a blender on the back that is powered when you pedal, so kids can make a smoothie by hopping on and going for a spin.
Campbell Elementary recently used one at their 4th Annual Wellness Fair in March. They had 560+ in attendance, and made all the smoothies they had planned for. The smoothie bike was a big hit!
Nutrition Services provides the bike and recipe (kid-tested and approved!). Ingredients can be purchased through Foodzone as well. Smoothies can be ready in as little as one minute depending on the ingredients, and of course by how fast one pedals. You may even catch an adult or two trying it out!
Foodzone Article Archives
If you're looking for an article you've seen before, but don't find it above, click here to view our archives.
School Lunch Fund Donations
If you would like to contribute towards the emergency needs of your LPS neighbors, you can make a tax-deductible contribution on the Foundation for LPS website. In the "Donate To" box, select School Lunch Fund.