The Lincoln Public Schools logo is an honest reflection of who we are, standing as a symbol for all we represent. For decades the LPS logo has served as an expression of public education in Lincoln, Nebraska — and it remains instantly identifiable in representing this school district. The symbols hold different meanings for different people, but distinctly portray the educators, books, technology and support – all so essential to excellence in teaching and learning at LPS.
Our logo is one of our most valuable assets. It embodies who we are and unites all our voices, as we are stronger when we stand together as one united organization. When we use the same, consistent logo and branding throughout our schools and our school district – one community, one school district, one logo for our public schools – we serve as LPS ambassadors with a clear and compelling symbol.
The Lincoln Public Schools logo was first created in 1984 by Kathyrn Witte, who then worked as a graphic designer for the school district. She first created the logo as a water color – a pen and ink drawing with a water color wash. The logo was initially used as a recruiting tool for LPS, but gradually began to be used as the district-wide logo.
"I remember I wanted it to look like an L – using books – and thought the apple was a universal symbol for teacher," Witte says. "I can't believe it has lasted so long – it makes me happy whenever I see it."
LPS has modernized our logo with subtle changes, retaining the integrity of the original, classic symbol – while making it more inviting by softening it.
When to Begin Using the New LPS Logo
When possible, we ask that you begin to use this newer version immediately in all your branding. However, if you have already printed papers and materials with our original logo, please use those materials first. There is no need to reprint anything. But as you order new materials, please begin to use the new design and logo.
LPS Schools and the LPS Logo
We understand our schools have individual logos and we applaud school identity and branding. Please feel free to use your school logo for all your branding purposes, as a school logo is a symbol of your building's unique culture and character.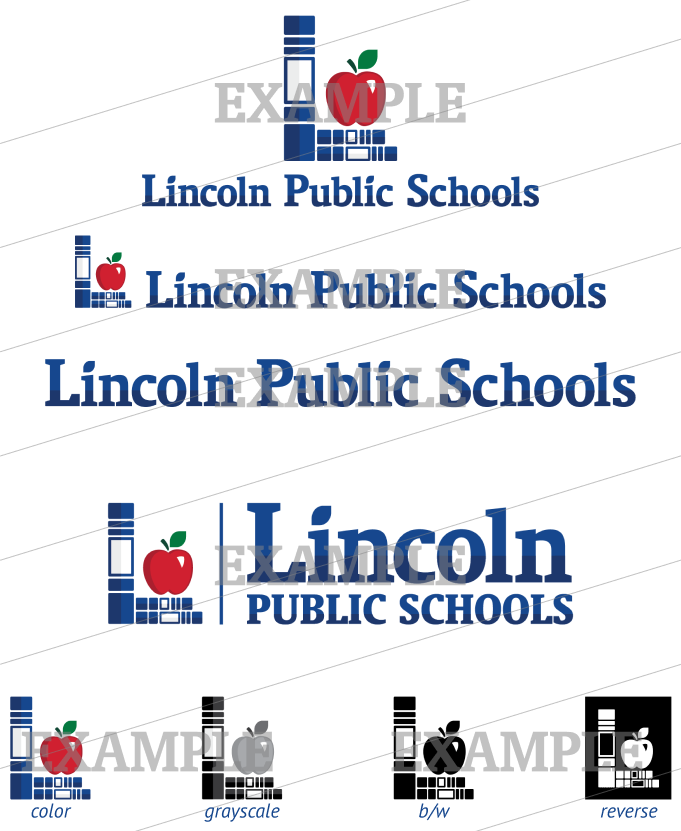 All LPS departments should use the LPS Logo in a consistent format. However, LPS departments are welcome to request a department-specific logo from the Graphics Department. No other logos should be used to represent any LPS department. We are one unified district and should be represented that way.

Guidelines for Use of the LPS Logo
An area of white space equal to the width of the vertical book should be kept between the LPS logo and other graphic elements at all times.
Please remember our LPS logo should be used correctly, upholding the integrity and consistency of the design. Our logo signature is one of our most visible and valuable assets. Please respect it. Give it plenty of room to breathe. Do not change it in any way. You may reduce or enlarge the logo, but do not alter the height- to-width ratio.
Email cwarner@lps.org to request the new logos. JPGs will be sent out unless instructed otherwise. Please refrain from resending logos to other people or pulling them off the Web. It's best to obtain them from Graphics. Do not forward the L-Logo to anyone outside the school district without permission.
If you are not a part of the Lincoln Public Schools, you must obtain permission from LPS before using any of our logos. For permission, please contact Chris Warner, Graphic Department Manager at cwarner@lps.org.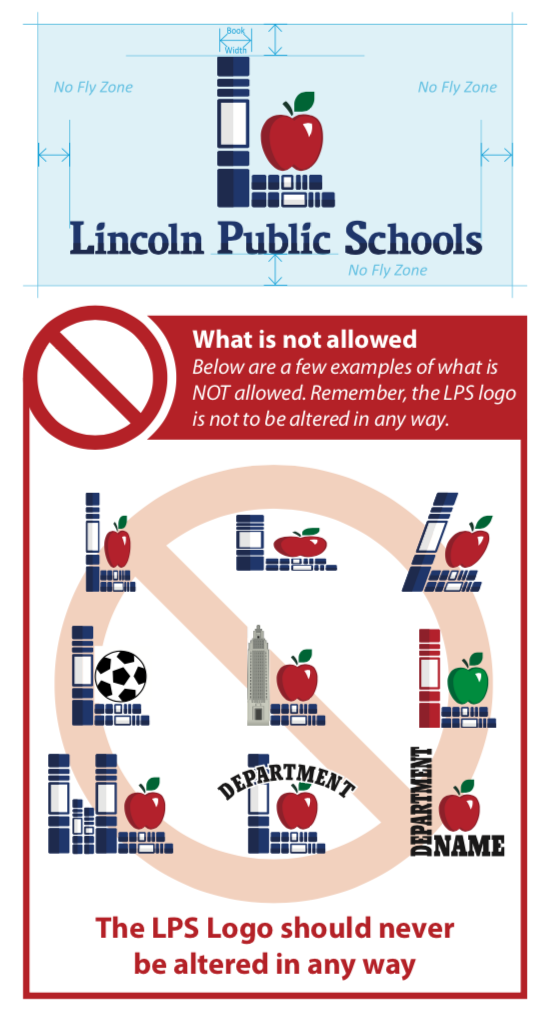 The following logo image files may be download for use according the above guidelines. All files require an LPS login to view. If you are not a part of the Lincoln Public Schools, you must obtain permission from LPS before using any of our logos. For permission, please contact Chris Warner, Graphic Department Manager at cwarner@lps.org.
District Presentation Slides
Presentations that are intended to represent the district and present district information should use the Lincoln Public Schools district template. Slide templates are available for Powerpoint and Google Slides. Use the links here to either download the Powerpoint template or access and make a personal copy of the Google Slides template.