School Breakfast Week recognized at the capitol
National School Breakfast week is March 6 - 10 and a couple of Rousseau Elementary School students and staff members were at the state capitol building for a special proclamation signed by Lt. Governor Mike Foley.

Rebecca Coatney, Cafeteria Manager at Rousseau has these words to share at the ceremony:
"Lt. Governor Foley, distinguished guests and visitors. I am Rebecca Coatney the Food Service Manager at Rousseau Elementary here in Lincoln, Nebraska. Thank you for signing this proclamation declaring the week of March 6-10 as National School Breakfast Week. It is a proven fact that school meals improve learning environments. Research has shown that when students eat breakfast they are more engaged, less disruptive and better learners. In Lincoln, as in many other communities, school meals may be the only access some of our students have to a complete nutritious meal and I am proud to say here in Lincoln Public Schools breakfast is available at all of our sites."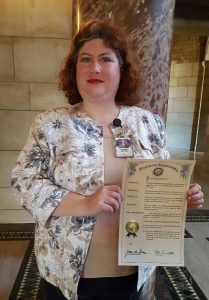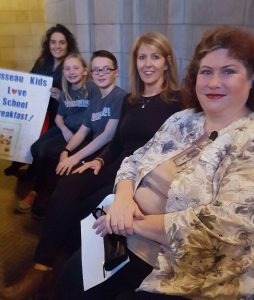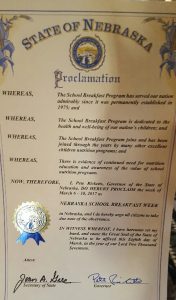 New App Offers Wealth of Nutrition Information on School Lunches
Monday, February 26, 2017
Source: Lincoln Journal Star
Wondering what's on the lunch menu at your student's school?
Curious about how many calories those chicken nuggets have? The fat content in a slice of pizza? Choices for your dairy-averse child?
Well, there's an app for that.

28 Schools Earn National Awards for Health Efforts
The Healthier Schools Challenge is a is a voluntary certification initiative recognizing those schools enrolled in the Team Nutrition program by the United States Department of Agriculture that have created healthier school environments through the promotion of nutrition and physical activity.
USDA recognizes that changing the school nutrition environment takes time and celebrates both gradual changes and big successes of schools working diligently to help children eat more healthfully and be more physically active. Schools submitted for either a Bronze, Silver, or Gold level award.
The following twenty-eight schools within Lincoln Public Schools in partnership with Nutrition Services received recognition for these efforts across the district and are being recognized for their contribution to a healthier school environment: 
Gold
Arnold Elementary School
Huntington Elementary School
Lakeview Elementary School
McPhee Elementary School
Prescott Elementary School
Riley Elementary School
Saratoga Elementary School
West Lincoln Elementary School
Silver
Campbell Elementary School
Culler Middle School
Goodrich Middle School
Lefler Middle School
Park Middle School
Bronze
Dawes Middle School
Irving Middle School
Kloefkorn Elementary School
Bryan Community Focus Program
Lincoln East High School
Lincoln High School
Lincoln Northeast High School
Lincoln North Star High School
Lincoln Southeast High School
Lincoln Southwest High School
Lux Middle School
Mickle Middle School
Pound Middle School
Schoo Middle School
Scott Middle School