28 Schools Earn National Awards for Health Efforts
The Healthier Schools Challenge is a is a voluntary certification initiative recognizing those schools enrolled in the Team Nutrition program by the United States Department of Agriculture that have created healthier school environments through the promotion of nutrition and physical activity.
USDA recognizes that changing the school nutrition environment takes time and celebrates both gradual changes and big successes of schools working diligently to help children eat more healthfully and be more physically active. Schools submitted for either a Bronze, Silver, or Gold level award.
The following twenty-eight schools within Lincoln Public Schools in partnership with Nutrition Services received recognition for these efforts across the district and are being recognized for their contribution to a healthier school environment: 
Gold
Arnold Elementary School
Huntington Elementary School
Lakeview Elementary School
McPhee Elementary School
Prescott Elementary School
Riley Elementary School
Saratoga Elementary School
West Lincoln Elementary School
Silver
Campbell Elementary School
Culler Middle School
Goodrich Middle School
Lefler Middle School
Park Middle School
Bronze
Dawes Middle School
Irving Middle School
Kloefkorn Elementary School
Bryan Community Focus Program
Lincoln East High School
Lincoln High School
Lincoln Northeast High School
Lincoln North Star High School
Lincoln Southeast High School
Lincoln Southwest High School
Lux Middle School
Mickle Middle School
Pound Middle School
Schoo Middle School
Scott Middle School
North Star and Southwest High School Café's Get a Face Lift
Recently both high schools revamped the menu boards in their Café serving areas. Menu boards were original from when the schools first opened. New photos and school logos have been added to provide color and a more appetizing atmosphere. The serving areas have also been renamed from Snack Shop to Café as they have become full service lunch serving areas.
North Star Old Menu Board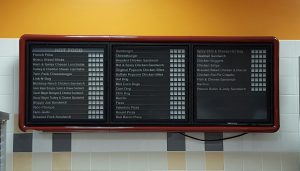 Gator Café New Dsiplay Boards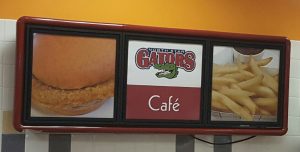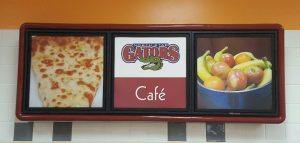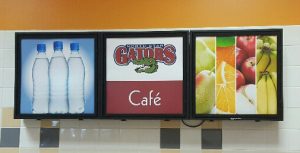 Southwest Old Menu Board
Silver Hawk Café New Display Boards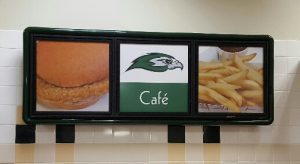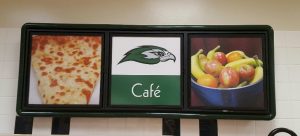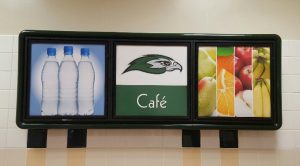 Sandwich Taste Testing
Three sandwiches were featured in a taste test at Southwest High School recently. The flavors were: Cuban, Southwest Turkey, and a Caprese Grilled Cheese, which all featured new artesian Ciabatta and Panini bread.
While all three were well received the Cuban was by and large the favorite; consisting of Panini or Ciabatta bread, sliced ham, mozzarella cheese, pickles, and honey mustard.
Some comments received were: "Yum", "Amazing", "Awesome", "Thumbs Up!", "I liked it a lot. The cheese was melting in my mouth like chocolate!"