Lots of Elfin Around
           
Randall the Elf had lots of fun this holiday season in the Randolph Elementary kitchen. Every day the students looked forward to what Randall may have been up to the night before. He may have even gotten himself into a pickle or two, but overall looks like he and the staff had a great time.
          
Peaches kept an eye on students and staff at Fredstrom Elementary. Her goal was to catch kids eating their fruits and veggies. I bet they caught her a few times too.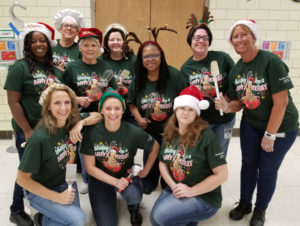 Goodrich Middle School staff looking festive in their matching holiday t-shirts and hats.
School Lunch Fund Donations
The LPS Foundation has set up a special page to receive contributions to help support families who struggle with lunch payments. This fund can be accessed by any principal in the district who has identified a family in need.
If you would like to contribute towards the emergency needs of your LPS neighbors, you can make a tax-deductible contribution on the Foundation for LPS website https://www.foundationforlps.org/give/by-category/students-in-need.html.
In the "Donate To" box, select School Lunch Fund.
Thank you for your interest in our most vulnerable families. It takes all of us working together to give our students the opportunity to reach their full potential!
Halloween Hoopla Fun
Staff in LPS cafeterias went all out for Halloween this year. Here's some of the great photos we received from the day: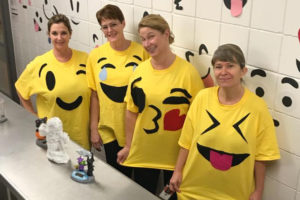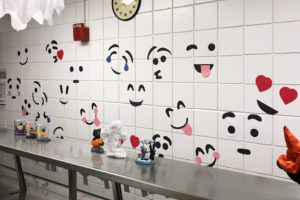 Fredstrom staff dressed as Emoji's, and decorated their wall with emoji faces.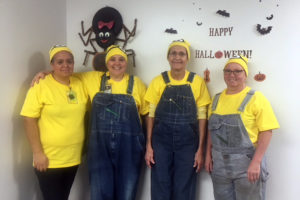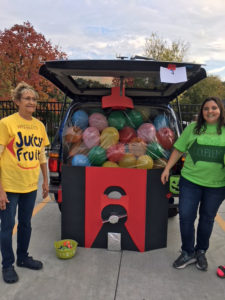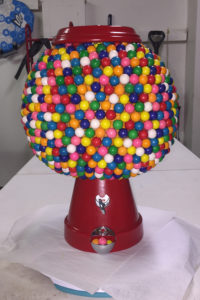 Randolph staff dressed as Minions, and decorated their car as a bubblegum machine for the school's parking lot trunk or treat. One of their staff even entered the pumpkin decorating contest, with her version of a pumpkin bubblegum machine. Very creative!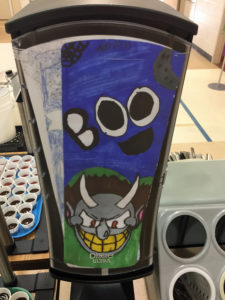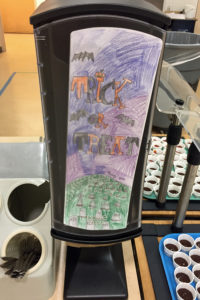 Riley staff had a student drawing contest for decorating the napkin holders. Aren't they cute!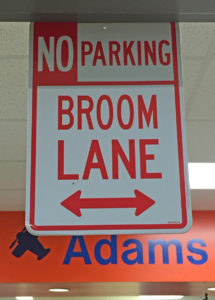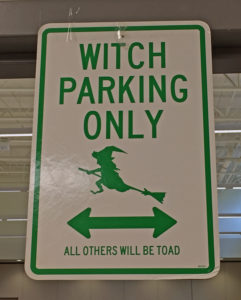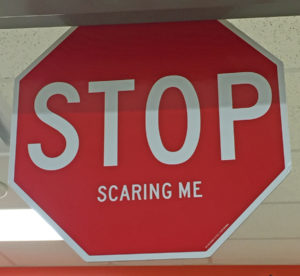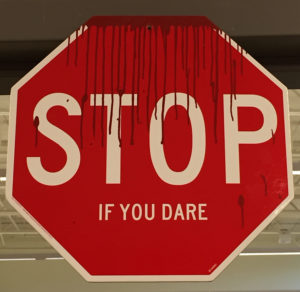 Adams staff hung fun signs throughout the serving area.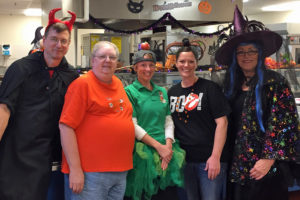 Prescott staff dressed in colorful costumes.
Looking on the Bright Side
The cafeteria staff at Adams Elementary love to join in on the Red Ribbon Week fun. The school's slogan for the week was "Dress for Success over Drugs", and each day included a dress-up theme. We caught our staff looking lively on "Be Bright and Say 'NO!'" (Neon Day), with vibrant colored shirts and wigs. Don't they look fun!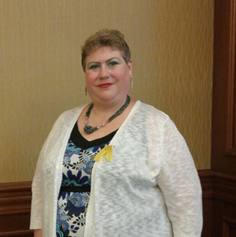 Congratulations to our Rousseau Kitchen Manager, Rebecca Coatney, on receiving level 3 certification in the School Nutrition Association.
She is 1 of 104 certified Manager's in Nebraska and the only certified manager from Lincoln Public Schools.
Rebecca was also installed as a member of the Executive Board of the Nebraska School Nutrition Association at the state conference in South Sioux City Nebraska.
Solar Eclipse - Experience for All
Students and staff at all LPS schools were invited to enjoy the Solar Eclipse on Monday, August 21st. Cafeteria staff were able to take some time out of their busy day, relax and enjoy the eclipse totality together. It was an amazing experience, and one we'll remember for many years to come.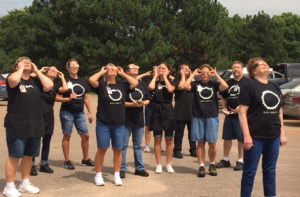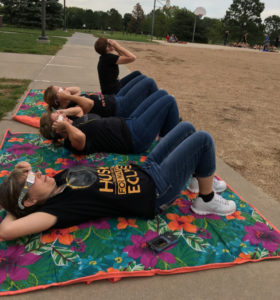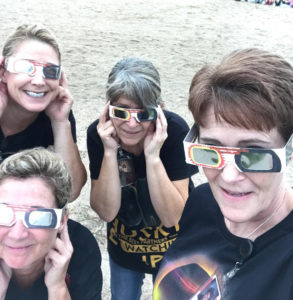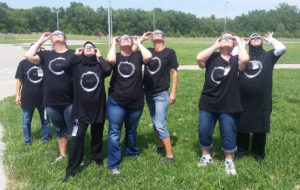 Welcome New Kindergartners!
Kindergartners at McPhee Elementary wanted to welcome the new incoming Kindergarten class by decorating brown paper bags. The bags were then used for a special Welcome Breakfast last Spring. Aren't they cute!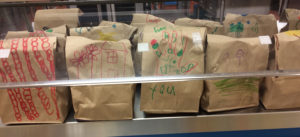 Adams Elementary Kitchen Remake
When District painters told Cafeteria Manager Yvonne that she could pick anything she wanted to put on the kitchen walls, she contemplated some big ideas! Using the school's mascot, and some clever phrases, she created vibrant new walls with healthy messages. Great job Yvonne and District paint staff!