Nutrition Services Staff attend 2019 Nebraska State Conference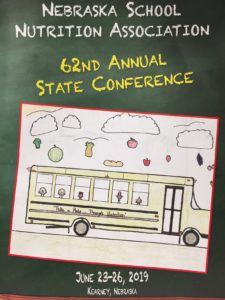 Last month, eleven LPS Nutrition Services attended the 62nd Annual Nebraska School Nutrition Association meeting in Kearney. This year's theme was "Take a Ride Through Nutrition".
The agenda featured speakers from a wide variety of agencies, schools, state and regional offices including the following: USDA Food and Nutrition Services, the Nebraska Department of Education, DHHS, the Nebraska Dairy Council, the Nebraska Beef Council, the Nebraska Dry Bean Commission and UNL Extension Educators.
Professional development is a USDA requirement and a department priority. The conference offers a chance for school nutrition staff across the state to network and keep up to date on program procedures. The educational sessions covered everything from food safety, to breakfast ideas, farm to school, special diets, program marketing and chef cooking demonstrations. Equally important is the opportunity for school nutrition staff across the state to network and share innovative ideas that are working within their districts to feed healthy, appealing meals to students.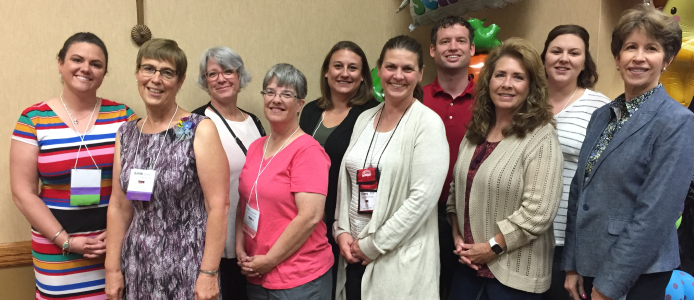 Left to Right: Emily Kennedy (Lefler), Edith Zumwalt (Director Nutrition Services), Susan Zander (East), Gayle Zimmerman (Rousseau), Alicia Pohlmann (Supervisor Assistant), Tammy Smith (Southwest), Andrew Ashelford (Supervisor), Judy Fleischman (Supervisor Assistant), Kara Vlasin-Marty (Supervisor), and Lynn Goering (Dietitian). Not Pictured: Victoria Dodd (Northeast)
LPS Staff Active in Nebraska District Chapter of School Nutrition Professionals
Nutrition Services would like to recognize the following employees for their active leadership roles within the Nebraska District 1 Chapter of the School Nutrition Association: Susan Zander, East Manager –Incoming Chairman; Tammy Smith, Southwest Manager -Secretary; Emily Kennedy, Lefler Manager -Outgoing Chairman.
The District 1 is the local chapter of school nutrition professionals in southeast Nebraska. The 14 counties include: Cass, Filmore, Gage, Jefferson, Johnson, Lancaster, Otoe, Nemaha, Pawnee Richardson, Saline, Seward, Thayer and York.
District chapter objectives include promotion of healthy, appetizing meals for all students, uniting school personnel in efforts to ensure each child's nutritional need is met, promoting high standards of program operation, as well as continuous learning and sharing.
Running Buddies from the Start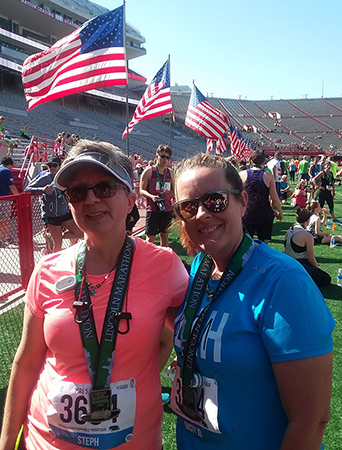 Dusty and Stephanie, who has since been promoted to kitchen manager at Cavett, continue to run together on a regular basis. That chance meeting has yielded a shared passion and appreciation for running, a shift from novice runners to mentors for the "Beginners Luck" classes, 7 completed half marathons, and a very special friendship.
Rewind approximately 4-5 years ago, Dusty Decker, North Star kitchen manger decided to take up running. She enrolled in "Beginners Luck", a class for new runners offered through the Lincoln Running Company.
Dusty noticed a fellow classmate who ran about the same pace so she introduced herself and asked if the other runner might like to be running partners. Stephanie Ernesti agreed.
It wasn't until later, that the two realized that they both worked for LPS, and they both worked for the same department – Nutrition Services – but at different schools. Stephanie at Cavett and Dusty at North Star.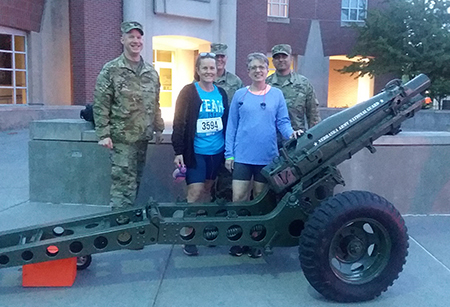 And the Hawk Award Goes To . . .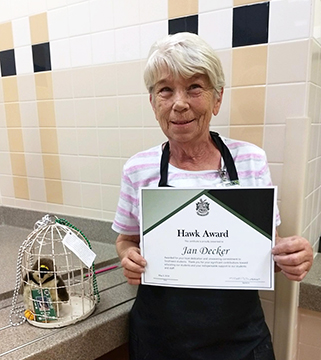 Jan Decker recently received the Hawk Award at Southwest High School. Lori Mescher, who nominated Jan, wrote: "If you're fortunate enough to get here early in the morning and you happen to go past the cafeteria, you will see a slight little woman with a smile that will light up any day! Jan greets me every day with a hearty good morning and asks about my day! I've watched her interact with our breakfast club and as we can all attest, early rising teens aren't always the easiest to converse with but, Jan always gets them talking and smiling! Jan is truly an asset to our students and to our building! Keep up the good work!!"
We congratulate Becky Coatney, Cafeteria Manager of Rousseau Elementary, for receiving the Manager of the Year Award, given by the School Nutrition Association.


Criteria for the award includes:
Cafeteria Environment
Management and Staff Development
SNA Involvement
School and Community Outreach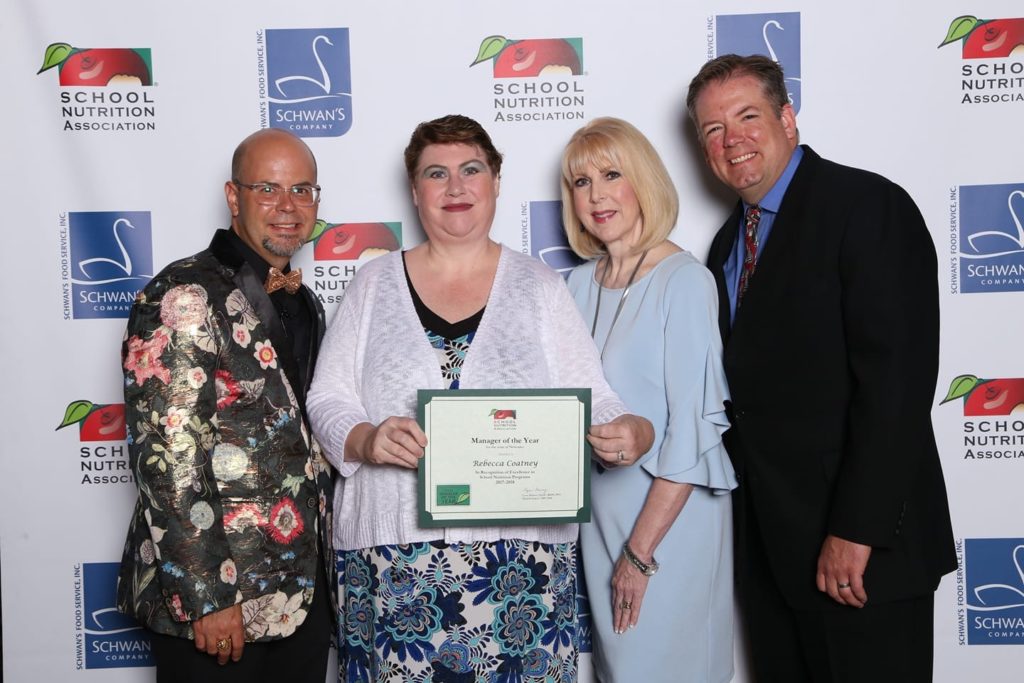 Some of the highlights of her nomination are:


Becky has created a warm and welcoming cafeteria environment. Problem solves with administration and creates personal connections with students and families.
She is active on both the district and state level of the School Nutrition Association (SNA), attending state conference in the summer. She is a member of the executive board for Nebraska and holds a level 3 certification. 
As part of the School Outreach, She is an active member of Rousseau's wellness team and has helped to implement and fund in-class snacks to be provided for all students during state assessment testing.
Each year, Becky organizes a week of activities during National School Breakfast Week. Some activities have included:
Arranging for UNL Husker athletes to come have breakfast with students and talk about why nutrition is so important in their lives, and providing autograph books.
Parfait Day – make your own yogurt parfait. Students start with a cup of vanilla yogurt and add assorted fruit, granola and cereal toppings.


"Bring a friend to breakfast" day. Inviting students and families to come and eat breakfast at school.


Arranging a mini vendor show, where tables were set-up with samples of breakfast foods and give-aways like water bottles and pencils.
In addition to these events Becky requested a proclamation from the Governor of the State of Nebraska requesting that the week of March 6-10 2017 be declared Nebraska School Breakfast week. The proclamation was accepted and on March 8th. Becky, members of Rousseau wellness team, staff from LPSDO and Rousseau students attended the proclamation ceremony at the State Capital.
Bringing the power of the pedal, Rock the Bike is a bicycle that makes smoothies as you ride. The bike comes fitted with a blender on the back that is powered when you pedal, so kids can make a smoothie by hopping on and going for a spin.
Campbell Elementary recently used one at their 4th Annual Wellness Fair in March. They had 560+ in attendance, and made all the smoothies they had planned for. The smoothie bike was a big hit!
Nutrition Services provides the bike and recipe (kid-tested and approved!). Ingredients can be purchased through Foodzone as well. Smoothies can be ready in as little as one minute depending on the ingredients, and of course by how fast one pedals. You may even catch an adult or two trying it out!
National School Breakfast Week
Foodzone celebrated National School Breakfast Week March 4-8. The theme: Start Your Engines! Kitchens decorated serving and eating areas, and dressed in racing themed shirts. Students at Roussseau enjoyed Parfait Day, making their own yogurt parfait with different fruits and granola as topping choices.
The National School Breakfast Week celebration reminds parents, students and school personnel that fueling up at breakfast also means winning in the classroom.
https://www.lps.org/post/detail.cfm?id=13533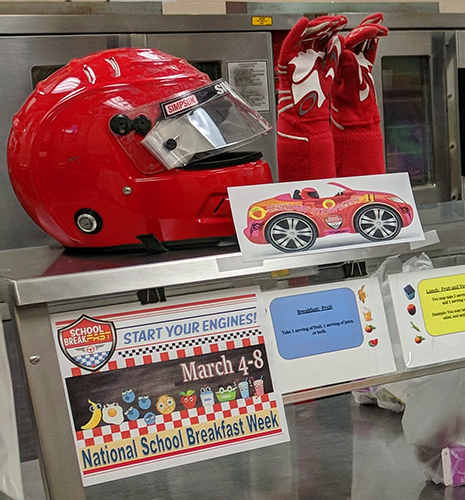 Southwest Foodzone Staff Giving Comfort
Lincoln Southwest High School Student Council was putting together 'cancer care packages' that will go to local children suffering from cancer. Part of their fundraising was asking departments within the school to donate a basket full of items such as fuzzy socks, mints, word puzzles, etc. The filled baskets would be donated to the Lincoln Children's Hospital.
Tammy Smith, Cafeteria Manager, and staff were up to the task. "They gave us a list of suggestions and the ladies went shopping. At lunch we would discuss what we had and what we still wanted to add and the next day there would be more goodies. It grew into 8 full baskets. It was a lot of fun and I am so proud of this staff's enthusiasm and generosity. I hope we make eight little kids' day."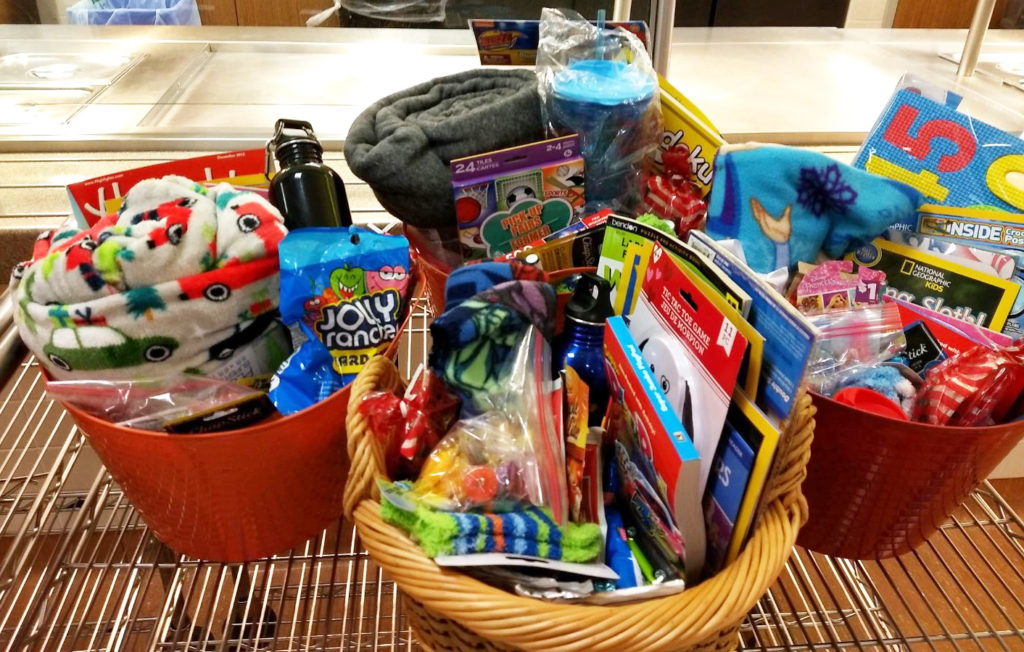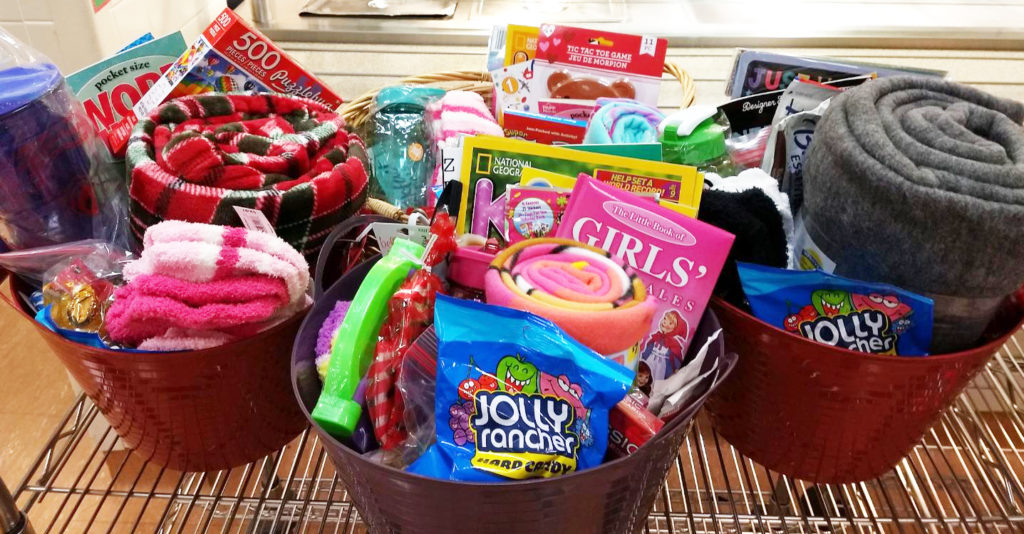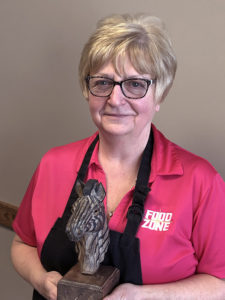 Zeman Elementary staff nominated cafeteria manager Kim Morrock for the Anna Zeman Award. 
This is an award that staff give to each other for contributing to their students and community.
The school LOVES Mrs. Morrock, and we think she's very deserving as well. Congrats!!
Randall the Elf has once again arrived at the Randolph Elementary kitchen, and has been up to some shenanigans. First, he made a bridge so he could get from one high shelf to another, then wrapped up in a tortilla to play long with Taco meal day. He climbed the "ribbon" wall, and had a snowball fight with some friends. He's always entertaining!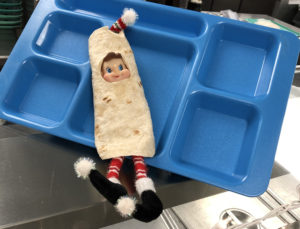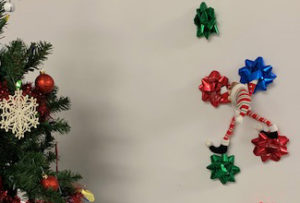 Foodzone staff from Rousseau and Prescott also joined in the holiday fun with reindeer ears and an elf costume.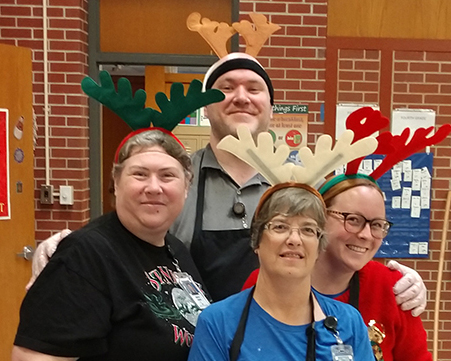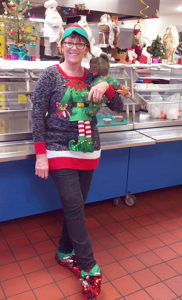 Flat Steve Visits Moore Middle School
Flat Steve has been making the rounds in LPS, and recently visited Moore Middle School Cafeteria. He even wore his hair net and loves chili and cinnamon rolls!
Foodzone Article Archives
If you're looking for an article you've seen before, but don't find it above, click here to view our archives.
School Lunch Fund Donations
If you would like to contribute towards the emergency needs of your LPS neighbors, you can make a tax-deductible contribution on the Foundation for LPS website. In the "Donate To" box, select School Lunch Fund.