Printing, Copying, Scanning & Faxing at LPS
LPS provides Xerox multifunction devices throughout our buildings which act as printer, copier, scanner, and in some cases fax machine. 
The district also maintains a full featured Print Center which staff can utilize to lower costs of printing services.
Learn more about these options below.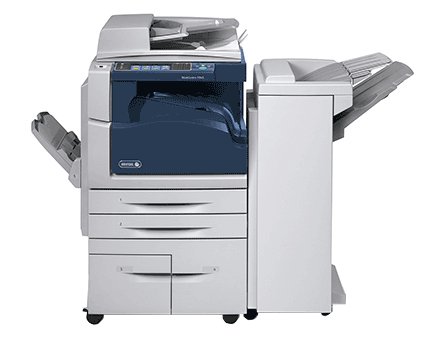 You can order jobs from the LPS print center (using a PDF file) by visiting the LPS Print Center's online ordering site.
Print Center Setup & Information
Printing directly to the District Print Center
Tips for Uploading Common Layouts
Booklets
Posters
Other Common Setups
Xerox Multi-Function Devices (MFDs) are located in all LPS buildings and work spaces. They have the ability to act as a printer for LPS devices, a copier, a scanner, and in some cases, a fax machine. Following are a number of help documents that can get you started using these MFDs.
Set up printing from your computer
These resources will walk you through printer setup on your computer, as well as how to manage your accounting and secure print options. To get started, select the operating system of your computer below.
If you need help, contact our HelpDesk via phone (x1735) or ticket.
MFD Support Guides from Xerox
* Video tutorials by Xerox offer good overviews of general MFD use, but contain some features that do not match the LPS environment.
You can use an MFD to scan items directly to the LPS Print Center for printing, or have the scans emailed to the address of your choosing.
Both of these options require LPS staff to badge into the machine to access the scanning feature.
Outbound faxing at LPS is done from an MFD or from your email account.  
Inbound faxes are received at a school MFD or through a DocuShare collection. (This depends on the building).
Xerox School Verification Reports are available via LPS Custom Reports.
LPS Printing Reports: Non-Instructional
This report serves as the replacement for the Docushare xerox activity verification reports previously provided by Accounting.