Special Education Blog
Advocacy Partnership for People with Special Needs 2018 Transition Conference
Please see the attached flyer for information on this years Transition Conference, which will be held on April 28th from 8:30 am – 4:00 pm, at Bryan East Plaza, 1600 S 48th St, Lincoln, NE 68506
2018 Transition Conference Flyer
Special event for families!
Please see information below about a special event being held on December 2nd at Gateway Mall for children with special needs and their siblings! If you have any questions, please contact  Jennifer Meints.  This should be a fun time for all!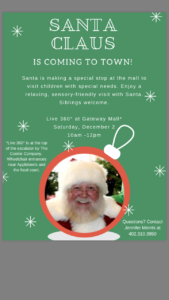 Thank You to the University Sertoma Club!
University Sertoma Club Donates New Microphones
The University Sertoma Club has recently provided Lincoln Public Schools with new innovative technology that assists students in hearing their teacher, co-teacher, peers in small group discussions, and even intercom announcements.
Accessing teacher and peer communication in the classroom is vital to today's learning in school.  For students with hearing loss this can be difficult even with the use of hearing aids or cochlear implants.
These new microphones, called the Phonak Roger Touchscreen, allows students to not only hear their teachers, but also access small group discussions that are such an important part of today's modern classroom
Our team would like to thank the University Sertoma Club for their amazing generosity with their donation of seven of these microphones, more than $5500, to help benefit students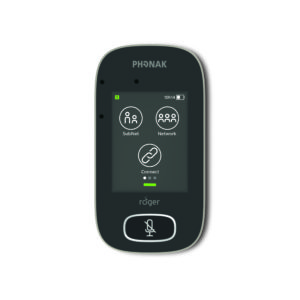 Playhouse Hosts Exceptional Family Night at Penguin Project June 8
Please consider attending this amazing event!
Lincoln Community Playhouse will host an Exceptional Family Night for its Penguin Project production of High School Musical Jr. on Thursday, June 8, with curtain at 7:30 p.m. The performance is free to all area families with special needs family members. Seating is general admission and the doors will open at 7:00 p.m. Reservations can be made in advance at the box office at 402-489-7529 or at the door.
For more information:
PP. Exceptional Family Night.Info
Upcoming Events!
Please see the attached flyer that describes upcoming events for families to consider for children with disabilities
PARENTS- UPCOMING EVENTS Handouts as of 6-1-17
VOICE Recognition Ceremony
See the following link for pictures and video from our fabulous VOICE Recognition Ceremony!  What a wonderful event!
https://lps.org/post/detail.cfm?id=11961
Tourette Syndrome Workshop coming June 5th
Please see the attached flyer for the upcoming Tourette Syndrome Workshop, being held on June 5th.
This exciting opportunity is a comprehensive program offered by the Lincoln Public Schools in collaboration with the Tourette Association of America and underwritten by the CDC.
Tourette Syndrome Workshop, June 5, 2017
The ARC and Autism Family Network holding Transition Conference
Please see the attached flyer for the 2017 Transition Conference, hosted by the ARC of Lincoln and the Autism Family Network.
The conference will be held May 13th, from 8:00 to 4:00 at the Bryan East Plaza.
2017 Transition Conference Flyer
Check out the Nebraska Department of Education's "The Good News Series"
In this most recent newsletter, there is a story about the Project Search Job Fair, hosted by Nebraska Vocational Rehabilitation. There, hundreds of individuals with disabilities from the Lincoln area had a chance to test their skills, practice their ability to interview and meet dozens of employers looking to hire quality employees.
Project Search Good News Series
Opportunity to learn more about Tourette Syndrome
Please see the flyer regarding a great opportunity coming up! This free Tourette education day is designed for educators, community members, and caregivers who are interested in learning more about Tourette Syndrome, educational strategies, and community resources!