Special Education Blog
Check out the Nebraska Department of Education's "The Good News Series"
In this most recent newsletter, there is a story about the Project Search Job Fair, hosted by Nebraska Vocational Rehabilitation. There, hundreds of individuals with disabilities from the Lincoln area had a chance to test their skills, practice their ability to interview and meet dozens of employers looking to hire quality employees.
Project Search Good News Series
Opportunity to learn more about Tourette Syndrome
Please see the flyer regarding a great opportunity coming up! This free Tourette education day is designed for educators, community members, and caregivers who are interested in learning more about Tourette Syndrome, educational strategies, and community resources!
Special Olympic Night at the Lincoln Stars
Please see the attached flyer and read below
Special Olympics (east Central Region)Night with the Lincoln Stars
January 28th at 7:05 pm
Special ticket price of $17 with proceeds going back to the East Central Region! – Each ticket comes with a Hot Dog & Soda! – Post Game Autograph session with select Stars players on the North Stage! for tickets Contact John at 402.474.7827 ext. 15 or jnotter@lincolnstars.com or go to goo.gl/AZl0TW
A Message from the Autism Family Network
Please pass on to parents that the Autism Family Network is having a private sensory-friendly holiday party this Saturday from 5:30pm – 7:30pm for all special needs children.  Families will be able to enjoy the museum for free and even meet Santa & Mrs. Claus in a private area in the lower level.
Happy Holidays!
The Autism Family Network
Unified Bowling
Please watch the following video as we are nearing the conclusion of the fantastic first season of Unified Bowling!
https://videocenter.lps.org/videos/video/2634/?access_token=shr00000026343841558789957819758590018430791
Nuernberger Dedication Ceremony
Students and staff celebrated the dedication of the Nuernberger Education Center with his family and the community on Sunday, October 9.
The 2016-2017 school year is the inaugural year for the Nuernberger Education Center which houses two programs – a student support program and a program that serves students sixth through eighth grades who have been referred from other middle schools within LPS.
Speakers at the event included Superintendent of Lincoln Public Schools Dr. Steve Joel, Principal Jamie Bodeker, Special Education Director Dr. Jenny Fundus, as well as Judge Nuernberger's wife Marian, and daughter DeAnn Currin (current principal at Sheridan elementary school).
At the event, students from the sixth grade choir sang the "Star-Spangled Banner", "Don't Worry Be Happy", and "Knowledge is Power."
Resource Fair
Please see this great opportunity for families, click below: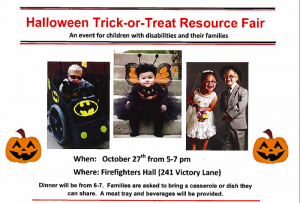 Jamie Mapp Named School Psychologist of the Year
Each year the NSPA awards one member School Psychologist of the Year.  This person demonstrates or has demonstrated contributions to the profession that are of exemplary status.
For more information, see the article here: http://lps.org/post/detail.cfm?id=11223
FACTS ABOUT ABLE
In December 2014, the federal Achieving a Better Life Experience (ABLE) Act was signed into law authorizing state-sponsored tax-exempt savings programs for disability-related expenses. The law, which is modeled after Section 529 college savings programs, allows states to establish ABLE programs for individuals to save, on a tax-free basis for qualified expenses of an individual with disabilities without losing eligibility under Supplemental Security Income (SSI), Medicaid and other public benefits. On May 28, 2015, the state of Nebraska passed the Nebraska ABLE enabling act. The Nebraska act established the Nebraska ABLE program for residents of Nebraska who meet the eligibility requirements. It also allows Nebraska to contract with another state that does not have its own ABLE program. On November 16, 2015, the state of Nebraska signed a contract with First National Bank to be the Program Manager for the state's ABLE program, called the Enable Savings Plan. On December 18, 2015, as part of the PATH Act of 2015, the requirement that individuals with disabilities could only open up an ABLE account in their home state was eliminated. As a result, individuals with disabilities living in any state will be eligible to open an Enable Savings Plan account.
Eligibility
An individual is eligible to participate in an ABLE program if he/she
Is entitled to Social Security Act benefits based on blindness or disability that occurred prior to age 26, or
Has received a certification by a qualified physician indicating that he/she is blind or has a physical or mental impairment which results in severe functional limitations. That impairment must have lasted or is expected to last for at least 12 months or can be expected to result in death. The blindness or disability must have occurred prior to age 26.
Benefits
The earnings on the savings in an ABLE account are tax-deferred and tax-free if used for a qualified disability expense.
ABLE account balances and distributions are not counted when considering needs-based financial aid.   If assets are held in an account other than an ABLE account, there is a limit of $2,000 before they are counted against SSI and/or Medicaid eligibility.
Qualified disability expense
Any expenses related to the blindness or disability of the individual with a disability including:
Education, housing, transportation, employment training and support, assistive technology and personal support services, health, prevention and wellness, financial management and administrative services, legal fees, expenses for oversight and monitoring, funeral and burial expenses; and other expenses identified in the final federal rules (federal rules have not yet been adopted).
Account ownership
Only one account can be opened for the individual with a disability.
The account must be owned by the eligible individual. The account owner is also the beneficiary.
The account owner can be changed to another account owner who is disabled but must be a member of the family of the former account owner.
Contributing to an ABLE account
Anyone can contribute to the ABLE account owned by the individual with a disability.
No matter the source of contributions, the account owner retains control over the account.
Contributions cannot be accepted when the maximum contribution limit is met. For the Enable Savings Plan, the maximum is when the account balance exceeds $360,000.
There is an annual per account contribution limit (from all sources) tied to the annual federal gift tax exclusion limit (currently $14,000). There is no opportunity for five year forwarding for gift tax purposes.
To continue to receive SSI benefits, an account owner's ABLE assets can't exceed $100,000 before the benefit is suspended.
Tax treatment
Qualified withdrawals are tax free if they do not exceed the account owner's qualified disability expenses.
The earnings portion of withdrawals not used for qualified disability expenses are subject to federal income tax and, unless due to the account owner's death, a 10% additional penalty tax.
The account owner may be eligible for state tax benefits. Account owners in Nebraska are eligible to receive an income tax deduction for their own contributions of up to $10,000 ($5,000 married filing separately)1. Check with a tax advisor.
Investment direction
The account owner may redirect the assets in the ABLE account to another investment in an ABLE program twice per calendar year, or when there is a change of account owner (only to another family member who is disabled).
New contributions can be directed to be invested in a new investment any time a contribution is made.
Impact on means-tested programs
Balances in and distributions from an ABLE account are not counted for purposes of means-tested federal programs – Social Security Disability Insurance (SSDI), SSI, and Medicaid. However:

Distributions for housing expenses are not excluded; however, the excess of an ABLE account balance over $100,000 is counted and may result in the suspension (not termination) of SSI benefits during any period in which the excess remains in the ABLE account.
Even if SSI benefits are suspended due to an excess account balance, the account owner's Medicaid eligibility is not suspended.
Death of account owner
The state of an account owner's residence receives reimbursement of the balance of an account upon the account owner's death if the state paid for the account owner's medical costs incurred after the account was opened.
The state of an account owner's residence receives the balance net of any premiums paid on the account owner's behalf to the Medicaid Buy-In program.
The 10% tax penalty does not apply if there is a distribution because of the death of the account owner.
Matt Talbot's Donation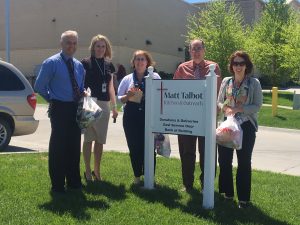 (Pictured left to right: Brian Foley, Jill Timmons, Mary Ells, Doug Schindler, Shannon Hall-Schmeckpeper)
Lincoln Public Schools Special Education staff donated toiletries for Matt Talbot's Kitchen.
It's great to support our community.