Multi-Tiered systems of support for behavior includes proactive strategies, for defining, teaching, and supporting appropriate student behaviors to create positive school environments.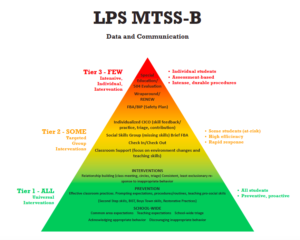 Research supports that the MTSS framework, implemented with fidelity, provides a school-wide, systematic, tiered approach that leads to increased student achievement and reduced classroom disruptions and student suspensions.
More importantly, MTSS is not a curriculum, program, intervention or practice but is a decision-making framework that guides selection and implementation of research based practices and interventions for improving student outcomes for all students.
Tier 1 Supports:
Tier 1 includes all the supports offered to all students to help students meet behavior expectations.
Tier 2 Supports:
Tier 2 is designed to provide targeted group interventions to support students who are needing additional supports.
Tier 3 Supports:
Tier 3 is designed to provide individualized interventions.  For each intervention, either FBA/BIP or WRAP/RENEW, an individualized team specific to the student and the student's needs is developed.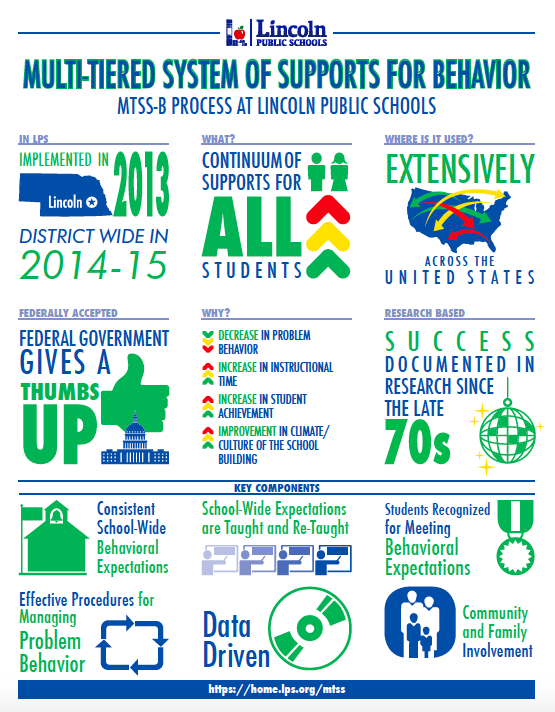 Quarter 2 MTSS-B Challenge for Buildings
Our Quarter 1 challenge was a huge success with 19 buildings submitting a school climate video! You can see these here: https://home.lps.org/pbis/pbis-video-challenge/
Quarter 2 we are focusing on Prevention. We have sent out the flyer on a preventative classroom, and now here is our Quarter 2 challenge:
Create a meme related to the idea and/or power of prevention. Your meme could include information on teaching expectations, routines and procedures, encouraging appropriate behavior, active supervision, room arrangement,  or student engagement and opportunities to respond.
Requirements:
Keep it professional and family-friendly

Avoid politically-charged memes

If you're not sure how to get started, check out makeameme.org

Here are some examples to inspire you
Share your meme on social media using these hashtags:
#ounceofprevention
#predictandprevent
#pbislps