What and Why:
Reinforcement is anything that occurs immediately following a behavior that increases the future likelihood of that behavior. It is used to increase skills and broaden interests and opportunities.
Materials:
Materials needed will vary.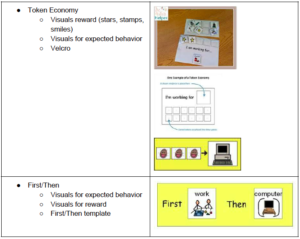 How and When to Implement:
When you want to increase a behavior or skills
Consider doing a task analysis to identify the different steps involved in a task where a student can receive reinforcement
Identify reinforcers that the student is motivated to earn
Make it clear what the student has to do to earn the reinforcer
Teaching staff who are dispensing reinforcers need to be able to observe/measure the behavior
Make it clear how long the student has to engage in observable/measurable expected behavior
Identify whether the student needs a reward immediately after he/she engages in an expected behavior (first/then) or if the student will be successful with a delayed gratification system (token system)
When dispensing reinforcers use specific praise (e.g. You're following directions, You're completing your work, You're being safe)
Things to Consider/Problem Solving:
A reinforcement schedule could be completed by the student's family to help determine interests and likes.
Assessing what the student likes and then creating reinforcers based upon interests can create reinforcers.
Giving students choices can be effective in the development of the reinforcement.  Simply giving a student a choice of which of two toys he would like to play with can have the effect of making the selected toy as a reinforcer.
Giving free access to potential reinforcers can also create new reinforcers.
The "packaging" of the reinforcer is another strategy to develop reinforcers. Often you can "sell" the reinforcer by being enthusiastic and playful.
What is reinforcing to a student will change over time. Make sure to switch out/rotate the student's reinforcers as to not satiate the student on one particular item/activity.
Use "smaller" reinforcers to get through a task, with a "larger" or more desired reinforcer at the end of a completed task.
Useful Resources to Learn More:
http://www.lovaas.com/meetingpoint200710article02. php

Click to return to Best Practices for Students with Autism
Information compiled by Lincoln Public Schools Autism Team (September 2015)