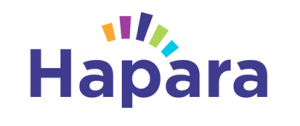 Hāpara offers teachers three different, but valuable tools for working with students' Google Drive and Chromebooks.
Dashboard provides a bird's-eye view of student Google Workspace usage across your class, and greater access to & control over student Google Drive.
Highlights offers teachers a view of student and class web browser use, and the ability to focus student work through management of browser tabs.
Workspaces are Teacher created spaces that allow students to access lesson or project resources and submit evidence of their learning.
Login
Teachers can access Hāpara via the LPS Portal.
The ability for an LPS staff member to use Hāpara is based upon course schedules in Synergy. All LPS Staff can sign in to Hāpara, but only a "teacher of record" in an active LPS course (and the co-teachers) are able to see students in classes.
Hāpara is not a tool that students use. 
Course Folders in Drive
All LPS teachers and students will see Hāpara folders in their Google Drive, whether they actively use Hāpara or not. These folders are created automatically for each course the student is enrolled in, as well as each workspace their teachers set up. Do not delete, remove, or rename the folder.
Student Dashboard
Student Dashboard is a utility created by Hāpara that is available to students in the LPS Portal. It helps students organize their digital school life, listing Google Classroom assignments by due date and any direct email messages from teachers. Student Dashboard has no direct ties to the Hāpara tools used by teachers.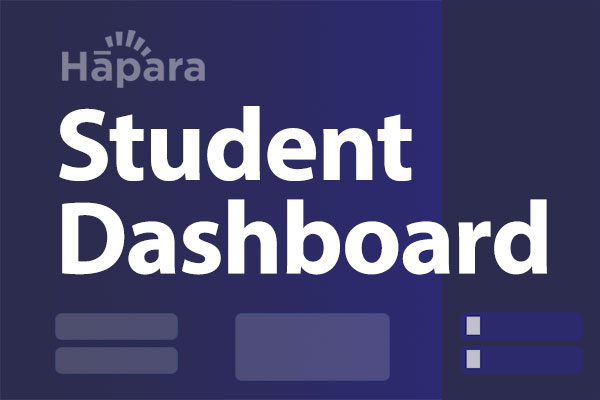 Setup
No setup is necessary by the teacher. When a teacher logs in, Hāpara already knows the classes and sections to which that teacher is assigned. View this video for tips on renaming and/or hiding classes shown in Hāpara.
Teachers can add a co-teacher to any course in Hāpara. To do so, open the Class Info page (last tab at the top of the Hāpara window) and select "Add new" from the teacher's section.

Note: the co-teacher needs to be added with their @class.lps.org email account or it will not work as desired.

Teachers and administrators can create class groupings outside of the Synergy courses available automatically to you. Learn more in the section below!
Student Panels
When a teacher opens a course, each student appears on the dashboard as an individual panel. The panel shows that student's most recent Google Drive work. Dragging a mouse over the student's work displays a thumbnail image of their progress, as well as information about the document that a teacher may find helpful.
Sharing With Teachers
Students no longer need to actively step through the process of sharing work with the teacher. Teachers are automatically given Editor access to all work contained in the student's Google Drive.
Smart Share
A Smart Share tool found along the top-right of the screen allows teachers to hand digital files out to student Google Drive folders in preparation for class. This might be a copy of an existing document, a template for student work, or the creation of a new blank document ready to contain their work. Note that this share is not done in real time. Give it between 5-30 minutes to propagate copies before students need to see the files.
Gmail
By clicking on the Gmail tab, teachers can view email messages exchanged between the teacher & student, NOT ALL student email.
Building Administrators CAN view ALL mail in a student's LPS Gmail.
Teachers can create their own "ad-hoc" classes within Hāpara, allowing for Hāpara to be used outside of the regularly scheduled courses in Synergy. This feature will be especially useful for fluid grouping situations at elementary school, after school academic support sessions for secondary schools, or school sponsored clubs and groups.
How to Create a Class
In the Manage Classes screen, select the Add Class button
Select the school where you want to add the class to
Enter a name for the Class, then click Add Class
On the Class Info page for the new Class, choose Add New to add teachers or students to the class. Teachers need to be added by email address (@class.lps.org) individually, students can be added either individually or in a comma separated list of email addresses (@class.lps.org).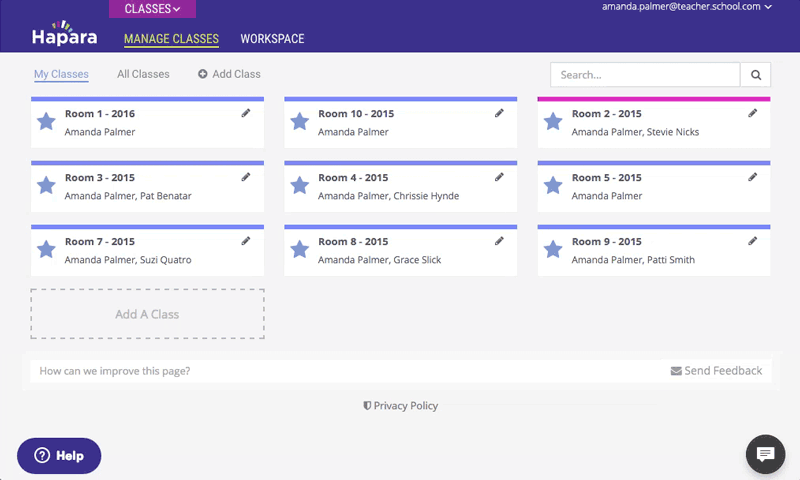 NOTICE:

I understand that use of this Hāpara feature is permitted only if it is pertinent to my work assignment at Lincoln Public Schools.
In Highlights, teachers see a dashboard of student panels, just like in Teacher Dashboard. However, the content shown is not originating from Google Drive, it is from the Google Chrome web browser on their Chromebook.
For more in-depth information about Highlights use the links provided at the right.
Browser Tabs
Presented in the student panels is a list of browser tabs open on the student devices.
Hover your mouse over a tab's text to preview it.
Click the (X) to close the tab for the student.
Click the link icon or the Share Links button in the top right corner of the screen to open a new tab (with the web page of your choosing) for the student.
Refresh rate is typically within seconds
Focused Browsing
The focused browsing tool found within the Guide Browsing button in the top right corner of the screen allows a teacher to send and restrict access to a tab or set of tabs for a defined period of time.
Find more detailed information on the Hāpara Focused Browsing page offered at right, and view tips for its use in LPS in the section below.
Pause Browsing
The Pause Screens feature in Highlights allows teachers to pause learners' screens for a moment to get their attention. Screens can be paused for up to 15 mins at a time. More information can be found HERE.  
Scheduled Browsing
Additionally, teachers can plan ahead and schedule browsing sessions using the Guide Browsing button in the top right corner of the screen. Specific URLs can be scheduled to open (with restricted access, if desired) for a class at the beginning of a class period.
Have an online quiz planned? Teachers can schedule it to open automatically at the start of class, giving learners more time to work. Making sub plans? Teachers can schedule tabs to open, so learners have everything they need.
Activity Viewer
The activity viewer provides a dashboard and set of data around the class' activities in Chrome. Teachers can feel welcomed to leave their own computer screen and move around the room without missing any digital activity. This information disappears once the teacher switches to a new class in Hāpara.
Current activity is presented as BLUE data, historical activity with ORANGE data. Clicking on data identifies student names.
Teachers can capture a snapshot (Snap) of the students' activity on a site with a click, providing opportunities for positive supports or evidence of behavioral interventions necessary. These Snaps live within the page for 7 days. At any time within this week, teachers can send feedback to either the student or their own inbox for later communications with administrators and/or parents.
Snaps allow a teacher to see:
Date and time of the snap
URL being viewed by the student(s)
A screen image when the Snap was taken
Whether the Snap was unique activity, or whether multiple students visited this page.
Messages
Teachers are able to send pop-up messages to individual screens or all student screens simultaneously. This allows for positive encouragement or private corrections without disrupting the classroom work environment.
Privacy

The Hāpara Highlights tool only runs while the student device is on the LPS school network. Teachers will not be able to monitor tabs & screens, nor send messages to students if their device is off of a school network.

NOTE: In order to meet the needs of remote learning scenarios in the 2020-21 school year, teachers will be able to view student device usage from anywhere from 7:00am-5:00pm on school days.
If you have attended a Hāpara Highlights training, you will likely recall one of the major features of the tool is called "Focused Browsing." It allows you to open one or more tabs (URLs) on the Chromebooks of students in your class. At the same time, you can focus your students on just the new browser tab(s) for a set period of time using the Focused Browsing feature. When a Focused Browsing session is active, students can't open new tabs, swap to other tabs or browse to new sites or URLs. More information on how to use Focused Browsing can be found on this resource:
In many instructional situations, a teacher may want to be prescriptive in the URLs they provide to students during Focused Browsing sessions. Following are some examples that may be helpful in specific situations:


Tools that are Always Allowed
LPS has configured a number of tools so that they are ALWAYS allowed for students, even during Hāpara focused browsing. The benefit of this is that teachers do not have to know or add the URLs required for these tools to work during focused browsing sessions.
LPS Portal
Synergy StudentVUE
Zoom meetings
The Portal
The LPS Portal is unique. Since so many tools are accessed through the Portal, we whitelist it for students. This means students will always have access to the Portal page, and it doesn't need be one of the links you send in focused browsing sessions!
Students will not be able to open tools from the Portal unless you've also allowed the specific tool(s) in the focused browsing session (ex. Google Drive, Google Classroom, etc.).
If you need the Portal's URL for link sharing, use https://students.lps.org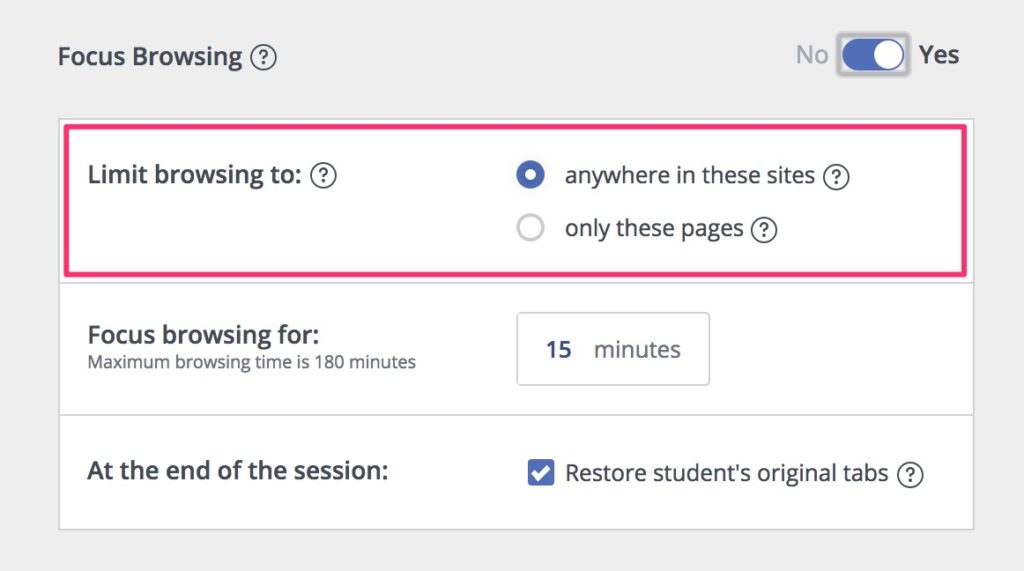 Limit browsing

Be sure to check the "Limit browsing to anywhere in these site(s)" option when focusing students using these Google tools.
Google Classroom

Remember that Google Classroom is just the web site where you hand files in-and-out. You will need to allow the Classroom URL, and also the address of any other Google tools you expect them to use, and any websites you may ask them to visit, even if you linked to it from a Classroom assignment. (see above)
Google Drive

Includes all items stored in Google Drive – PDFs, JPG, MOV, etc.
Google Docs

Includes Sheets, Slides, Drawings, Forms, etc.
Google Forms
When focus browsing your students to a specific Google Form, you must use the specific URL (Preview link) of your Form, but you must also be sure to select the focus browse option that says Limit browsing to anywhere in these site(s). Otherwise, student responses will not save in the Form results.
ABDO Ebooks
Use this link to focus students to ABDO's Digital Bookshelf. Be sure to choose that students can go to "The whole site" when creating the browsing session.
AV2 Ebooks Sites
AV2 consists of a few different sites, each of which requires a different URL.
AV2 Fiction
AV2 Nonfiction
AV2 World Language
Blank Screen

Focusing students to this blank screen prevents them from browsing to any web pages. Useful when you need the room's undivided attention for a moment, or if you have one student who has lost browsing privileges for a period of time.
This can also be accomplished using the "Pause Screens" feature in Hāpara.
CPM Ebook
NOTE: Focused browsing to CPM may or may not work for you, depending upon the tools in CPM you want students to use. This tool requires an array of different URLS, depending upon the activities students may be doing in the tool.



The following URLs are needed if students will need the corresponding tool links:





Flipster
For schools with a paid subscription. Requires two URLs:


Lexia
Be sure to copy the entire URL above. If you are missing the LPS Site ID, students will be creating a new account instead of using their LPS credentials.
Lightbox Ebooks
Use this link to focus students to ABDO's Digital Bookshelf. Be sure to choose that students can go to "The whole site" when creating the browsing session.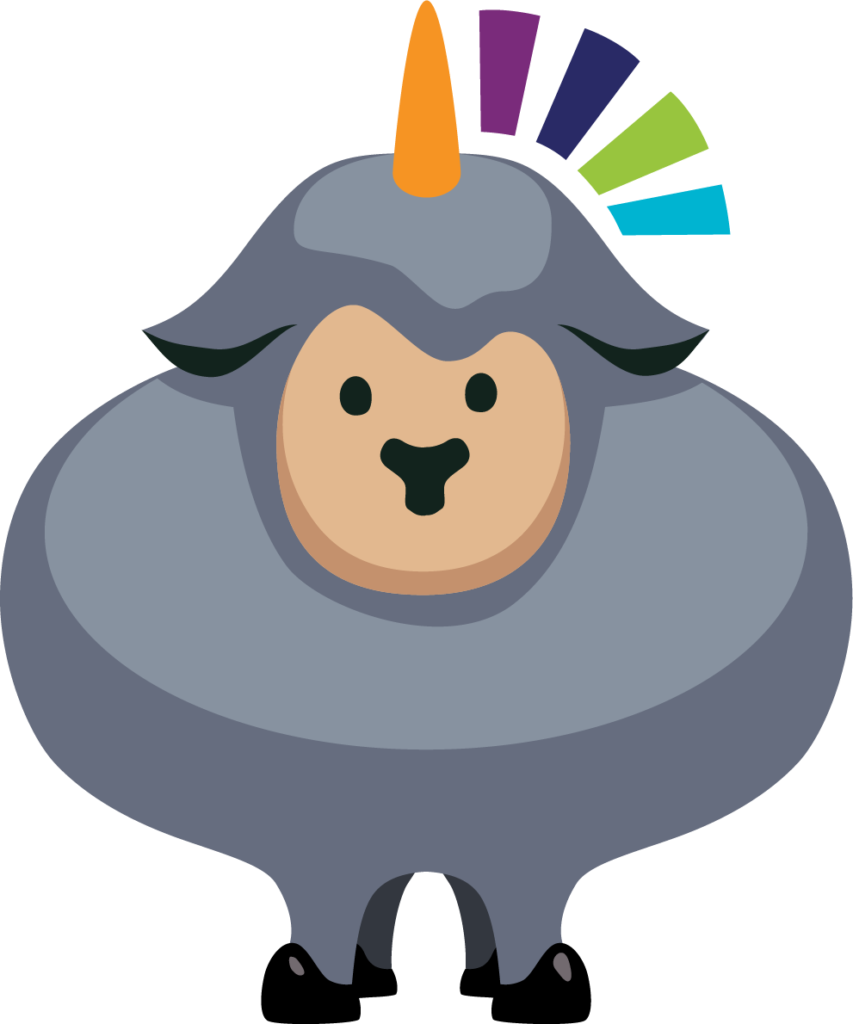 OverDrive
Using LPS Overdrive with students requires 3 URLs:
Sora
Allowing students to use Sora requires two things. Focus them to this URL:
then be sure to select "Limit browsing to anywhere in these site(s)."
Wonders
NOTE: Focused browsing to Wonders may or may not work for you, depending upon the tools in Wonders you want students to use. Reading Wonders requires an array of different URLS, depending upon the activities students may be doing in the tool. The following URLs are most likely to be needed, but your milage may vary.
Early Exit?
If a student accidentally closes the tabs allowed in the focused browsing session before the end of the session, the only URL they will be able to open to is the one you sent out through focused browsing. They won't remember it. Here is a helpful tip:
Have the student use the keyboard shortcut ctrl+shift+t to open the last tab they closed. They can repeat this keystroke to re-open the 10 most recently closed tabs if needed.
You (the teacher) can also end the focused browsing session for just that student. Once they are released you can re-send them a focused browsing URL session.
Most Hāpara issues can be easily resolved by following steps 1 and if needed, step 2 listed below. Continue to see more information on specific issues like "Student is offline" or "Student is logged into multiple devices."
STEP 1. Click on the Extension
Clicking the Hāpara Highlights Extension icon on the student Chromebook will run the diagnostic tool. The process of running diagnostics often resolves outstanding issues and no further troubleshooting is necessary.
To Run Diagnostics:
Open Chrome on the student's device.
Locate the Hāpara icon at the top right of the Chrome browser. Don't worry if the Hāpara icon is visible but is grayed out – it still works just fine.
Click on the Hāpara icon to launch the automatic self-diagnostic tool, which checks several common causes of issues and displays the results.
If using the student diagnostic test did not explain or correct the student connectivity issue, proceed to the next strategy, a quick reboot.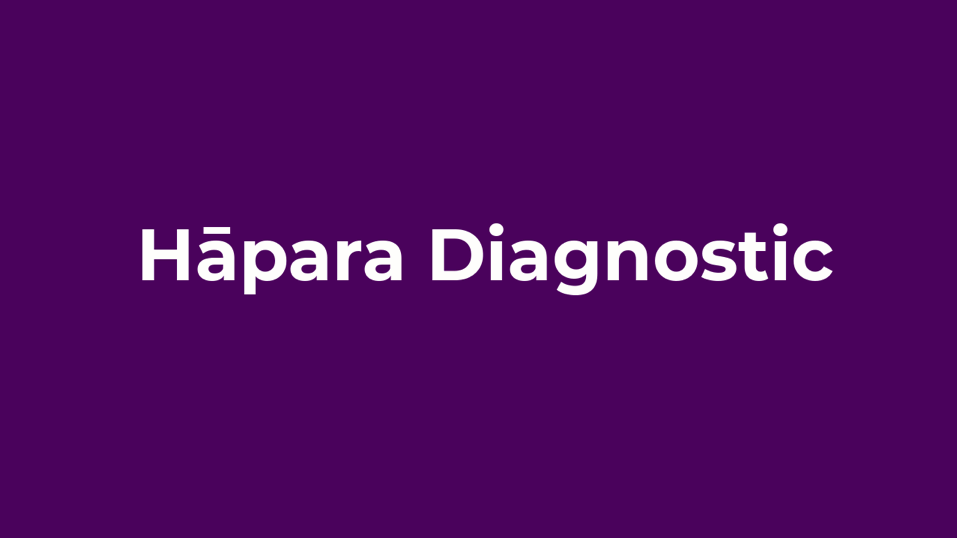 A quick restart of the Chromebook usually corrects this situation. In the process of the restart, the user is logged out and logged back in.
To Quickly Restart a Chromebook:
Have the student press the Refresh button + Power Button at the same time. Both buttons are located in the top row of the keyboard. Refresh is over the 3-4 keys. Power is at the far right.
The troubleshooting steps above typically resolve the "Student is offline" error show here (or a similar one) occasionally encountered by teachers using Hāpara Highlights.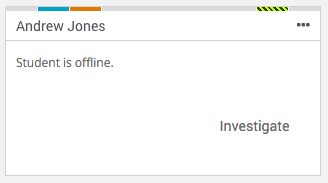 Assumptions
If you are seeing the "Student is offline" error, we will assume a few things:
that you are a teacher successfully logged into Hāpara
(indicating that this is not a teacher login issue)
that you see panels for the appropriate courses and students
(indicating that this is not an error in syncing Synergy data with Hāpara)
that you are in the Interact (Highlights) tab of Hāpara, and see the browser tabs or current screens of some students, but not all
(indicating that this is not a network error on the teacher laptop, and that Hāpara Interact is working correctly)
If any of these assumptions are NOT true, please enter a Help Desk ticket indicating so.
Requirements
If these assumptions are true, the issue likely lies with the student Chromebook. For Highlights to work appropriately for teachers in Hāpara, the student Chromebook must be:
Awake
Connected to the LPS wireless network (LPS Private)
The Hāpara Highlights chrome extension must be working.
Student is logged into multiple devices
A student can be logged onto multiple devices (say two laptops) simultaneously. If the devices all have the Highlights extension installed, then the teacher will "see" both devices. Highlights can't automatically choose which of the devices to display to the teacher. The teacher has to select one. Learn more here.
In some instances, the student may not know why they are signed into two devices. In other situations, a student may be signed into MANY devices. In these cases the student  needs to sign out of all of the devices they are signed into (except for the one they are on right now.) This can be done through the student's Gmail account by following these instructions, as shown in the image at right.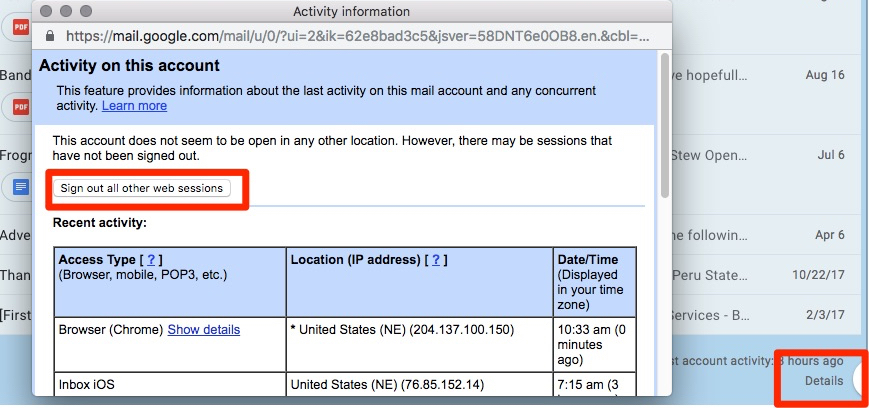 Hāpara Workspaces allow teachers to set up a digital "workspaces" for lessons or projects.
Workspaces are the only part of the Hāpara suite of tools that students can log into. Teachers see a "Master Board" of all activity in the class and have many editing options, while students see a simplified screen with only the items intended specifically for them.
Click on the "Getting Started Guide" at the right for a wealth of resources to get you started using Workspaces.
Boards
A "board" can be anything from a single lesson to a long term project, it is very flexible.
Cards
Within a board are "cards" which appear as individual tiles. Cards might be added under the Goals, Resources, Evidence or Rubric columns of the board.
Goals
Teachers can choose to add student goals or targets.
Resources
Teachers and students each have the ability to add resources
Resources can be Google Docs or links to web pages
Evidence
Teachers and students can both add evidence.
Teachers have the ability to
copy materials to individual students, much like when using the "Smart Share" tool in Dashboard
set due dates
schedule items to be shared at specified dates in the future.
Students have the ability to share their evidence with the whole group, or with the teacher only.
Rubrics
Teachers can choose to post evaluation criteria.
Workspace appearance in Google Drive
Like Hāpara Dashboard, Workspace creates a folder in each student's Google Drive. All work done by the student in Workspaces will be contained in that folder.
A teacher can choose to have their students drag their Workspace folder into their Dashboard course folder, but experience with early adopting teachers leads Hāpara to believe that most teachers will want to keep them separate.
Google Classroom – Hāpara Overlap
Hāpara and Google Classroom have a number of overlapping features. Each tool excels in some ways. Both tools work with student's existing LPS Google Docs (@class.lps.org) and teachers are free to use either tool as they see fit. Or, both.
In our basic testing, we are seeing success in using Google Classroom AND Hāpara hand-in-hand when you begin as such:
Start a Google Classroom Class and invite your students
After students join your Google Classroom, have them open their Google Drive and drag the Google Classroom folder into the corresponding Hāpara created course folder.
At that point both teacher and students should be able to use the Google Classroom interface to access files & manage assignments, and the teacher has the added features of using Hāpara for greater student device control and real-time views of work done in Google Drive. Win-win.