Pear Deck
Pear Deck allows you to layer opportunities for active participation (aka audience engagement) into your existing Google Slide decks. Pear Deck is great for:
Seamlessly moving back and forth between assessment and instruction.
Quickly checking to see if students are totally lost and adapt instruction to fit their needs.
Offer each student their own time to process your questions.
Focus student attention on a web resource of the teacher's choosing
Include the ideas of all students, in a way that's comfortable to them.
Asking big, open-ended questions to get the class thinking about issues
Asking focused questions that help students dive deeper into a topic.
Offering opportunities to develop 21st century skills like critical thinking, creative thinking, communication, meta-cognition.
Google Slides Add-On
Once you have set up your Pear Deck account and learned how the tool works, you will need to install the Pear Deck add-on to Google Slides.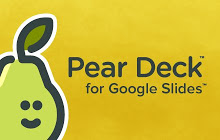 Learn more about installing and using the Pear Deck Add-On.
NOTE: When your Google Slides (with Pear Deck interaction) are made, you will need to make sure you select "Present with Pear Deck" from the Add-on in order to see the interactivity. Clicking the Google Slides "Present" button will show the slide deck, but none of the Pear Deck interactivity.
LPS has a District license for Pear Deck that covers all LPS staff through our @class.lps.org Google Domain. When signing in to Pear Deck, be sure to use your @class.lps.org account, or you are not actually using the account LPS provides.
REGARDING THE PEAR DECK EDITOR: As of 12/1/18, the online Pear Deck editor (at peardeck.com) was disabled. All Pear Decks are now created using the Google Slides Add-on. Any "old" Decks made using the old editor will need to be converted. This conversion is nearly automatic, and the user will be prompted with instructions upon opening the old Decks. These new versions will be placed into the user's Google Drive, to be organized at the user's digression. All interactive slides will be retained. To learn more about this update, visit Pear Deck's post regarding this update.
Learn More
Learn more about Pear Deck's features on their web site.
LPS Computing Services offer staff development sessions on Pear Deck. Reference the LPS Staff Development catalog for upcoming sessions, or have a building administrator contact Computing Services to set up a training in your building!
How Pear Deck Works

The example session referenced in this video is found on the peardeck.com home page, if you are interested in playing it through.
Use the Projector View and Teacher Dashboard at the Same Time
When helping teachers get started with Pear Deck, the thing that seems most difficult for teachers really has nothing to do with Pear Deck at all – it is the act of managing two different screens at the same time. This is called "extending" your desktop, instead of the "mirroring" of your desktop that you may be used to doing. In this way you can run the Pear Deck Teacher Dashboard on your computer, while the slides are presented on the projector (extending.) This trick works nicely in many situations beyond Pear Deck. Imagine having Synergy on your laptop screen while students are seeing an activator assignment on the projector, or quickly checking email from the office on your laptop screen while students are watching a 3 minute video clip that supports your subject. The possibilities are endless!
These support resources are good places to start understanding how to make the switch from "Mirroring" to "Extending" your computer.