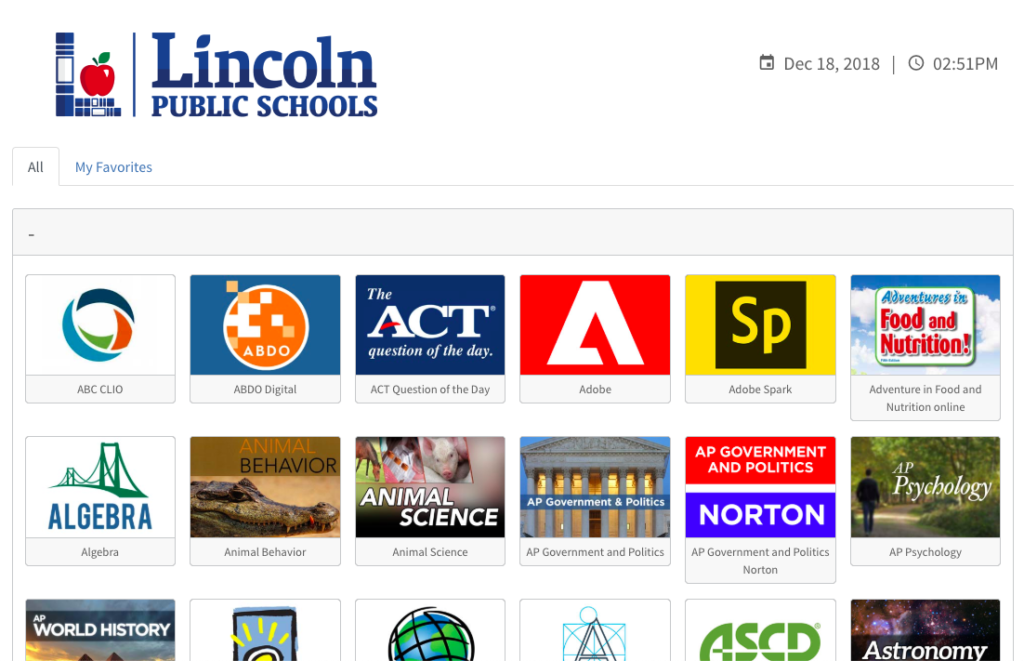 The LPS Portal
Students and staff begin every day at a website we call "The Portal." It includes buttons for most of the web services used in LPS. Think of it like a table of contents. Clicking a button takes users directly to a web service. Where possible, no additional login is required because the Portal verifies your LPS identity to the web tool.
Some things to know:
Students can click on the HOME button in Chrome to be taken to The Portal.
LPS.org keyword = PORTAL will take staff to The Portal.
You will be forced to sign into the Portal at least once a day.
The buttons you see on the Portal are specific to your role, building, and/or grade level.
If you are using your own device, simply close the browser tab when finished with a tool. There is no need to log out of a web tool or the Portal. This will save time when you return to the tool.
If you are NOT using your own device, make sure to log out of the Portal and quit the browser when you are finished working. To do this, click on the 3-line "hamburger" menu in the top left corner of the screen and select "log out."
Questions or issues with The Portal should be filed as a HelpDesk ticket under:
Software/Service >> LPS Web Services >> Other Web Services
Using the Favorites Feature
The district assigns tools to the user's Portal, but individuals can set their own favorites from the list of things assigned.
Adding Favorites
By default, users are directed to the Favorites page. To see all applications, click the "All" tab.
Hover the mouse over the application icon of the item to favorite.
Right-click (alt+click on a Chromebook) on the application.
Select Add (tool) to Favorites.
Click on the "Favorites" tab to see only your favorited applications.

Removing Favorites
Click the 3-line "hamburger" menu in the top left corner of the screen.
Click Portal Manager.
Click on the Favorites tab.
Click on the Remove button associated with the application you'd like to remove from your favorites.