Export Your LPS Google Drive Data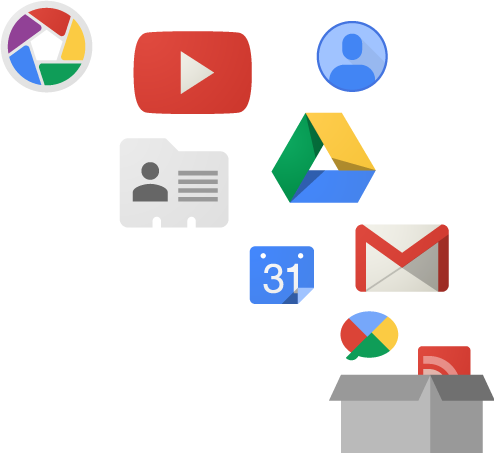 Google offers tools for mass download of your Google data, including Google Drive. In the LPS environment, this ability only exists for students leaving the district, like Seniors prior to graduation.
Simple Steps for Exporting Your Google Drive Data
From the LPS Portal, launch Google Drive (class.lps.org)
In Drive, click your user profile (a rectangle with your account avatar) in the top-right corner of the screen.
In the profile pop-up, click the blue button that says 'Google Account"
On your account overview page, click on the panel that says "Privacy & personalization (Manage your data & personalization)"
On the privacy & personalization page you can choose to either:
On the "Privacy & personalization" page you are presented many options. These are the two suggested paths:
Transfer your content: (This option is only available to Seniors toward the end of their last term – December & May.) Choose this option if you have a Google/Gmail account outside of LPS. This will allow you to easily move your content into your outside Google account. If you are over 13 years old and you do not have a free Google account and you would like to create one, follow the steps on the Google Sign Up Page.
Download your data: (This option is always available to students.) Choose this option if you don't have an outside LPS Google/Gmail account and don't want to sign up for a Google account. Choosing this option will download your Google data as a .zip file which will need to be moved via USB thumb drive.
To transfer your content (Graduating Seniors ONLY)…
On the privacy & personalization page (accessed above,) click the panel that says "Transfer your content"
Enter a destination (Google) account address
Click "Send Code"
On another device (not your LPS Chromebook, perhaps a Media Center or Library computer, a personal computer, or a cell phone) access your personal Google Account.
In your personal (non-LPS) Gmail, look for a message that says "Verify your account." In that message click the "Get Confirmation code" button.
Record that code. You will need it.
Return to the "Transfer your content" screen in your LPS Google account.
Enter the code in the empty field for "Verify your destination account" and click VERIFY.
Review and see that your LPS (@class.lps.org) account is pointed at the correct non-LPS Google account. Click the "START TRANSFER" button.
A copy of your data will begin to appear in your personal Google Drive and Gmail over the next few minutes. Full transfer may take hours.
To download your data…
On the privacy & personalization page (accessed above,) click the panel that says "Download your data"
By default the tool wants to give you the data from all of the tools in your account. Scroll all the way to the bottom of the page and click "Next Step"
Leave the settings as presented (file type as ".zip" and delivery method "Send download link via email") and click "Create Archive"
Wait patiently for Google to send you an email (LPS Gmail).
When the email arrives, click "Download Archive" to download the desired archive files.
Move the archived file(s) to a USB drive, personal Google account or other media to preserve them beyond when your LPS account will be disabled.
Helpful Notes for Downloaded Data
When you download files directly from Google Drive, the original documents in Google Drive are unaffected. You are downloading a COPY of that file(s) to your computer. The originals remain in place.
The archive(s) you download are zipped files. Now that you have them on your computer, a double click on the zipped file will expand it into a folder that contains the expected Google Drive files. Zipped files are convenient for archive. Save these files to a thumb drive or other cloud storage location of your own devising.
Updated May 15, 2020