December 18, 2020 LPS Weekly Family Update
Arabic | Karen | Russian | Spanish | Vietnamese
LPS Families,
Here is your weekly family update with important information and reminders as we end the first semester and prepare for the second one. We will not be sending a weekly message next week, but we will send an email update on Dec. 30. Please watch for updates as we prepare for the next semester.
Families, thank you for your patience and understanding throughout this school year. We appreciate your support of both staff and students. We look forward to finishing the semester strong Monday and Tuesday.
Student calendar Dec. 21 – Jan. 8
Here is the student calendar:
Monday, Dec. 21
Classes in session for all students.
High School: Finals Week, check with your school for a specific schedule.
Tuesday, Dec. 22
Classes in session for all students.
High School: Finals Week, check with your school for a specific schedule.
Wednesday, Dec. 23 – Monday, Jan. 4
Winter break, no classes for all students.
Tuesday, Jan. 5
Classes in session for all students.
High School: Group A is in person, Group B is remote.
Wednesday, Jan. 6
Classes in session for all students.
High School: Group B is in person, Group A is remote.
Thursday, Jan. 7
Classes in session for all students.
High School: Group B is in person, Group A is remote.
Friday, Jan. 8
Classes in session for all students.
High School: Group B is in person, Group A is remote.
Not Using the Chromebook over break?
If you do not intend to use the Chromebook for more than a few days, you will need to do more than just close the lid and forget about it. Plug it in until the battery is fully charged, and then power it completely off.
To power the Chromebook off:
Plug the Chromebook into an outlet away from high-traffic areas for safe storage.
Click the status area in the corner of the Chromebook shelf.

Click the Power button.

Wait for the screen to go completely black, and then close the Chromebook lid.
High school course deadline for withdrawals and S/U changing
The deadline for accepting "S/U" (Satisfactory/Unsatisfactory) grade requests and "W" (Withdrawing from high school courses) is extended to the end of the semester, Dec. 22, 2020. Please contact your school's counseling office for more information.
Remote Learning survey reminder
Families of K-12 students currently participating in remote learning received an email inviting them to provide feedback about their student's experience in the first semester. This survey is a follow-up to the one done in September and applies to your student's experiences this fall. If your student is currently participating as a remote learner, either full-time or part-time as a high school student in the 3/2 schedule, please check your email for this survey. If you did not receive the survey, please contact Bethany Brunsman at bbrunsm@lps.org. The survey closes at 11:59 p.m. on Dec. 22.
Remote Learning reminders and request form
Students who selected remote learning this semester will continue in remote learning second semester. On the remote learning request form, if you selected your child to be in remote learning for just the first semester, there is nothing you need to do to continue remote learning second semester. We will continue your child in remote learning. If you wish for your child to return to school second semester for in-person learning, please contact your child's school office as soon as possible.
The Remote Learning Request Form is on our website while we are in Red. Families can choose – now or any time – to move to 100% remote learning for their child. After filling out the form, the school will call to confirm your request. Please allow two school days for staff to prepare and get your child the materials they will need to begin remote learning. The school will communicate with you when remote learning will begin for your child.
Families, please weigh this option carefully, as continuously moving back and forth between in-person and remote learning creates a major disruption in your child's learning experience. Parents must provide permission to the school for a student to use remote learning for situations where the student will not be in school for an extended period of
time (10+ school days).
To access the request form:
Meals Distribution for 100% remote learners
LPS is offering all PreK-12 grade 100% remote learners free meals for the week to be picked up on Mondays from 5:30 p.m. to 6:30 p.m. at three locations.
Here are the next two meal distributions for 100% remote learners:
Monday, Dec. 21
Tuesday, Jan. 5
Go to our website for more information.
LPS school offices and district office closed Dec. 28-30
Lincoln Public Schools school offices and district office will be closed Dec. 28-30 so staff who are able to work remotely can. In addition, LPS offices and staff are unavailable Dec. 24, 25, 31 and Jan. 1.
Some Community Learning Centers will be offering programming at some of their locations during winter break. More information will be sent to families from the CLC site coordinator.
Athletic facilities will be open for scheduled competitions. More information about spectator attendance protocols can be found on our athletic website.
LPS offices will be available via phone during regular business hours Dec. 28-30.
High school 3/2 schedule for third quarter
The following is the planned 3/2 schedule for high schools while we are operating at 50% capacity (each group gets 21 days of in-person instruction):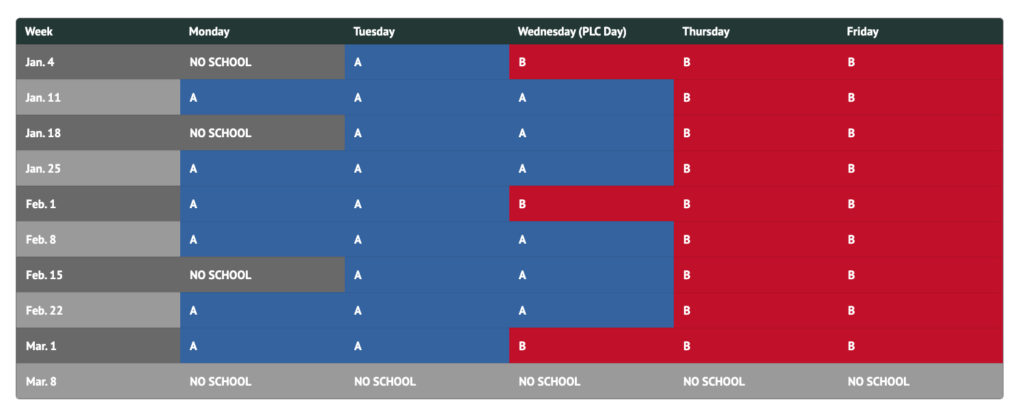 High school winter sports protocols
Lincoln Public Schools has worked collaboratively with the Lincoln-Lancaster County Health Department to update their winter sports protocols. LPS will implement the protocols outlined below for all student-athletes and spectators during competitions in our buildings. Following health department recommendations allows us to reduce the risk of spread and continue with our season.
Spectators
The number of fans for each competition is limited to a maximum of only two individuals per student-athlete, who must all be part of the same household, but in some cases, it could be less.
To follow the household only requirement for spectators, LPS will provide the gate at both home and away competitions a list of all individuals named on the student's census form "as living in the home with the student". This is the information provided by families to schools at the beginning of each school year.
To meet the guidelines on spectator limits, LPS is implementing the following: (Subject to change based on venue capacity and other variables. Changes will be communicated by schools.)
Spectators = any person of any age, including infants, toddlers and children
Number of household spectators per competition if venue capacity allows:

Basketball = 2
Wrestling duals = 2
Wrestling tournaments four or more teams = 0
Swimming (each school participating individually in virtual meets) = 1
Swimming meets with multiple schools = 0
Diving only competitions = 2

Only the designated home team Cheer and Dance teams will perform at home competitions. In most cases, two household spectators per participant will be allowed to attend.
Spectators may sit in their household group of two, but individuals and household pairs must maintain at least six feet of physical distance between other individuals and household pairs.
There will NOT be a student section for students to congregate and sit together.
Multi-layer face coverings must be worn fully covering the mouth and nose by any spectator over the age of two-years-old at all times. Anyone not following the face covering requirement while inside LPS buildings will be asked to leave.
Concessions will not be sold, and no outside food or drink will be allowed in LPS buildings.
Livestreaming
LPS is working to provide livestreaming of most competitions for spectators. Each school has a YouTube Channel to provide free livestreaming. Some varsity basketball competitions will be streamed on KLKN-TV's sports page: klkntv.com/LPSSports.
Schools YouTube Channels for Sports:
Gathering Safety Checklist
The LLCHD has created this checklist for winter break if you are preparing to gather with friends and family.
Mental health resource for parents
Blue Valley Behavioral Health has recorded a short, four-part series on mental health designed for parents/guardians. Each part is 10-15 minutes long and is accessible by clicking this link.
Thank you to the Foundation for LPS, which sponsored this series with funding from the Coronavirus Aid, Relief and Economic Security Act (CARES Act) from the U.S. Department of Treasury and the Nebraska Department of Health and Human Services, CFDA Number 21.019.
National Suicide Prevention Lifeline
We know that this year has been unlike any other. It is important to know and realize that however you are feeling is okay. There are help and resources which are available. Call the National Suicide Prevention Lifeline at 1-800-273-8255 if you are struggling with tough thoughts.
Updated December 22, 2020