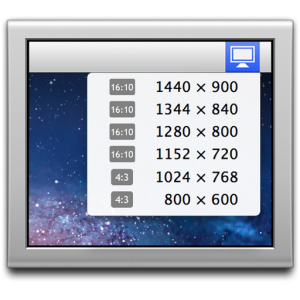 Mac 10.9 removes the ability to easily see all of the possible display resolutions for your projectors or external monitors. If you have document cameras or older projectors, this can leave you unable to see anything, in some cases.
Toggle Mirroring On/Off
Macintosh 10.9 changes the default behavior when connecting to a projector. Instead of the traditional mirroring you may expect, the default is now a multiple display situation. To toggle mirroring on/off with a keystroke, use the following :
Display Menu App
To resolve these issue and see all of your resolutions along with the option to mirror –  as you could in previous versions of Mac OS – we recommend a free utility called "Display Menu" that can be installed from the Apple App Store for Macintosh.
A NOTE ON INSTALLATION: Display Menu will not start automatically after installation from the Mac App Store. You can find it in your Applications folder. Start Display Menu from there. Once Display Menu is running, you can choose to have it automatically start every time you restart your computer by checking the 'start on login' option.
ADDITIONAL SUPPORT: http://displaymenu.milchimgemuesefach.de/about.html