General Support Materials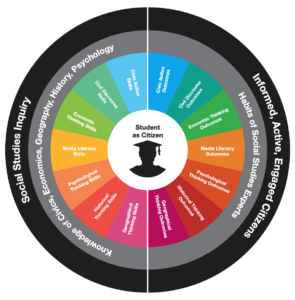 The Lincoln Public Schools Social Studies Blueprint (left) provides a frontpage for important resources for social studies teachers while also representing a design for the integration of social studies content and skills across a student's career as a social studies learner.  The "Student as Citizen" reminds us that student learning is at the center and emphasizes a broad definition of "citizen" that includes all students as participants in their communities, nations, and world.  Students learn to become informed, active, and engaged citizens.  Teachers, click on the image to open up the blueprint.  Each piece of the blueprint is linked to a more detailed document with specific explanations and examples.
Strategies Cornucopia – This document outlines strategies to be adapted to any social studies lesson.  Strategies include: guiding students into, through, and beyond a source, lesson openers, helping students organize their thinking, and assessment strategies.
Online Content Recommendations for Secondary Social Studies Courses – This document contains recommended online resources to be used by teachers when delivering content instruction, separated by course.  It was originally created to support remote learning and continues to offer reliable and accessible materials for teachers to use during instruction.
Recommendations for Instructional Technology in Social Studies – This chart is updated several times a year with Instructional Technology Tools (ITTs) recommended by the social studies curriculum department, in consultation with social studies teachers.  All tools are approved by the district ITT committee and are organized by purpose.
Curriculum Guides and Subject-Specific Support Materials
The following high school courses meet Lincoln Public Schools graduation requirements and are offered at all six high schools.  Our curriculum guides are continually updated with new resources and lesson plans for teachers and are aligned with the Nebraska State Social Studies Standards.  For Advanced Placement courses, please consult the Course Exam Description from the College Board.  Please note that Elective course offerings may vary by building and school year. 
All curriculum guides include recommended pacing, as well as links and references to supporting materials, inquiry lessons, and assessments.  The curriculum guide is your "one-stop-shop" for the course!
Human Behavior (Psychology & Sociology)
Every teacher is encouraged to leave feedback at their grade level.  Feedback will be used to help guide future curriculum work.  The feedback form is linked at the top of many inquiry lessons, but you can also access it at THIS LINK.