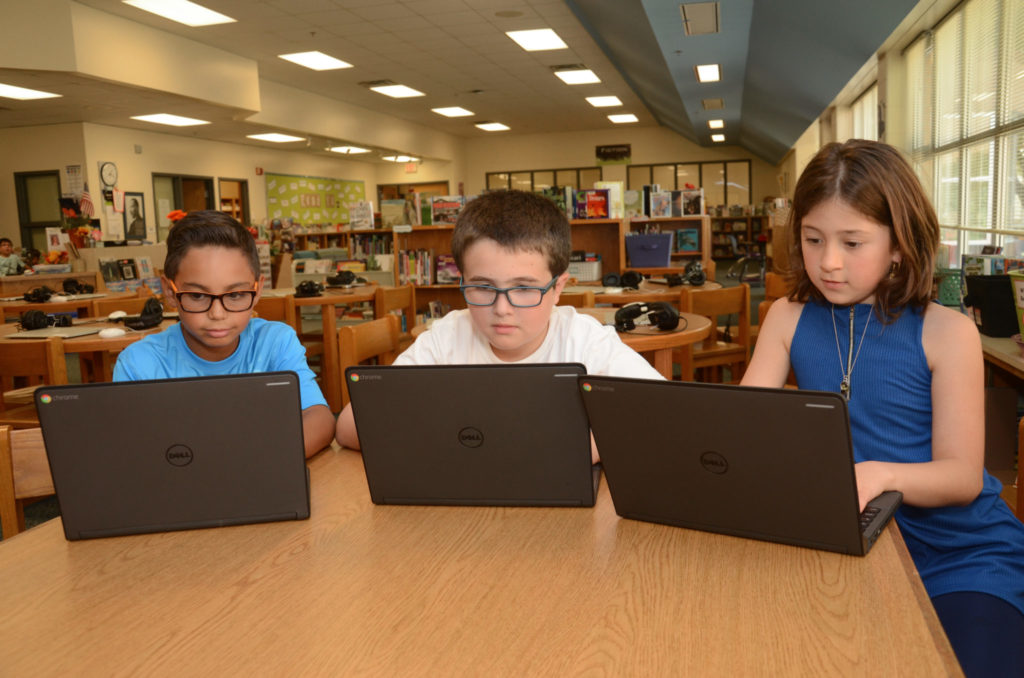 Educational Service Unit 18 provides support services to the students of Lincoln Public Schools, a school district that serves over 42,000 students at 40 elementary schools, 12 middle schools, and 8 high schools in Lincoln, Nebraska. ESU 18 also serves 11 focus programs (5 stand alone programs and 6 embedded within comprehensive high schools), and 3 schools which serve students with more intense behavior needs, and the Pathfinder program for student awaiting a decision from the courts.
Although ESU 18 proudly serves all of Lincoln Public Schools, we also partner with other Nebraska districts to offer distance education classes for subjects which smaller districts may not be able to provide, such as advanced language courses. In addition, ESU 18 is a SNRP grant holder, which means we also coordinate the funds, staffing, and resources to provided deaf/heard of hearing services to students in over 20 surrounding districts.
Our students bring a rich diversity of experiences, talents, and strengths. Over 5,500 students receive gifted services, approximately 6,600 receive special education services, 48% qualify for free or reduced lunch, and approximately 3,400 students speak a language other than English as their first language. In fact, our students speak almost 100 different languages!
Nebraska's ESUs serve needs of students, educators, school districts
Educational Service Units – ESUs – are called "service units" because their main objective is to serve the needs of Nebraska's school districts, educators and students.
Created by the Legislative in 1965 to provide services to enhance educational excellence, ESUs exist in order to provide access to core services deemed vital to a child's education by the state of Nebraska. ESU services across the state can include high quality professional learning for educators, technology and network infrastructure, library and media services, and support with curriculum, assessment, and services for students with special needs.
ESU 18 is rather unusual in serving more than 42,000 students at Lincoln Public Schools, which means that service unit has the ability to focus on the needs of a singular district.
ESU 18 funds a variety of programs to enhance education for LPS students, including these major areas:
Ongoing leadership coaching for principals
Access to technology for students and staff
Information management
Large scale state and district assessments
Data analysis
School improvement planning
Professional learning
Student access to high quality library and media resources, both online and in print
However, no ESU in Nebraska works in isolation – they are especially powerful and effective because they work as a network. Nebraska's ESUs, along with the ESU Coordination Council, have built a tight network of collaboration that not only benefits educators, but makes a direct impact on the quality of education each child receives in Nebraska.
That means single-district ESUs often partner with the greater ESU network for the benefit of Nebraska students, collaborative efforts that directly impact student access to rigorous curriculum and content – as well as saving time and money for other districts and ESUs.
For example, in addition to the core services ESU 18 provides to LPS, the service unit contracts with other Nebraska ESUs and almost 40 school districts to provide services for students who are deaf and or hard of hearing.
ESU 18 also partners with other ESUs and school districts across the state to provide coordinated access to distance learning opportunities. Thanks to the ESU's NVIS (Nebraska Virtual Instruction Sources) students have access to almost 300 courses, such as architectural design, Chinese and pre-engineering – courses that may not be available in their home district.
ESU 18 Administrator: Dr. Takako Olson
Cunningham One-room Schoolhouse
Thanks to ESU 18, every Lincoln Public Schools fourth grader spends one day at Cunningham One-room Schoolhouse, located at Pioneers Park, to experience what it was like to attend the one-room prairie schoolhouses of the 1800s. To find out more information, visit their site.
ESU 18 funds services for students in grades 7—12 who are awaiting decisions from the court.
ESU 18 is an SNRP grant holder and works in collaboration with ESUs 4, 5, & 6, along with over 30 school districts to provide services to students who are deaf or heard of hearing. This is another example of how ESU 18 is working to collaborate with districts beyond Lincoln.
Early Services Coordination
Coordination works with each family of a child with a disability below age three. We work to find services to meet developmental, educational, financial, health care, childcare, respite care, and other services to meet their needs and link the family to additional services. We work with multiple providers to make sure services are provided as needed and then assist families to become coordinators of services for their own children in the future.
Thanks to the Nebraska Virtual Instruction Sources, hosted by the ESU Coordinating Council, students have access to almost 300 distance learning courses, such as architectural design, Chinese, or pre-engineering that may not be available in their home district. These are just some examples of how single district ESUs can partner with the greater ESU network for the benefit of Nebraska students. These collaborative efforts directly impact the ability of all students to access rigorous curriculum and content, while saving time and money for other districts and ESUs.
Agendas and Minutes
The agendas for upcoming meetings and minutes from past board meetings can be found here
Superintendent and
ESU Administrator Contracts
Business as usual at Lincoln Public Schools has always been open and transparent. LPS protocol calls for posting these contracts on our website as attachments to the Lincoln Board of Education meetings when the contracts are considered and finalized. We also report the finalized contracts in additional documents posted on our website.
Audits and Financial Reports
Although Lincoln Public School and ESU 18 operate in close partnership, these organizations are two separate entities. ESU 18 conducts its own board meetings, separate from that of Lincoln Public Schools, each with different board officers. ESU 18 is audited and accredited separately and also has its own policies and leadership structure. While the 7 board members are the same for ESU 18 and LPS, they have different elected officers to provide oversight and input into the work of ESU 18. In addition, within Lincoln Public Schools, the departments of Continuous Improvement & Professional Learning, Computing Services, Assessment and Evaluation, and Library & Media Services are all lead by members of the ESU 18 leadership team which meets throughout the year.