Consistent with the growth of our community, Lincoln Public Schools (LPS) is a growing school district with facility and infrastructure needs at all levels, in all areas of the city according to the recommendations and findings of both the LPS High School Task Force and LPS Superintendent's Facility Advisory Committee. Prior to the LPS bond issue in 2013–14, LPS served 37,844 students. That population grew to 42,297 students in the 2019–2020 school year, a six-year enrollment growth of 4,453 students.
The Superintendent's Facilities Advisory Committee found that for 2018–19, LPS high schools were operating over program capacity (115 percent). For 2019–20, five of the six high schools are serving more than 2,000 students and two high schools are serving over 2,300 students. Design capacity at these facilities is approximately 1,950 students. The committee also found that the district has capacity challenges at the elementary and middle school levels in various locations throughout the city.
By way of background, in the fall of 2017 the High School Task Force engaged the community in a conversation about high schools. The members of this task force provided recommendations and findings in the spring of 2018. LPS broadened the conversation to all facility and infrastructure needs in 2019 with the Superintendent's Facility Advisory Committee. The committee recommendations and findings were presented to the Superintendent in August.
The Board of Education now has the task ahead of them, with a series of fall work sessions to prioritize needs for a potential bond election in 2020. The committee recommendations and findings exceed the current combined bond fund tax levy to fund the needs. Therefore, work will need to be done on funding and to prioritize and pare down the list to fundable projects.
The discussion will include, but is not limited to, the following list of recommended needs as presented by the committee:
New Facilities
Two high schools with program capacity to serve 1,000 students each
Three elementary schools
The study of two elementary through middle schools (K-8) to meet the recommended needs for two elementary schools and two middle schools
Infrastructure
Indoor Air Quality projects at Everett Elementary and Park Middle Schools
Funding to support infrastructure for the maintenance and upgrades of roofs, lighting, windows, HVAC, paving, restrooms, bleachers, playgrounds, caulking and sealing, etc.
Athletic and Activity Facilities
New athletic facilities at the new high school sites to include a stadium and various competition-level fields
Enhancement of existing high school sites with turf
Program Enhancements
Upgrades of existing middle school specialized spaces
Upgrades of existing high school specialized spaces and enhancements that embed elements of the new high schools into existing schools
Early Childhood
Additions totaling eight classrooms at existing schools
An early childhood center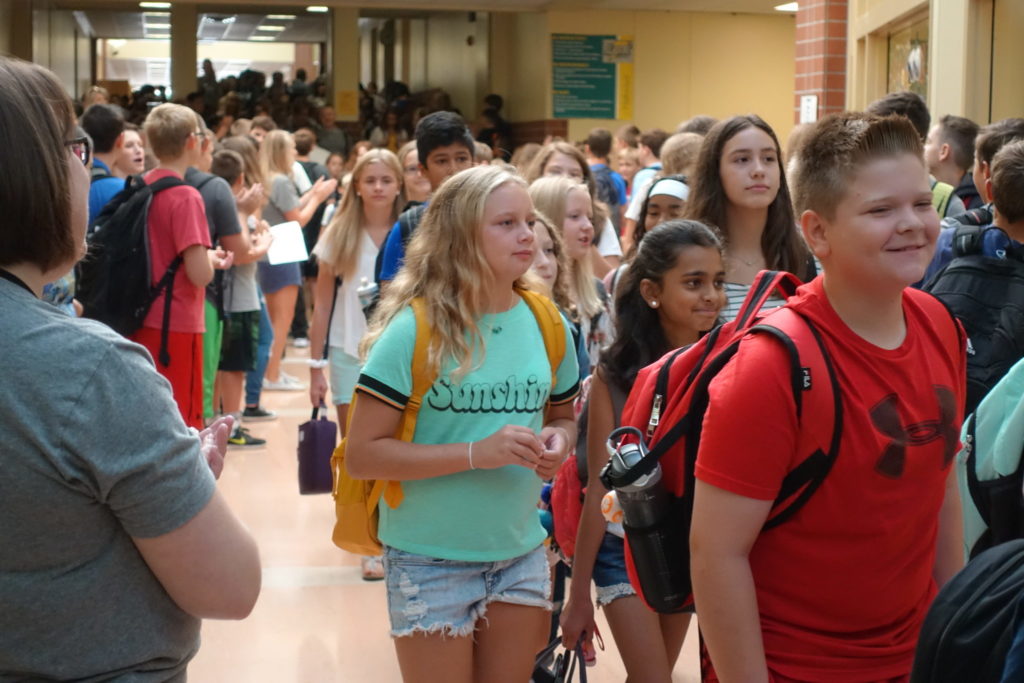 Board of Education Work Sessions
Tuesday, September 10
Wednesday, September 18
Late September – Early October: City Development Tours
Monday, October 7
Tuesday, October 22
Tuesday, November 12
Tuesday, November 26
Superintendent's Facility Advisory Committee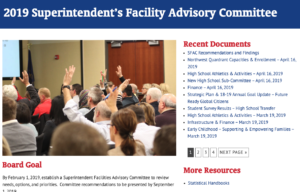 Resources and information from the Superintendent's Facility Advisory Committee which met from January, 2019 through August, 2019 can be found on that committee's website.
Their final Recommendations and Findings can be viewed here.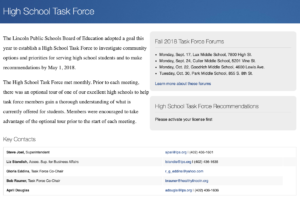 The Lincoln Board of Education established a High School Task Force to investigate community options and priorities for serving high school students and to make recommendations by May 1, 2018. Information from that task force can be found on its website.
Their final Recommendations and Findings can be viewed here.