Live Video Streams of LPS Graduation Ceremonies
Video streams will usually become active 20-30 minutes prior to graduation
2019 Graduation Ceremony Information
The Lincoln Public Schools class of 2019 will celebrate graduation ceremonies on Sunday, May 26 – for all six high schools.
LPS high school graduation ceremonies for 2019 are scheduled as follows:
Pinnacle Bank Arena
North Star High School – noon
Lincoln High School – 3:00 p.m
Southwest High School – 6:00 p.m.
Bob Devaney Sports Center
Lincoln East School – 1:30 p.m.
Southeast High School – 4:30 p.m.
Northeast High School – 7:30 p.m.
The Bryan Community Focus Program will hold graduation ceremonies at 7:00 p.m. Thursday, May 23, in the Lincoln East High School auditorium.
Participating seniors must wear the traditional graduation gowns, caps and tassels. We would like all students to dress appropriately for a dignified ceremony.
Tassels will be worn over the right eye.  Mortarboards are to be worn with the flat surface horizontal.

Please leave purses or bags (or any other valuable) with family or at home.

Nuisance items (e.g. sunglasses) will not be allowed in the arena.

Keep your mortarboards and gowns neat. No writing or taping will be allowed..
Clear Bag Policy In Effect
In order to maintain a safe and secure environment, Pinnacle Bank Arena and the University of Nebraska-Lincoln share a common Clear Bag Policy which will be enforced during Lincoln Public School graduations.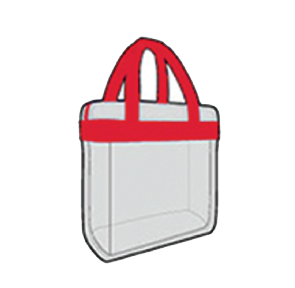 Distracting and discourteous behavior will not be tolerated. We request that family members and students leave air horns and other noisemakers, balloons and other items which might cause a distraction at home. Seniors who do not wish to abide by these expectations should not plan to attend the ceremony, which has always been optional. If a student is under the influence of drugs or alcohol, he/she will be ticketed by the police and will not be allowed to participate in the ceremony.
The configuration of the seating and stage does not allow for parents or family members to be on the floor before, during or after the graduation ceremony. This includes access to the floor for photographs during the ceremony. Only graduates and faculty members are allowed on the floor. A professional photographer will be taking individual photos of graduates as they receive their diplomas. The only exception to this is at the Bob Devaney Center where the handicapped seating is located behind the graduates on the floor.
Students will be ushered out one row at a time to walk up to the stage. As the student comes to the stage they will hand their card to the reader and wait for their name to be called.  Once their name is called, the student will walk onto the stage to shake a few hands, get their diploma, and exit the stage where a professional photographer will take a photo before they return to their seat.
For those attending, here are some tips to help ensure you fully enjoy the event: 
Be patient. This works with the actual graduation ceremony and all the activities surrounding it:  Friends and family who want those extra pictures, drivers who want in your lane, students who take too long to get ready, and so forth.
Traffic could be busy and slow in the downtown areas. Give yourself plenty of time to get to, park and walk to the venue. Doors open one hour prior to the ceremony
Identify the best parking places and directions to them (especially those one-way streets).
Likewise, arriving too soon could create additional slowdowns as traffic leaving the venue might not have left suitable parking spots. So find the right balance. 
Consider not holding a family-and-friends celebration party immediately before or after the graduation ceremony, as it may cause extra stress in trying to get to or leave the venues. 
Get creative. Ask other families to consider joint celebrations. Hold your celebration a week ahead of time – or a week after. 
Enjoy! This is a once-in-a-lifetime event for our graduating seniors. 
Watch Online and via LNKTV
For the second year, Lincoln Public Schools will be providing a live stream of all six high school graduation ceremonies from the Bob Devaney Center and Pinnacle Bank Arena.
You will be able to view the video in the following locations
Links to the streams will be available ON THIS PAGE
Links to the streams will be available through Lincoln Public Schools' Facebook page and each high school's Facebook page
For the first time, the ceremonies will be available on LNKTV. Pinnacle Bank Arena ceremonies will be shown on LNKTV-Education (Allo 23, Spectrum 1303, Kinetic 1080) while Bob Devaney Center ceremonies will be on LNKTV-City (Allo 2, Spectrum 1300, Kinetic 1005).
There is parking north the Devaney SportsCenter off of Transformation Drive. You can reach this lot from Transformation Drive via N. Antelope Valley Parkway (traveling north or south), or (from the northeast part of Lincoln) via 27th Street and Salt Creek Roadway, take a right (turn north) onto North 21st, then to Transformation Drive (headed west). Please bring your patience and allow for time to wait in line to park.
Students should enter through the doors at Gate 10. This is where the graduation staging area will take place prior to the ceremony. First, visit one of the main tables to pick up the card with your name on it (or write your name on a card provided). It should read exactly how you want it said during the ceremony. Put on your cap and gown, and begin to line up in the processional line in the designated area.
Please enter the main doors on the north side (same side as the parking lot). Families walk up the ramp. Those needing handicap assistance should take the pathway just to the right (west) of the main ramp to the lower level where people will be waiting to assist you.
Paid parking is available in the parking garages near Pinnacle Bank Arena to the south.
Students are asked to arrive no later than 45 minutes prior to the start of their respective graduation. Please plan parking and walking to the site to avoid being late. Enter through the main entrance off of R Street and follow the signs to the area behind the stage. Pick up your alphabetized name cards (or write your name on a card provided). It should read exactly how you want it said during the ceremony. Put on your cap and gown, and begin to line up in the processional line in the designated area.
Please enter the main doors on the south side of Pinnacle Bank Arena (off of R Street) and follow directions to the seating area. This entrance has accommodations for those needing handicap assistance. Bags may be searched upon entry, and no balloons are allowed.