Anxiety Proofing: The new child proofing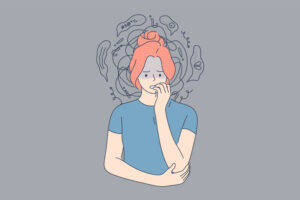 As new parents, you might remember all of the outlet covers, cabinet locks and handle guards you put around your house to keep your baby safe. As kids grow, we put seat belts, bike helmets and computer safety practices in place. We may have clap-dusted our hands and thought, okay we're good to go. What we may have lacked are the tools to help with the final frontier of child-proofing. This one can't be bought at a store and is much more difficult to install.
How exactly do you anxiety proof your child? How do we keep them from living in angst and fear when the world is full of it? From weather to war, illness to murder hornets (Seriously, you again?) it's a crazy one out there.
Anxiety and fear are our biggest enemy. They can keep us from living our best, fullest life. We can concoct in our minds some really scary, worst case scenario situations. Probability of them happening is not strong, but given the wrong mindset, we can get in our own way most effectively.
Babies have no anxiety. They are just curious and exploring. We want to keep them that way and block the risks to their safety. The trick comes in helping kids shift from the consumer of child-proofing and living a care-free life, to owning their own safety. We want them to be cautious and avoid danger, but still be free to seek new adventures, which can live in that same place in their brain.
This might be the ultimate challenge of both teaching and parenting. How do we teach our kids to leap safely? How do we help them to understand how to prepare and navigate the landing, rough or smooth? How do we help them sort it out? How have we sorted it out for ourselves?
In my mind it's about shifting mindset to preparation versus anxiety thinking. Seeking real answers instead of getting stuck in mind-swirl without solutions and quelling your fears. Yes, you can do this. Let me help you see how. For each of us facing some real unknowns this school year, we need to keep anxiety-proofing ourselves. Keep finding ways to leap safely and help our students do the same.
Most of all, keep taking care of ourselves. It's a form of anxiety-proofing we often ignore in our focus to take care of others. Be careful with what (and how much) fear you are letting your brain consume. Keep health appointments, follow through on those referrals, sleep, eat, move, repeat. Without these basics, our capabilities to quell our own fears and ability to take leaps are less. I'm rooting for you!
Why I wrote this: My youngest is taking his leap to college and was begrudgingly a part of a group that did a few days of "How to be successful" training—similar to what we do with students in LPS, just in a college atmosphere. Seeing him get real answers to college questions, make early friends and watch his natural anxiety related to the college experience melt away just makes a mama's heart happy. It made me think back to all of those outlet covers and how that's up to him now. Get out there and safely leap. You are ready.
Michelle
Updated August 20, 2021