Students and staff across Lincoln Public Schools observed Patriot Day on Wednesday through a variety of activities and events, including lunch with first responders, flag-raising ceremonies and hallway parades featuring law enforcement and members of the military.
Patriot Day is an annual observance to remember those who were injured or died during the terrorist attacks in the United States on Sept. 11, 2001, as well as to honor the first responders who rushed to help.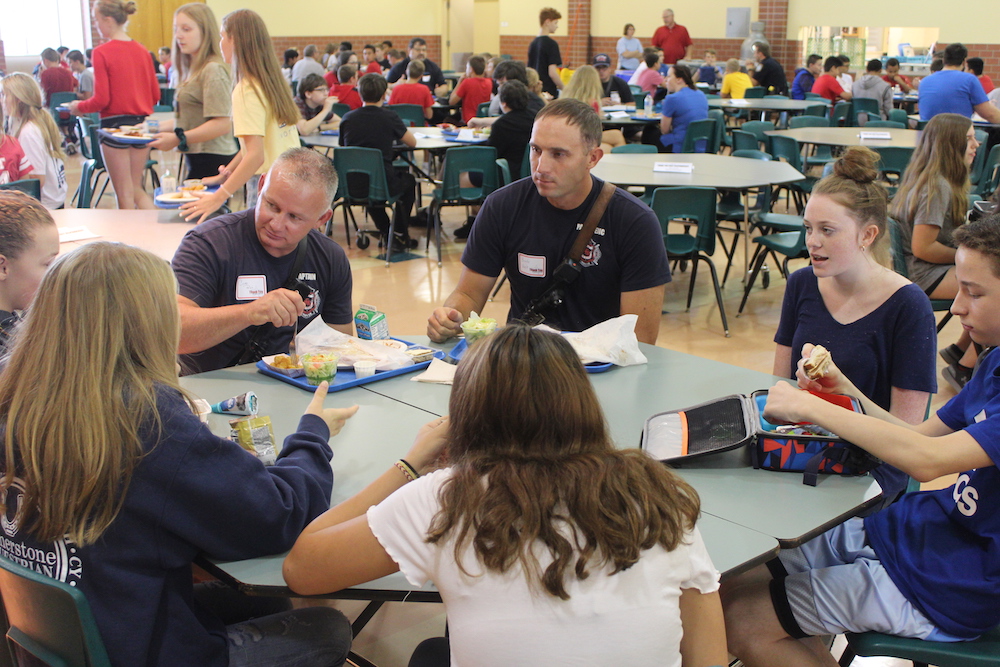 For the second year in a row, Lux Middle School invited more than 30 first responders to have lunch with students, including members of the Lincoln Fire Department, Lincoln Police Department, American Red Cross, Army National Guard, Nebraska Emergency Management Agency, Lincoln/Lancaster County Emergency Management Agency, U.S. Army and U.S. Marines.
Students were encouraged to ask questions such as:
How did you train for your job?
Tell us about a typical day.
What types of emergencies do you respond to?
How can we prepare for emergencies?
Where were you on 9/11?
Evan, an eighth-grader at Lux, said it was "cool" to ask police officers about their experience and where they were on 9/11. "And they told me what it's like to help people," he added.
Amelia, another eighth-grader, spent time with an emergency room nurse during lunch. "She felt terrible that she couldn't be there on 9/11 to help," Amelia said. "I would have felt that way, too."
Lux Principal Duane Dohmen said events such as Wednesday are important for a generation of students who were born long after the events of 9/11.
"Adults remember where we were when the towers fell, but for our students, 9/11 is history," he said. "In school and on the news, students are often reminded of the tragedy, but when we invite first responders to lunch on Patriot Day, we hope to put real-life faces to the heroism."
To learn more about how LPS honors Patriot Day, as well as Constitution Day and Veterans Day, listen to the latest episode of the LPS podcast.