Lincoln Public Schools and city officials held a community engagement session Thursday evening to gather feedback and suggestions regarding the proposed evaluation process for the School Resource Officer (SRO) program.
The 25-some people who attended and participated in the engagement process were asked to discuss four specific questions:
What questions do you still have about the evaluation plan for the SRO program?
What do you think are the major strengths of this evaluation plan?
What do you think are the major weaknesses of this evaluation plan?
What have we overlooked in the evaluation plan/what is missing?
LPS and city staff will gather all the comments from Thursday, as well as online comments and suggestions from other contacts, and consider changes to the draft evaluation process based on that feedback. A final evaluation plan will be submitted to the Safe and Successful Kids Interlocal Board for its approval in the spring of 2019.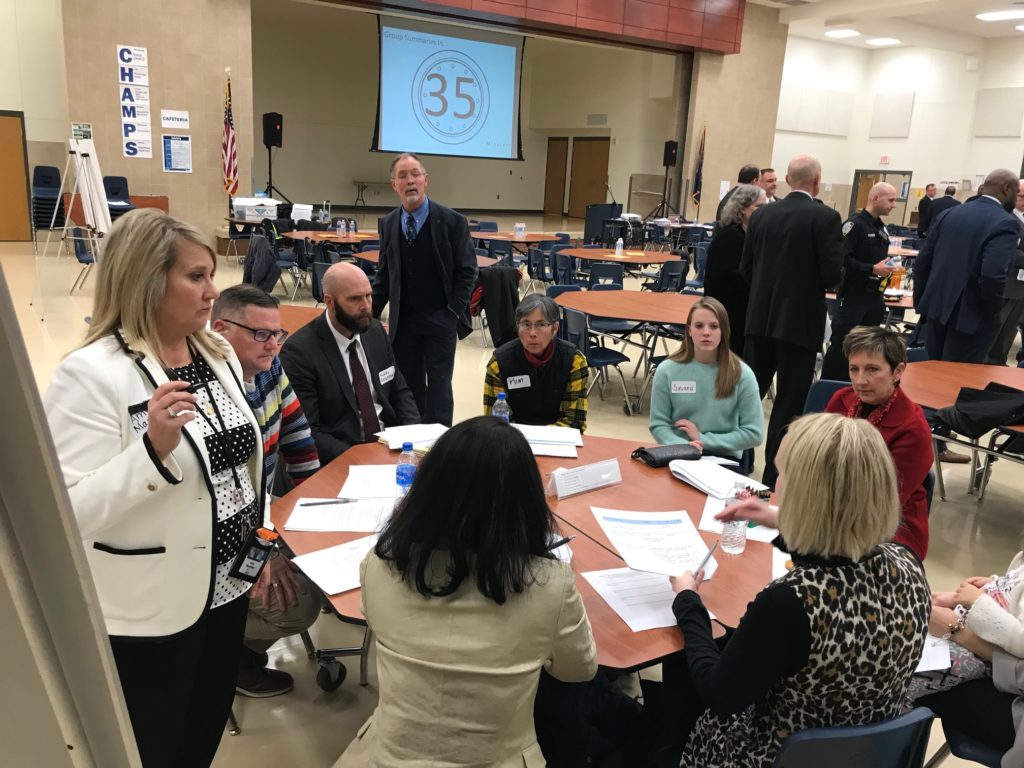 The proposed evaluation process can be seen at: lincoln.ne.gov (keyword: sskib), and citizens can continue to submit comments online at the same link.
Earlier this year, the city and school district approved the Safe and Successful Kids Interlocal agreement, which funded a series of measures focused on increasing school safety and student success. The agreement also included the addition of School Resource Officers, specialized law enforcement officers assigned to LPS schools. Six SROs currently work in the six LPS high schools, and six additional officers will be added in November to cover middle schools. The Safe and Successful Kids Interlocal Board is overseeing the development of the SRO program evaluation process, which focus on six measurable goals for evaluating the program.
Thursday, LPS and the city of Lincoln sought public feedback on the evaluation criteria for the SRO program – asking the community to help figure out the best way to measure the impact the SRO program has on children and families.
Lanny Boswell, a member of the Lincoln Board of Education, and chair of the Interlocal Board, addressed participants Thursday: "We are here this evening to talk about one particular issue, and it's an important issue: How do we measure success? More specifically, how do we measure the success of the School Resource Officer program, a joint City-LPS initiative that places 12 LPD police officers in our high schools and middle schools across the community?"
Bennie Shobe, chair of the Lincoln City Council and vice chair of the Safe and Successful Kids Board, explained that LPS and the city were charged with developing a way to measure the success of the SRO program. "And that is why we are here this evening—to talk about what data we should be collecting as a community."