Plans for Teaching Expectations
An important part of School wide implementation is teaching and re-teaching expected behaviors to students.
Teaching and re-teaching expectations should not be done just at the beginning of the year, rather schools should have schedules in place to continually communicate how we expect students to act.
What and when to teach should be based on school wide data.
We need to approach teaching behaviors just as we would teaching academics, by focusing on what students should do, instead of what they shouldn't do.  We tell them what the expectation is, and show them what it looks like in common areas of the building. We give them opportunities to practice the skills, and give them specific feedback based on how they are demonstrating the expectation.  Finally we reinforce and re-teach as needed.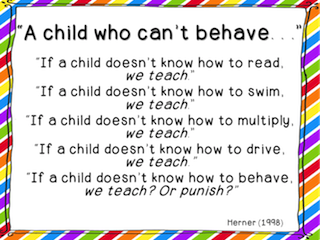 How and When to Teach Expectations:
Type of Instruction

How to Teach

Kick Off

A presentation to students and staff to introduce them to school-wide expectations, acknowledgement system, and other systems and procedures in place.

Presented at the beginning of the school year to the entire student and staff population regarding school PBiS initiatives.

Can be done in an assembly and/or in grade levels, individual classrooms, etc.

Staff and students can be involved in showing examples and non-examples.  Videos can be created regarding expectations and examples for each common area.

On-Going

A school wide, at least monthly, presentation of behavior lesson plans focused on specific expectations and/or common areas.

On-going behavioral lessons scheduled throughout the year on a weekly, bimonthly, or monthly basis.  These should focus on specific expectations and/or common areas.

These lessons need to be taught throughout the year to all students.  This can be done through lesson plans/videos designed by the PBiS team, and should be included in a teaching schedule developed for the year.

Boosters

A school-wide presentation presented periodically based on concerns identified by reviewing data.

When the PBiS team or Admin team identify a school-wide concern.  Can be scheduled as all-school assemblies, or week long lesson schedule reinforcing expectations.

These are usually scheduled following vacations and breaks, or after state testing.  These can include assemblies and activities to boost school spirit and acknowledgements of the school-wide expectations.
5 Important Parts of a Lesson Plan
Identify the desired behavior
List a rationale for teaching the behavior
Identify examples and (optional: non- examples)
Practice/role play
Provide opportunities to practice