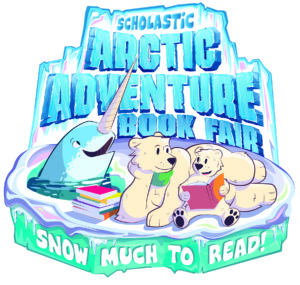 The Arctic Book Fair has ended in the Maxey Library.
Wow! What a supportive group at Maxey to make this happen! 
THANK YOU so much to the following students, parents and staff members:
Terra Downs, Mason Downs, Alivia Downs, Hailey Downs, Tracy Reichmuth, Greg Tebo, Maggie Pickering, Liz James, Sophia Stohs, Adam Erstad, Avery Sabata, Chandlar Kowalke, Andrew Guan, Kaylynn Pickering, Ashlyn Conradt, Avery Conradt, Gabby Reichmuth, Gavin Cheney, Wensi Cui, Addison Alderman, Meagan Mohr, Keighan Mohr, Sawyer Mohr, Diana Ivanova, Jack Eriksen, Julia Hoffman, Logan Hoffman (Dogman), Mindy Hoffman, Adelia Beck, Garrett Stapp, Danielle Ellenbecker, Katharine Eriksen, Robin MacKnight, Jill Stohs, Carmen Zalman, Letti Torrens, Nancy Jagadich, Annette Wiegert, Tracey Peterson, Suzanne Reimers, Leslie Norris, Todd Juhnke, Dan Kazda, Brendan Patchen, Chris Border.
Sincere THANKS! Kids love this every year! Thanks to families for shopping and supporting Maxey!  $10,400 in books and goodies sold!
Maxey gets 55% for new books in the library. Over 20 students were able to take home new books to keep from the Polar Bear Snowball Fight/Sucker Pull fund raisers! 
SNOW much to read for sure!!
Hope to see you in May for a Book Fair Jungle: "Elephants, Tigers, and Books, Oh, My!!"
Sheri Christen, Maxey Librarian