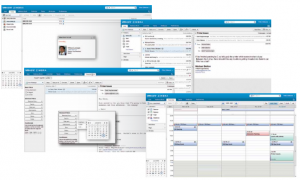 The LPS Zimbra Collaboration Suite is a full-featured messaging and collaboration application offering reliable, high-performance email, address books, calendaring and task list capabilities for LPS employees.
Support Resources
Feel free to submit a HelpDesk Ticket for any technical issue you may be facing.
You can also access Zimbra's "Help Central Online" resources by clicking on your name in the upper right corner when logged into Zimbra or by following the links below:
These tabs reference specific Zimbra topics of interest to LPS staff:
Mail
Mail
The volume of email messages sent and received on a daily basis demands consideration of best practices for managing it. Consider these Email Management Strategies for processing your inbox and composing more effective communications.
Many of us spend considerable time tweaking email clients to work "our" way. Note the various settings available from the View menu found in the upper right of Zimbra Mail:
Conversation vs. Message view
Reading pane at the bottom vs. right vs. not visible at all
Inbox Filters
We all receive legitimate messages (updates from email lists, notifications from systems like Google Drive or Docushare, etc.) that don't necessarily need immediate attention, but do tend to fill up our inbox.
Using filters can help with organizing those messages into folders for you to review at an appropriate time, leaving your inbox with messages that probably need your more immediate attention. A filter evaluates every message you receive against a set of rules you have established, and acts upon the message in some way.
Activity Stream
The Activity Stream is a special filter with preset rules that moves messages sent through distribution lists to which you are subscribed, commercial mass marketing, and bulk mail messages from your Inbox to an "Activity Stream" folder.
Junk, Spam, and Phishing
"Spam" is a term used to describe an email message of any content (but often commercial in nature) that was sent indiscriminately to large numbers of recipients on the Internet. To qualify as spam, a message must be unsolicited. A "phishing" email is designed to trick you into sharing personal information such as passwords, credit card numbers, etc.
NOTE: Lincoln Public Schools will NEVER send you an email about meeting or exceeding your email quota.
Signatures
Your immediate co-workers know you, as do many colleagues. Beyond that, even people who recognize your name may not remember what your role is within the district. Help everyone in the organization by having a "signature" automatically appended to the end of your messages.
RSS In Zimbra
One of the lesser known features of Zimbra is the ability for it to subscribe to the RSS feed of a website right in your inbox.
Create a Shared Folder
If you need to share messages with another user, one easy way to do that is to create a shared folder. First you'll need to create the folder, then follow the instructions below to share it with specific user(s).  Once you've shared the folder, any messages you move in manually, or via an inbox filter, will be available to the shared user(s).
Calendar
Sharing Calendars
It's easy to grant various levels of access to your Zimbra calendar. Follow these steps to share your calendar with other LPS users:
Right-click [control+click] on the calendar you wish to share and select 'Share Calendar'

Your default calendar is called 'Calendar'

On the 'Share Properties' dialog select whom to share your calendar with

In most cases you will be sharing with Internal (LPS) users

Enter the email address of a user that you wish to share with

add multiple users by separating email addresses with a comma

Select the role this person (or these people) will have on this calendar

Viewers can see availability and events (the most common role for sharing your Personal calendar)
Managers can add, remove, and accept/decline invitations on your behalf (the most common role for meeting or resource calendars)
Admins can edit permissions on the calendar

Click OK
Accepting Shared Calendars
Click Accept Share in the email. The Accept Share dialog opens and describes the role granted to you.
Before you accept you can customize the calendar name and select a color for messages to be displayed.
Click Yes. The new shared calendar is added to your Calendar list and the message is automatically moved to your Trash folder.
Public Calendars (Sharing with students, parents, and public)
Follow these steps to share topic-specific calendars (classroom/school events) with students, parents, or the public:
Create a new calendar in Zimbra by clicking the "New" drop down menu at the top of your calendars and selecting "Calendar"
Right-click (Control+click) on the calendar you just created and select "Sharing"
Select 'Public' on the 'Share Properties' dialog
Click OK
Use the 'View' link found in the URL options listed at the bottom of the 'Share Properties' dialog.
NOTE: When adding events to your calendar, Zimbra will default to your personal calendar. To have the event appear on a specific course calendar, select it from the drop down in the event creation window.
Importing Events
Follow these steps to import calendars saved in the .ics format into your Zimbra Calendar:
Go to the Preferences>Import/Export page.
Browse to the .ics file on your computer.
Select the folder for the file or create a new folder.
Click Import.
Depending on the size of the .ics file, the import might take a few minutes.
Resource Calendars
System-level calendars can be created for shared resources such as building master calendars, IEP calendars, activity calendars, facility use, etc. These calendars MUST be created at the system level, not under a personal account. (If you have created these calendars under your personal account, they will need to be deleted to avoid future issues.)
A resource calendar can be requested via HelpDesk ticket. Make sure to include thie following information in the ticket: calendar type, calendar administrator email address, and additional email addresses of those that should be able to ADD events to the calendar. You will be contacted for followup information, as each resource calendar and building is unique in how it is used.
Questions about resource calendars can be directed to Kristi Peters : kristi@lps.org
Mobile View of All Calendars
"Power" calendar users in LPS often rely upon the built-in applications on mobile devices for access to Zimbra calendars on the go. Many have lamented, however, that the sync only covers personal calendars. Administrators and coordinators often need access to various building calendars that don't sync.
For a less elegant but very functional solution, add a bookmark/shortcut for the mobile web view of Zimbra calendar to your device's home screen.
Notifications
Calendar event reminders sent via SMS or email allow greater flexibility in how you can stay informed about upcoming meetings. Before you can use this feature, you must set up LPS Zimbra to be aware of the email address or phone number you want to use for these notifications.
Mobile
Setting Up Your Mobile
LPS provides a profile for syncing Zimbra with iOS devices.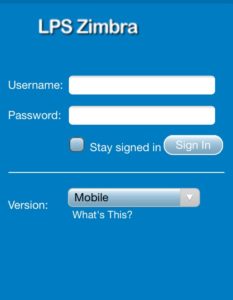 Troubles Syncing?
Visit zimbra.lps.org on your device and choose Version: Mobile on the login screen (if Zimbra detects you are on a mobile device, it may do this for you automatically).
Once you have logged in, you will be given an interface that Zimbra thinks most fits your device. If you don't like the way things look, you can scroll to the bottom of the page and choose a different "View."
Don't Accidentally Nuke Your Phone!
If you have setup a mobile device to sync with Zimbra, a "Mobile Devices" preference panel becomes available. This is where you can remove a device from Zimbra (which ceases syncing). There's something else you can do here, however, that is much more dangerous.
If you choose "Wipe All Data from Device," it does exactly that. Not only will it wipe out your Zimbra information, but it will wipe out ALL of your information. When your phone is done it will look just as it did when you got it (perhaps handy if you think your phone has been stolen, but might be the beginning of a bad day if not).
Desktop
Setting Up Your Desktop
We recommend using Zimbra web.  LPS does not offer support for any other desktop email clients. 
Search
Zimbra offers amazing search capabilities. To begin with, it is FAST! Really! Try it! Most searches complete in about 1 second. It also offers tremendous granularity. When you create a search that feels "just right" you can save it for future 1-click access!
Situations when a saved search could be valuable:
Saved searches can eliminate the need for many of the folders that you have always managed by dragging messages in & out of them manually. Consider moving all of your messages into a single folder per year and using saved searches to find what you need, when you need it.
Create a Saved Search
Get started quickly by following the steps listed below:
Click the magnifying glass in the Search box toward the top of your screen
Build your advanced search from the options on the left of the screen. Narrow your results by searching who the message(s) were received from, who the message was sent to, when it was sent, what kind of attachments were included, the size, status, or tags and what specific folder the message might be located in.  Combine any of these options using the conditionals at the bottom.
Once your search is configured, click the Save button found in the upper right corner
Name the Saved search appropriately
Click the X to close the search tab
Now what?

If you look below your folders of email you should see a saved search with the title you provided. Clicking on it re-runs the search through all of your messages in all of your folders, including messages received since the search was saved.
Not quick enough?
Another fast way to call up this search is to use a keyboard shortcut. While viewing a folder of mail tap the "S" key on your keyboard to call up a window that shows your saved searches. Select the one you want to run. No mouse needed!
To return to your inbox tap the "I" (for Inbox) key on your keyboard to return to your Inbox.