LPS students (You!) might be asked to meet with your teachers remotely using Zoom on your LPS Chromebook. 
Personal Zoom accounts will not work with LPS Chromebooks.
Zoom meetings can only happen if a staff member (teacher) organizes and starts the meeting. If that staff member leaves, the meeting ends. 
Students can chat to the teacher, or to the whole room, but are not able to hold private chats with other students in Zoom.
Joining a Zoom Meeting with Teachers (Zoom-in Instruction)
To join a Zoom meeting for a class during remote (Zoom-in) instruction, follow the instructions in the video below.
From the LPS Portal, click on StudentVUE.
From the Home tab, click the green Join button.
If the Join button is not available, tap the Refresh button occasionally until it appears. 
If you have more than one Join button, check the name of the teacher, and the start time to find the correct button/meeting to join.
When Zoom-in students need to receive personalized ('drop-in') help outside of the school day, teachers will share a link to a regular Zoom meeting that is not scheduled in Synergy. This includes before/after school groups.
If your teacher provides you a link, click the link. The Zoom app will open on your LPS Chromebook.
(Example: https://lps.zoom.us/j/1234567890)

When you're in a meeting with your teacher, click on the

Microphone

button to mute/unmute yourself. 

Your teacher might have set their meeting to "mute all participants" when they first join. You will only be able to hear your teacher until they allow others to speak. Your teacher will not be able to hear you unless you're allowed to unmute your microphone. If your teacher invites you to speak, a message might appear that asks you to

unmute myself

. Clicking this button will unmute your microphone so your teacher can hear you. 

You can mute/unmute your camera by clicking on the

Camera

button.

By clicking on the

Participants

button, you can see who else is in the meeting with you. 

By clicking Participants, you can also answer basic yes/no questions, and raise your hand (digitally) to the teacher.

If your teacher asks you to, you can share your screen with the teacher or the whole Zoom meeting. Learn how to do that here. 
View Zoom side-by-side with another window
You can "dock" windows to the left and right of your screen, allowing you to see Zoom and another window at the same time.
Select a window and use the key combination alt + ] (right square bracket).
Select the other window and use the key combination alt + [ (left square bracket). 
When you want to return the window to normal, you can use the maximize icon in the top-right corner of the window, or press the key combination alt + = (equals sign).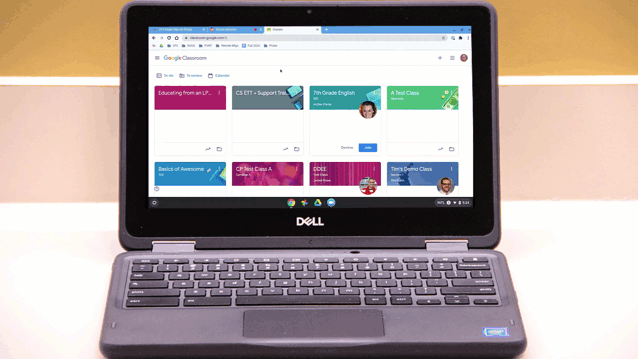 When you raise your hand, your teacher will see a little blue hand in the corner of your screen. You can lower your hand if you no longer have a question, or if your question was answered already.

Nobody likes the way they look or sound on a recording. It's human nature. Be confident anyway. Use your camera if possible.
Dress appropriately, the way you would in a classroom.
Sit close to the screen. Your face should fill most of it.
Look directly into the camera (not the screen) and act like you are speaking to a real person. Let your personality shine through.
It can be harder to understand people on recordings than in person. When you're talking, go a little slower than you might normally speak. Pause between sentences. 
Let the people around you know you're in a meeting.
Make sure the space behind you is clean, free of distractions, and appropriate.
Don't sit in a dark room. Make sure the environment is well lit. 
Don't sit with a window behind you. Always face a window or light source if you can. 
Be aware of other family members (and pets!) and the noises they might make. Try to keep them away during the meeting/recording.
When we meet online, it's important for everyone to act appropriately. Students should follow the student Responsible Use Agreement. Adults need to follow the rules online, as well. As a quick reminder, when you're online, be sure to:
Use respectful behavior and language.
Stick to appropriate topic discussions.
Send only school appropriate messages.
Wear clothing that is appropriate for school, even if you are attending meetings via video.
Be honest and use academic integrity. In other words, do not plagiarize or copy others' work.
Do not falsify information about yourself or impersonate others.
When everyone remembers to act kindly, show consideration for others, and treat one another online as you wish to be treated in person, we'll all be able to focus on learning.
Update your Chromebook
Make sure you're running the latest version of ChromeOS. This can be done quickly and easily by pressing the [REFRESH]+[POWER] buttons at the same time.


If you don't see the green Join button:
Press the

refresh

key on your keyboard.

             or… 

Click the

Calendar

menu on the left, 

Click the

blue link

above your teacher's name,

Click

Join Meeting

in the window that appears.
Sound (Audio Settings)
You can control the sound coming out of your speakers (that you hear) and also the sound that goes into your microphone (that your teacher hears) from the same panel on your Chromebook. Click on the clock in the corner of your Chromebook's screen to open this panel.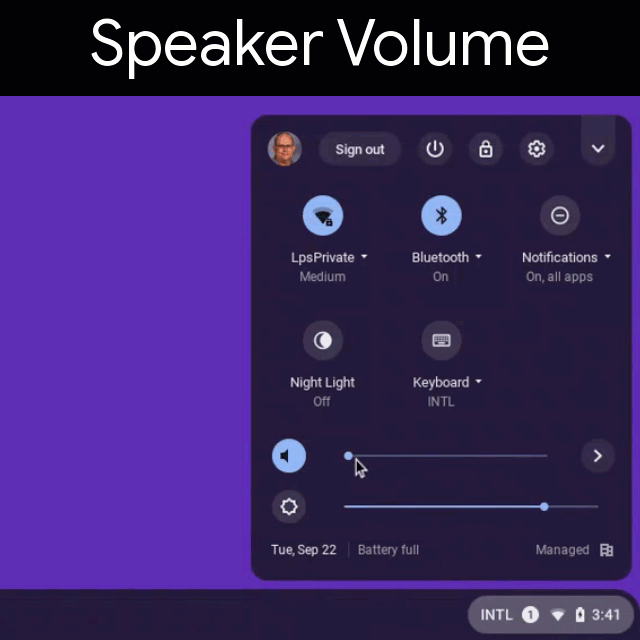 Speakers – You will see a slider that lets you adjust the volume of your speakers, which adjusts how loud the things you hear on your Chromebook will be.
Microphone – If your teacher says they can hear you, but your voice is too quiet, you can adjust the sensitivity of your microphone. Click the little triangle at the end of the volume slider to move into the microphone's adjustment slider. Normally, you will not want to move that slider above halfway.