Meeting with Students via Zoom
Meeting with Students via Zoom
While Zoom's video conferencing capability may be used for a variety of purposes, it is powerful for instructional purposes, especially for holding meetings with students. Below are directions on how to sign in, launch a meeting with students, manage your settings, and share your screen.
Personal Zoom accounts will not work with LPS Chromebooks.
Zoom meetings must not take place without a staff member organizing and running the meeting. The staff member must "End meeting for all" if they leave the meeting. The only exception would be if another staff member is present and can take over as host of the meeting. 
Students do not have the ability to record meetings. 
Launch the Zoom app 
LPS Staff members should only use the Zoom app which is pre-installed installed on your teacher laptop. It can be found in the Applications folder. 
Do not use the web browser to enter meetings as a guest.
Do not use the web browser to lead meetings.
Students will use an App on their Chromebooks to join meetings.
No one in LPS needs to use the web browser version of Zoom for any reason.
Sign into your LPS Zoom Account
LPS Staff members have a license to use the paid version of Zoom. This is important because the free version of Zoom lacks the security features needed for use in our education spaces.
When signing into Zoom:
Click the Sign In tab
Choose Sign in with SSO.
Enter lps for the domain.
Once the LPS sign-in page appears, enter your LPS username/password.
Starting a Meeting with Students (Zoom-in Instruction)
Teachers will now use Synergy to connect with their Zoom-in students via Zoom. This ensures students will always get the correct link, and the link will not change if the teacher is absent and a substitute is leading the meeting. 
Office Hour Zoom Meetings with Students
If you plan to host office hours, you likely won't know which of your students will join. In the rare situations where you won't know the students coming to the meeting/office hour, you'll need to invite them differently  – either by sending a link, or sending your Personal Meeting ID (PMI).
Remember: These methods should not be used for Zoom-in instruction. Please refer to the Synergy instructions above to meet during classes. 
Find the link to send students:
Teachers will:
Find your Personal Link on the Meetings Tab in your Zoom app.
Copy the Personal link (looks like a URL with your phone number at the end), and provide it to students via email or Google Classroom.
*Do not share your PMI or your meeting link in any public-facing platform (Facebook, Twitter, etc.). 

If you do not see a "Personal Link" it is because you have not set one up yet. Setting yours up is a one-time process:
In Zoom, click your user profile picture in the top-right corner.
From the drop down-menu, choose My Profile. (This will open a web page.)
Select Customize next to Personal Link.
Enter the personal link desired. We suggest using your LPS username.
Click Save Changes.
Students will then:
Click on the link from whatever source you shared it in (Google Classroom, email, etc.) 
On the LPS Chromebooks, the Zoom app should launch automatically and bring them to your meeting room.
More detailed student instructions can be found
here.
Find the PMI to send students:
Teachers will:
Find your Personal Meeting ID (PMI) on the Meetings Tab in your Zoom app.
Copy the Meeting ID (looks like a phone number), and provide it to students via email or Google Classroom.
*Do not share your PMI or your meeting link in any public-facing platform (Facebook, Twitter, etc.). 

Students will then:
Navigate to the LPS Portal.
Find and click on the Zoom app in the Portal.
Enter/Paste the meeting ID/number provided by you.
Click Join.
The Zoom app will open on their LPS Chromebook.
Type their name. 
Click Join.
More detailed student instructions can be found
here.
The host controls exactly who is or is not in the room by using a "Waiting Room." This allows the host to control when a participant joins the meeting.
Waiting Rooms are Turned on in ALL LPS Accounts by Default. If the Waiting Room is ON:
All signed in LPS staff users WILL have to wait in your waiting room.
All students and guest accounts (non-LPS) WILL have to wait in the waiting room.
This feature can be adjusted (turned ON/OFF) inside the Zoom web settings.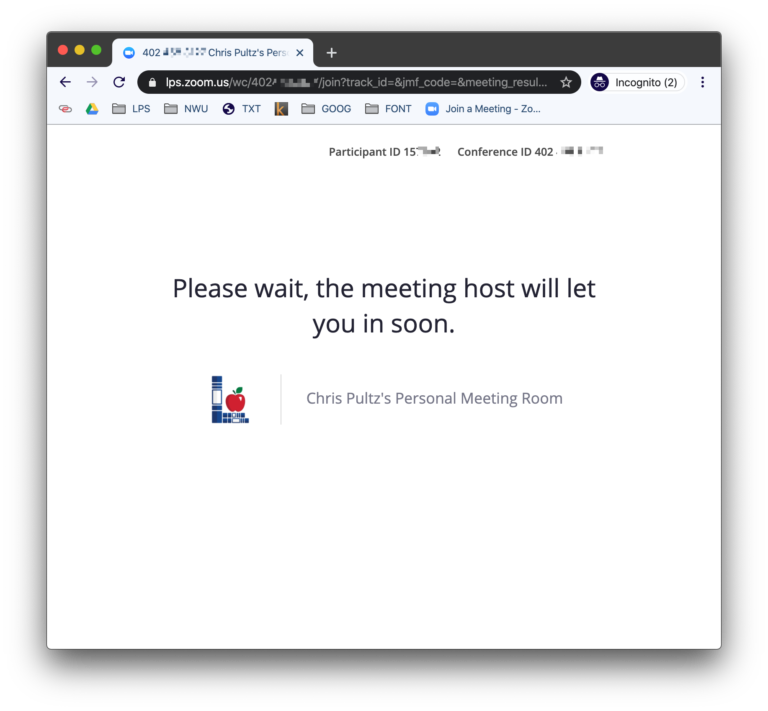 Managing Guests
The folks at Zoom have shared a quick tutorial on how Meeting Rooms look to hosts. In this example they are "playing Doctor" but the same process might work for Teachers or Psychologists who want to manage users one at a time.
Note that a host can move guests who are already in the room back out into the waiting room. This may be useful for a disruptive student. While you cannot video conference with someone while they are in your waiting room, you can text chat with them before readmitting them to your room.
Admitting guests (students)
As the host, once you've started the meeting, use the Manage Participants button to see your waiting room.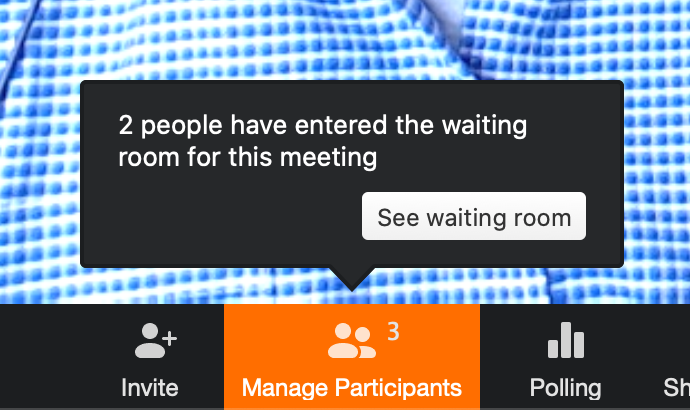 In Manage Participants you will see the full list. Then, you'll have the option to admit participants individually by selecting the blue Admit button next to their name or all at once with the Admit All option on the top right-hand side of your screen.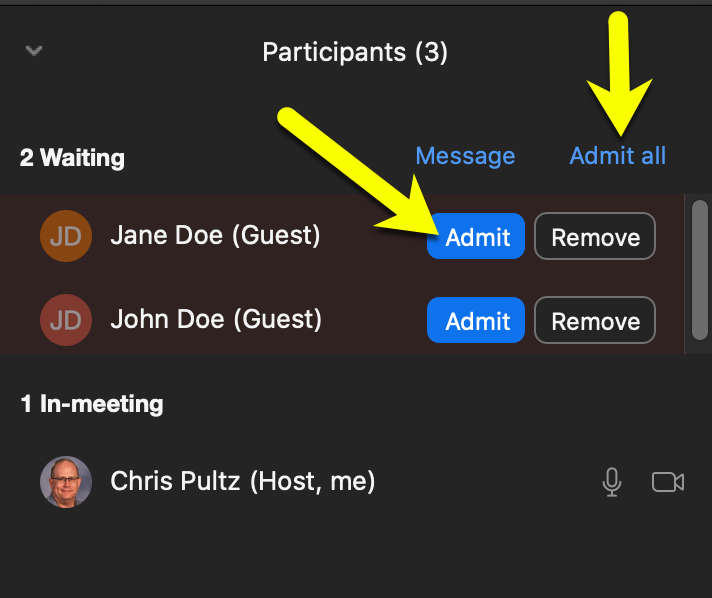 Added Security
The Waiting Room feature is a great way to secure your Personal Meeting ID. Your PMI is an address where you are always accessible. If someone has your meeting PMI, they can just drop by and try to join meetings in progress. The Waiting Room gives you that security plus added visibility into who is trying to join. 
Room Features to Know About
Manage Mic/Camera Settings​
Inside of Zoom, click the Home button. 
In the top-right corner, click on the settings gear icon.

From this menu, users can change any necessary settings like video and audio. 

First time Zoom users might get prompted to allow camera/mic access inside their system privacy settings. To do this:

Click on the Apple Menu in the top-left corner of your screen and click System Preferences. 

Click Security & Privacy.
Make sure Zoom is checked in both the Camera and the Microphone sections.
Manage your audio and video settings in the bottom-left corner of the Zoom window. 
These settings allow you to join/mute your audio/video, as well as change the camera and mic inputs if needed to alternate microphones or webcams. 
By clicking Manage Participants, the host/teacher can see participants, and can mute their audio/video if needed.
Students should be encouraged to enable video on their Chromebook as long as they are able to maintain a solid connection to the Zoom room. This offers the teacher and other students a chance to see facial expressions, emotion, reactions, and other human-to-human non-verbals.
If a student is faced with a difficult internet connection, they can disable video from their device after you've been able to verify that they are who they claim to be. 
Best practice is to mute all microphones during a Zoom meeting unless the person is talking to the Zoom room. This eliminates a cacophony of disruptive sounds.
Teachers can mute all students at once. Use the Manage Participants list to "Mute All" (Mic).
Explain to students that you will request that students unmute their microphone when called upon. A tip: you can hold the space bar down on your keyboard when you wish to talk. Zoom behaves like a "walkie-talkie" and unmutes for a "push-to-talk" environment. 
LPS has set all Zoom rooms so that there can be no private chat between participants. Only chats to the entire room, or between a participant (student) and host (teacher) can be initiated.
You can add another teacher as a co-host to help manage student participants and/or the administrative side of the meeting, such as admitting users from the waiting room, muting participants, or starting/stopping the recording.
Co-hosts can be easily assigned during a meeting. To add a co-host:
Click Manage Participants
Click the More button next to the desired co-host
Click Make Co-Host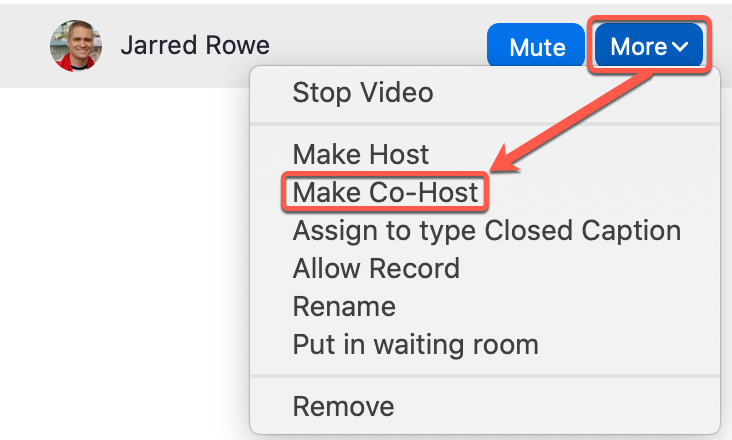 Click the Share Screen button to see all screen sharing options that hosts/teachers have while conducting a meeting. This includes sharing:
An individual

window

.

This could include a slide deck presentation, one internet browser, or one application window.

Your whole

desktop

.

With or without the computer's sound (for videos played during meeting).

A virtual

whiteboard

.

This whiteboard allows you to type, draw, stamp, and spotlight anything on the whiteboard screen.
To prevent unwanted interruptions to the remote learning environment, LPS has turned off screen sharing for all participants by default. Teachers can choose to enable screen sharing as necessary during a meeting.
To enable screen sharing for students in the meeting, a teacher must first do the following:
Select the small up-arrow next to the Share Screen button

Choose "Advanced Sharing Options…"
Under the "Who can share?" heading select "All Participants."   
Protecting your Zoom Room
Do NOT publish your Zoom meeting link or meeting ID to a public forum (Facebook, Twitter, etc), You can publish your link to your Google Classroom or via an email message to your students. This is the most secure.
As shown above, the Waiting Room feature has been turned ON in the LPS domain and eliminates many possible disruptions when used appropriately.
To minimize disruptions staff might also consider:
Muting all participants on entry. The teacher then can selectively unmute.
Changing your Personal Meeting ID (especially if you have shared it in a public space)
Having a co-host to help manage participants. (Any staff attendee can be 'escalated' to co-host during the meeting.)
Locking the room after all expected attendees are present
Q: What if I don't recognize the name of someone in my Zoom waiting room?
A: Do not let them in.

In addition, inform students that they will not be admitted to your Zoom room without their real first and last names. 

If you allow entry to someone and quickly realize you shouldn't have, use the Manage Participants window to remove the person.
Remove, Rename, or Stop video feed
By clicking on the Manage Participants button, then hovering over a guest's name in the list, you can see a small More menu. In that menu you find the option to do a few helpful things, like:
Rename a guest
Students use free form text to enter their names when joining a meeting, so they can type anything they want.

 

Remove an unwanted guest
If a student has created a free (non-LPS) Zoom account, they might try to join your meeting as a disruptor.

 

Stop Video from the guest
If a guest's camera is displaying something inappropriate or disruptive to the learning environment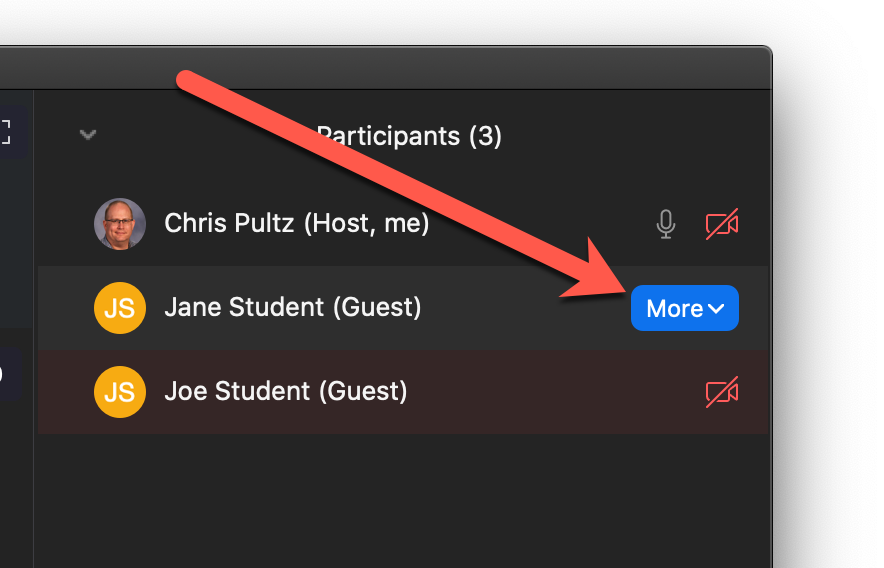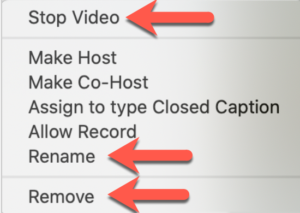 Locking a Meeting
Meeting Hosts have the ability to lock a meeting to single users, or a small group of users, if needed. Once the participants are in the room, the host must click on the Manage Participants button. Under the More button that appears in the slide-out window, the Host will see Lock Meeting, along with a few other helpful settings. This ensures only the current list of participants is able to join in the meeting.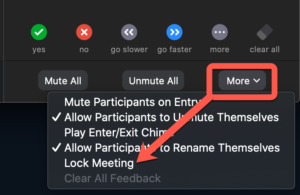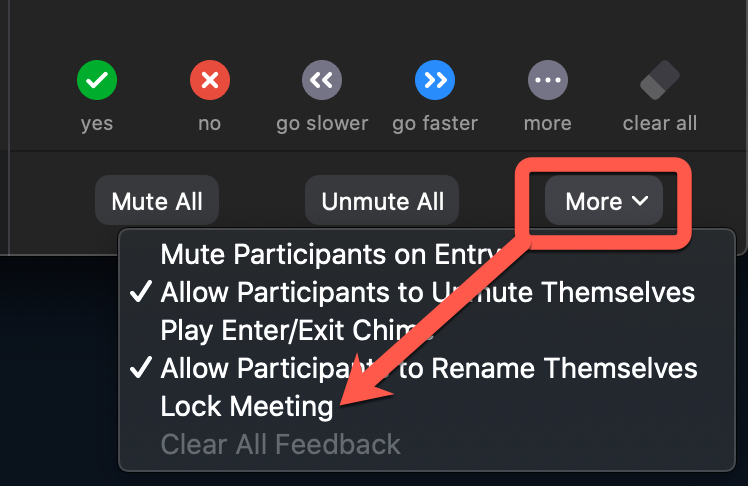 Troubleshooting Zoom Connections
If you are using Zoom to participate in (or host) meetings and you are disappointed in the audio or video quality, please reference this resource: Zoom Quality Troubleshooting
Student can't join my meeting
If students are unable to join your meeting, in the Meetings Tab:

Click Edit
Click Advanced Options
Make sure Only authenticated users can join: Sign into Zoom is UNCHECKED. If this box is checked, students will not be able to join your Zoom meeting. 
I need to mute all participants!
Click the Manage Participants button.
Click Mute All Users in the window that appears.
There are currently no approved alternate methods for LPS teachers to hold a live meeting/broadcast that LPS students can attend. For more detailed instructions and settings, please visit our Zoom resource page, located HERE. 
To learn more about Zoom, please visit our primary Zoom resource page located HERE. This includes:

Creating and joining meetings
Screen sharing
Managing participants
Locking a meeting
Managing settings
Best practices when hosting/attending a meeting

Students have a separate Zoom resource providing instructions on joining a meeting located HERE.

You can

join a test meeting

to familiarize yourself with Zoom.
Updated August 4, 2020