iOS - Setting Up Your Mobile Device
(iPhone, iPad, iPod Touch)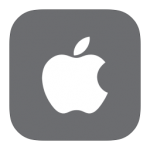 Step-By-Step Instructions
1. From your iOS device (iPhone or iPad), open the Safari web browser app and tap the button presented here to download & install a configuration file to begin syncing it with your LPS Zimbra Account. You will continue on your iOS device by following the instructions below.
2. Continue with the download of the configuration file by tapping Allow.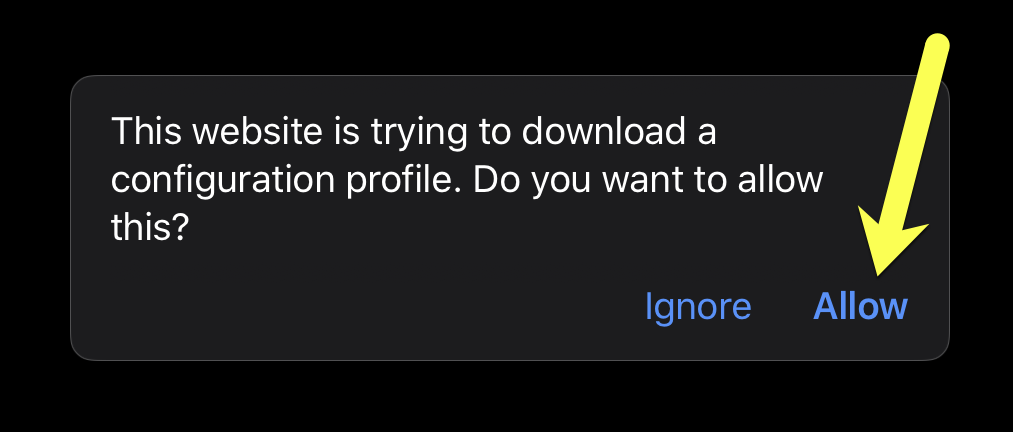 3. Open the "Settings" app on your iOS device.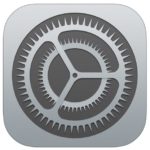 4. Tap the "Profile Downloaded" menu. 
Depending upon your version of iOS this could appear in a few locations within the Settings app, but will likely appear in the top-left corner under your main account name.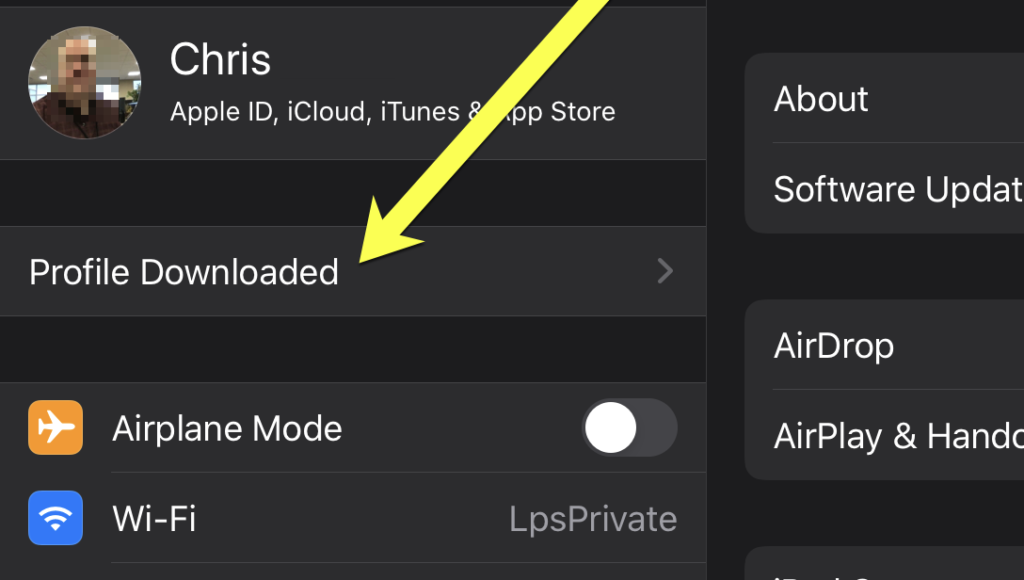 5. Tap "Install" to continue. 
Enter the passcode for your iOS device if required.
Tap "Install Profile" a second time to confirm.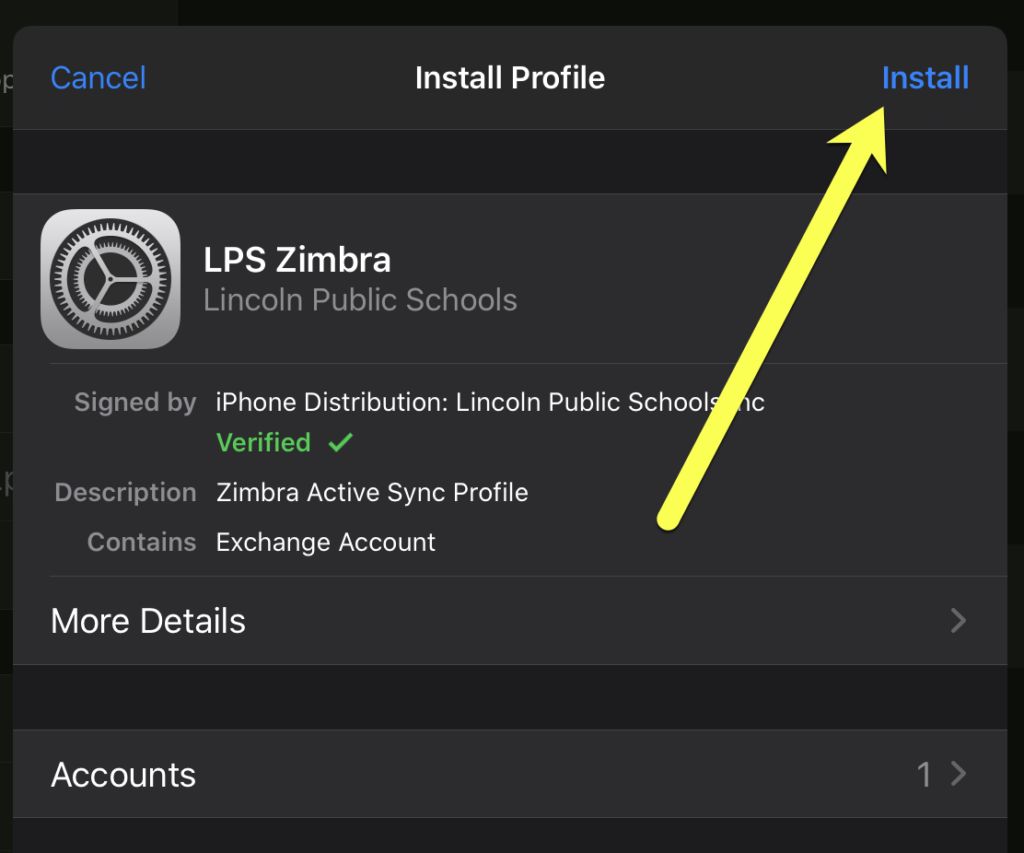 6. Enter your full LPS email address
Tap the "Next" button to continue.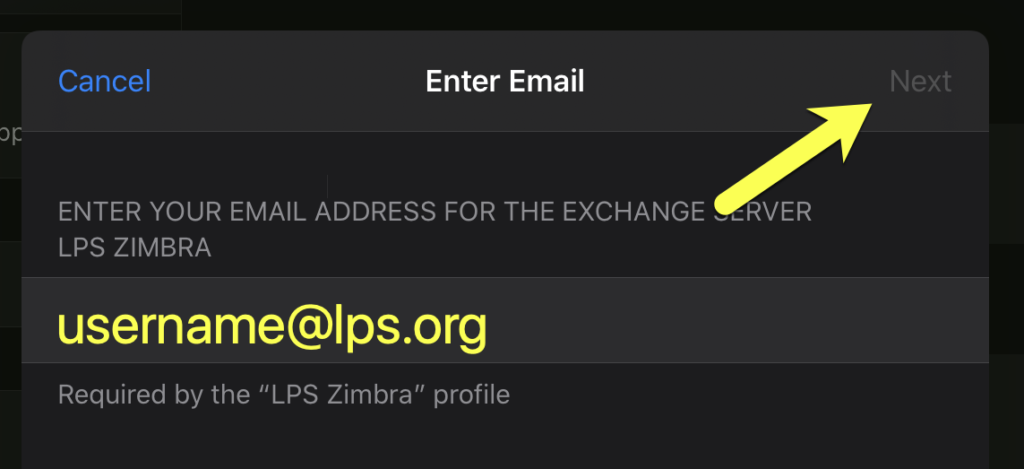 7. Enter your LPS USER NAME only
Do not enter your full email address.
Tap the "Next" button to continue.
8. Enter your LPS password
Tap the "Next" button to continue.
Tap "Done"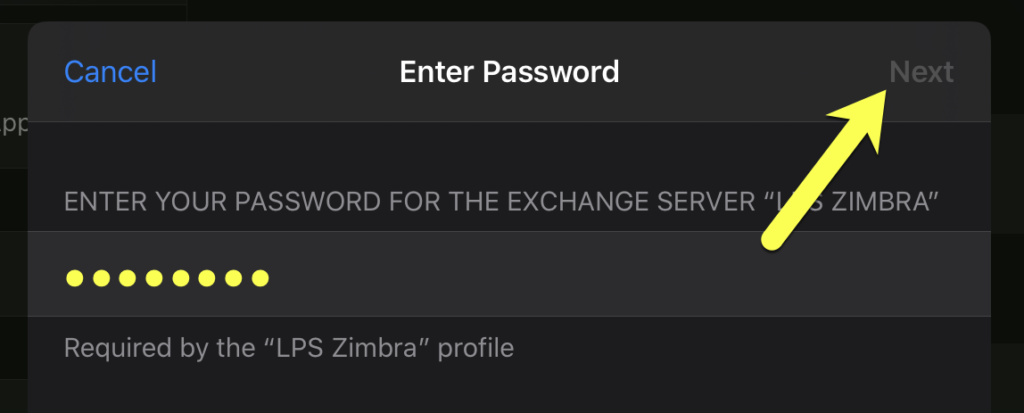 LPS Zimbra syncs with Mail, Calendar and Tasks
At this point you have successfully connected your iOS device with LPS Zimbra. Your iOS device is now beginning the process of syncing your Mail app, Calendar app, and Reminders app with Zimbra data.
LPS Mail: Launching the Mail app on your iOS device should show you your LPS email.
LPS Calendar: The Calendar app on your iOS device will display YOUR LPS calendar, but no other calendars. (No building or shared calendars.) If you need to see building or shared calendars, launch the Safari App, go to LPS.org and log into Zimbra from the web. (More details.)
LPS Tasks: The least known feature of Zimbra is the built-in "Tasks" tool that can help you organize your to-do lists. These sync with your iOS via the "Reminders" app.