Speakers Bureau: Speaking for the Children
Lincoln Public Schools is the second largest public school district in Nebraska, serving over 42,000 students from early childhood and kindergarten through senior year in high school—and at 39 elementary schools, twelve middle schools, six high schools and numerous programs and focus programs. 
In addition to Superintendent Steve Joel, members of the LPS Speaker's Bureau offer a broad variety of voices in all aspects of public education in the School District, telling the fascinating story of our schools:  addressing the School District's master facility plan, the value of school athletics, the School District budget, what we want students to learn and how we know they are learning it, and much more.
Speakers tailor their time and topics to the needs of your group, whether it is a community organization, a business or a neighborhood group.  There is no fee for this service, but we suggest advance notice.
Please call us today—and invite us to speak for the children.
Contact Mindy Burbach, Director, Communications for Lincoln Public Schools
Phone: 402-436-1609—Email: mkroth@lps.org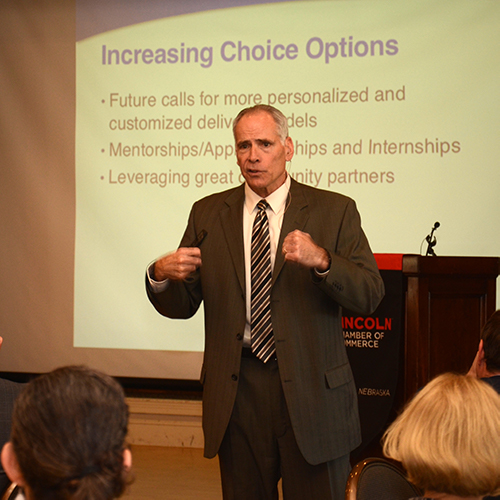 President, Lincoln Public Schools Board of Education
The Lincoln Board of Education is working for you
The value of public education to our community
Additional members of the Lincoln Board of Education are also available.
For information about our board of education, president and members 
please visit our Board of Education information page.
Matt Larson, Associate Superintendent for Instruction
LPS by the Numbers
Teaching and Learning in LPS
Liz Standish, Associate Superintendent for Business Affairs
School Finance 101
Lincoln Public Schools Budget
Lincoln Public Schools: Good stewards of our tax money
General topics on business and finance
Eric Weber, Associate Superintendent for Human Resources
Human Capital
Public Sector Benefits
Employee and Labor Relations
John Neal, Assistant Superintendent for General Administration and Governmental Relations
Lobbying: Why a political subdivision needs one
Favorite school district statistics
Legislative issues for public education
Community Learning Centers/Safe and Successful Kids
Eagle Feather Project
Athletics
TeamMates
Pet Therapy
How district policies are created
Walter Powell, Equity, Diversity and Multicultural Administrator
Cultural diversity with students and staff
Multicultural education: What does that mean?
Race Relations
Jenny Fundus, Director of Special Education
Quality Special Education Programming for students Kindergarten to age 21
Aligning teaching strategies and the budget to meet student needs
Building capacity of all educators to meet the needs of struggling learners
Takako Olson, Director of Curriculum and Instruction
What's New in Curriculum and Instruction at Lincoln Public Schools
How We Develop and Sustain a Guaranteed and Viable Curriculum
Josh Jones, Director, The Career Academy
Dual Credit Options for High School Students in High Demand Career Pathways
The Career Academy works with LPS and SCC to Provide College/Career Options for more than 650 Students
School Choice Options at Lincoln Public Schools
Pat Hunter-Pirtle, Director of Secondary Instruction
Middle school and high school education
Graduation Rate 
Future leaders and leadership development
Sarah Salem, Director of Continuous Improvement and Professional Learning
Continuous Improvement
Professional Learning Communities
Professional Learning
Student Engagement
Instructional Coaching
Leadership Development
Leslie Eastman, Director of Assessment and Evaluation
Classroom Assessment
District Assessment Plan
NSCAS: State Testing
Nola Derby-Bennett, Director of Lincoln Community Learning Centers
Lincoln Community Learning Centers
Community Partnerships and Public Education
Parent and Neighborhood Engagement
Cindy Schwaninger, Director of Elementary Instruction
Teacher Appraisal
Leadership Development in LPS
Elementary Education in LPS
Russ Uhing, Director of Student Services
Multi-Tiered Systems of Support for Behavior
Community Partnerships that Support Students
Joe Wright, Director of Security
School Safety
Threat Assessment/Violence Prevention
Community Partnerships Strengthen Student Safety
Linda Hix, Director of Federal Programs
English Language Learners
Title I
Cara Lucas-Richt, Director of Early Childhood
Early Childhood Education
Early Intervention and Special Education for children ages birth to 5
Early Development Network
Kirk Langer, Chief Technology Officer
Information Security and Data Privacy
Digital Citizenship
Disaster Recovery/Business Continuity
Technology and Learning
The Role of CTO: Leading Change
Chris Haeffner, Director of Library Media Services
Impact of School Libraries on Our Communities
Digital Citizenship
Civic Online Reasoning: Online Information Evaluation
Copyright and Fair Use
Design Thinking: Making & Makerspaces
Databases & Scholarly resources: At our Fingertips!
eBooks & Digital Collections
Multicultural Literature
Supporting Literacy at School and Home
Scott Wieskamp, Director of Facilities
A comprehensive master plan for LPS facilities
Update on construction across the School District
Wendy Rau, Supervisor of Health Services
School Nursing Practice
Collaboration to Support Students with Chronic Health Conditions
Trends in School Health Topics
Immunizations
Childhood Wellness Issues
Kathi Wieskamp, Director of Athletics and Student Activities
Educational-Based Athletics Programs – It's More than a Game
Athletics and Activities – Important Role They Play in a School and Student's Success.
Edith Zumwalt, Director of Nutritional Services
Nutritional Value of School Meals
Feeding Low-Income Students
Special Diets
How to Use Meal Viewer
Wendy Van, Foundation for Lincoln Public Schools
Why Community Matters when it comes to public education
Update on The Career Academy and other LPS community projects
Partnering with local schools for big impact
Leveraging resources for big change
Vital Signs: Collective Impact to support Lincoln Families
Jim Bennett, Coordinator of TeamMates
All of our LPS Curriculum Specialists can speak about their area:
Reading Language Arts
Lisa Oltman, 402-436-1804, loltman@lps.org
English Language Arts
Mindy Murphy, 402-436-1803, mmurphy@lps.org
Mathematics
Josh Males, 402-436-1801, jmales@lps.org
Science
Betsy Barent, 402-436-1802, bbarent@lps.org
Social Studies
Jaci Kellison, 402-436-1805, jkellis@lps.org
Career and Tech Ed
Jason Thomsen, 402-436-1819, jthomse@lps.org
Health and Physical Education
Matt Avey, 402-436-1812, mavey@lps.org
Gifted Education
Joan Jacobs, 402-436-1822, jjacobs@lps.org
Visual Art
Lorinda Rice, 402-436-1813, lrice@lps.org
World Language
Katie Damgaard, 402-436-1814, jswanson@lps.org
Computer Science
Kent Steen, 402-458-3129, ksteen@lps.org
Music Supervisor
Lance Nielsen, 402-436-1631, ldniels@lps.org