Synergy TeacherVUE allows you to download a spreadsheet of information about students assigned to you in each class period. This spreadsheet can be used to create labels, populate contact groups in LPS Google Docs and various other uses.
Student Data
Once you have downloaded this information to your computer, please take any necessary steps to secure it from unauthorized viewing and delete it when no longer needed. This information should not be shared with students or non-LPS staff members.
Downloading student data from Synergy TeacherVUE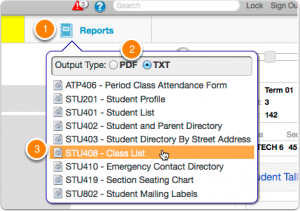 Login to the Synergy SIS and pull up the class/period you are interested in.
Click the Reports tab.
For "Output Type" select TXT
Select the appropriate Report (Class List)
Your computer will download a text (txt) file to your computer that contains the information.
Using the Download
This txt file contains your requested data. It can be used in many ways. Here are some common approaches.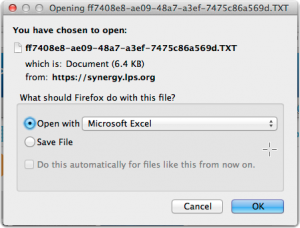 Open the file in Excel
As the file downloads, you can have the computer "Open in Microsoft Excel" to see it right away.
If the file is downloaded and saved to your computer, you can open the txt file with Excel at any time.
Put the data in a Google Spreadsheet
1. As the file downloads, have the computer "Save File."
2. Once it is on your desktop, double-click the txt file to open it. Select all of the text in the document and copy it.
3. Open a blank Google Spreadsheet. Select cell A1. Paste the text.